5 Reasons To Volunteer In Bali In 2023 – 2024
603 Views
A country comprising of hundreds of volcanic islands, Indonesia truly is worth visiting, at least once in a lifetime! While Java, Sumatra, and Jakarta have always been popular tourist destinations, Bali has become quite popular of late. The pristine island with beautiful mountains, gorgeous beaches, lush green rice fields, coral reefs and warm friendly locals – Bali actually needs no introduction for souls who are thirsty to explore places. And not just that – Bali has been a center for art, culture, yoga, and meditation for years, and with every passing day, more and more people are hoping to this beach paradise, in search of a soul-cleansing retreat.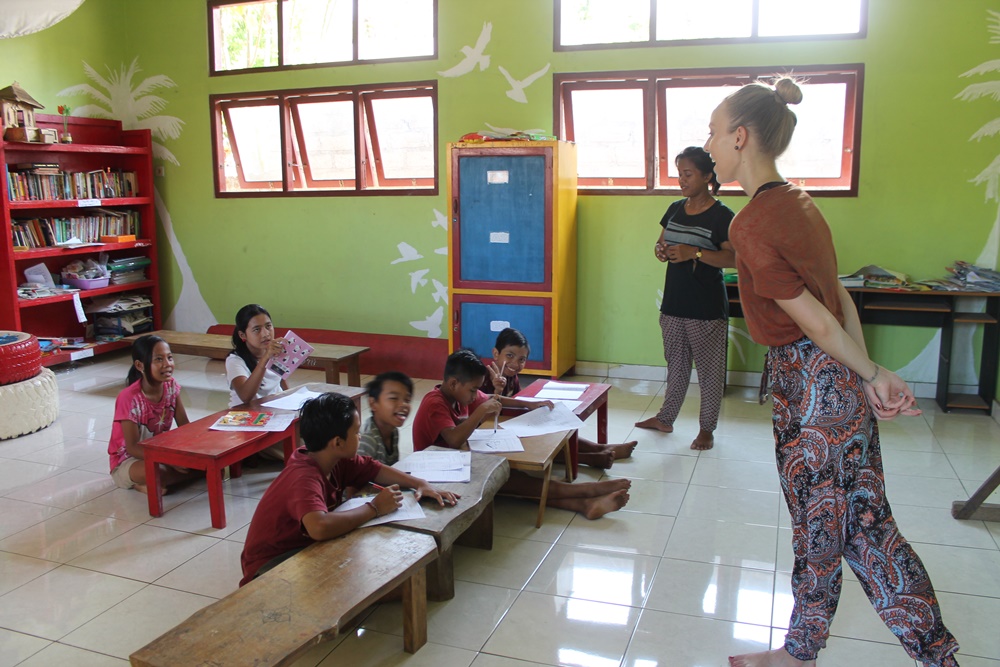 Volunteering Solutions is glad to collaborate with local Balinese organizations and aims to add adequate happiness to the lives of the little ones from the underprivileged societies as well as to serve Mother Nature, to save the marine life and coral reefs from further destruction. Perfect for high school/college students looking for a Spring Break or Summer Break Program, the projects are extremely affordable and will provide an immense scope of learning for the participants.
In case you're planning to set out for a voluntour in the coming year, here are 5 reasons why you should choose to volunteer in Bali.
1. A chance to work with Balinese toddlers and kids
Do you love spending hours with children? Have you always wished to volunteer with kids in a different country? Then you'll absolutely enjoy being a volunteer in Bali. You can either choose the Teaching Program or the Kindergarten Program. The kids attending these learning centers come from underprivileged backgrounds and their parents cannot provide them with the required care and attention that they probably need at this tender age. Being a volunteer, you will be endowed with the task of taking care of these adorable ones, love them, feed them, play with them, teach them simple lessons and keep the environment cheerful & happy. Occasionally, you can assist the teachers and caregivers as well. Working here as a volunteer will help you to polish your creative skills, as well as test your patience and perseverance. Overall, it'll be an incredible experience.
2. Spend hours on the beaches while working for marine conservation
What more can one ask for? Volunteer work at the beach side, that'll give you ample scope to spend time on the pristine beaches of Tianyar, located in Northern Bali. This part had a rich coral reserve, which is now suffering from pollution and degradation. As a volunteer, your role will be to save these coral reefs from further degradation and also keep the beaches clean. Unlike other beach vacations, a volunteering journey to Bali will change your perception about traveling, and it'll eventually make you a responsible traveler. You'll learn to value the gifts of nature, more than ever.
3. Know more about the culture, traditions, cuisines of the land
People on a luxury holiday trip to Bali only end up spending a lot of money doing just touristy things, yet they miss out knowing about the natives, their lives, and lifestyle, the culture and festivals etc. As a volunteer, you'll have a chance to take a closer look into their lives. You'll be living at home stays with host families and be a part of their daily lives. You'll understand how different people can be, in other parts of the world and learn to respect all, in spite of their diversities. It'll be a golden opportunity for you to learn their language, as well as the art of cooking the local delicacies.
4. A wide range of adventure sports to give you an extra dose of thrill
Bali is a heaven for the adrenaline junkies! And if you have never tried anything of that sort, then now is the time to indulge in it! From scuba diving and snorkeling to fly-boarding, there are many other extreme sports such as canyoning and cliff-jumping that will give you a perfect dose of thrill and excitement! All these are extremely affordable and won't make a hole in your pocket. Just to add to your surprise, 1 USD is equal to 13575 Indonesian Rupiah!
5. Try out yoga and meditation for that much-required retreat!
A volunteering trip to Bali will come with additional benefits of a yoga retreat as well! If you don't already know this, then let us inform you that Bali is the perfect place for an ultimate, soul-soothing, back-bending, and maybe, even a life-changing yoga getaway for the wandering souls. Being a Hindu country, the art of yoga has always been an important part of Indonesian culture. While you'll be serving the developing Balinese society during your trip, you can also add more peace and values to your life by indulging yourself in learning the different yoga forms and soothe your senses.
If you are sorting destinations and having a hard time to decide where to go for volunteering, then trust our opinion and head out for Bali. We assure that you'll return back home with a sense of satisfaction, and might look forward to another trip to Bali for discovering more than the place has to offer!
In case you have any further doubts, you can simply drop us a mail at [email protected]