Senior Volunteers Who Proved That Age Is Just Another Number
522 Views
Seen the movie Grudge Match? Yes! The two action stalwarts, Sylvester Stallone and Robert Di Nero, in their mid-70s deciding to enter into the boxing ring for yet another bout. Though it was just a movie, the hard work put in was real. Isn't it a great motivation to see someone trespassing the nuances of their age to achieve something commendable? It is.
Talking about the real world scenarios, there are many who crave to travel but skip, fearing pressure of their age. However, at Volunteering Solutions, we have witnessed people who not only have sufficed their craving for traveling places, but to travel to make a difference in the society; and that too at an 'old age'. Here are 13 of many such heroes;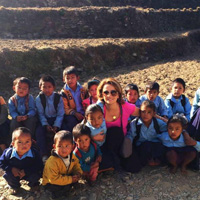 1. Tulin Arslan  (Age: 47)
For a time period of close to 2 months, Tulin Arslan from Turkey volunteered under the Orphanage project in Kathmandu, Nepal. His ecstatic approach with the kids was noteworthy and is something rarely found in the people of his age.
2. Shauna Redford (Age: 56)
It was not difficult for 56 year old Shauna to make the decision of traveling all the way to Kenya to teach kids from poor backgrounds in small villages, in and around Nairobi. Soon, she got acquainted with typical Kenyan lifestyle and ended up spending an entire month under the teaching English volunteer project in Kenya.
3. Anne Voss (Age: 58)
At the age of 58, Anne decided to travel all the way from Germany to the capital of Cambodia, Phnom Penh, to teach English language to underprivileged kids. For three long weeks, she continued with dedication and enthusiasm, and made sure that the children get proper education.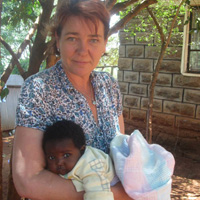 4. Birgit Jaspersen (Age: 52)
Brigit was like any other volunteer at the Orphanage center in Nairobi, Kenya. The only difference being, she was more energetic, innovative, and dedicated than any of her younger volunteer mates. She volunteered for two long months under the Orphanage project in Nairobi.
5. Risto Tuominen (Age: 62)
Risto volunteered under the healthcare project in Cusco region of Peru. He took up the responsibility to shadow the in-house doctors and other staff in treating patients and taking care of them. He worked in the hospital for a month continuously.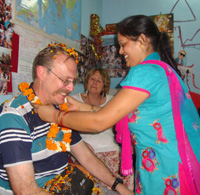 6. Donald Smith (Age: 56)
Donald arrived to India during the summer of 2012 for a 2 week special volunteer and travel program, where in he worked under the project for street children. And while someone would expect to get exhausted after 14 days of hardcore traveling and volunteering, Donald decided to extend his tenure and carry on with his work. Thus, he enrolled for Teaching project in the valley city of Palampur and continued volunteering without taking a break. Overall, it was a great three weeks extravaganza for him in India.
7. David Ivy (Age: 62)
Similar age, similar program, and similar exuberance. US based David Ivy decided to volunteer under the medical healthcare project in Tacloban city of Philippines. Although, for a shorter duration of seven days, David was quite active towards his project.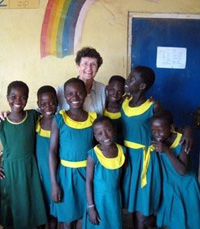 8. Jill Torrance (Age: 51)
One may generally settle with a single attempt of volunteering abroad at an older age, considering it to be enough of adventuring. But for a few, it's more than a challenge or an adventure; it's passion. For 51 year old Jill, traveling to volunteer abroad is passion, which led her to Ghana in 2010 to volunteer under Teaching English project, and again in 2013 to Cambodia for the same project. And we have no doubts that she must either be planning her next volunteer trip, or might already be on one.
9. Judith Breakstone (Age: 68)
It was Judith's affection and love for little kids, and the excitement of traveling to extra-ordinary places, which lead her to volunteer under the Childcare project in the capital city of New Delhi, India. She was a part of the program for 3 long weeks, and was never seen exhausted from spending time with the children; or exploring the destination.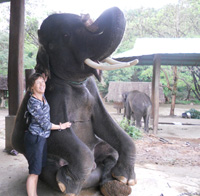 10. Terra Liddil (Age: 69)
A wildlife enthusiast, Terra, worked for the welfare of elephants under the Elephant camp project in Thailand. During her 2 weeks of work, she was completely dedicated towards her job and it was hard to say where she accumulated all that energy from, even at the age of 69.
11. Joseph Weygood (Age: 72)
It can only be considered quite a smart decision by 72 year old Joseph, who decided to travel from his homeland Australia all the way to Chiang Mai in Thailand to volunteer under the Teaching Monks project. Not only did he got the opportunity to provide basic level of education to the Buddhist followers, but also got the chance to learn the mantras of peaceful life from them.
12. Gisela Wirz (Age: 75)
When asked how difficult it was for her to prepare herself physically as well as mentally to travel miles to volunteer under the Women Empowerment project in India, 'I just wanted to' was the reply from 75 year old Gisela Wirz from Germany. During her one month stay at the project, she made sure of sharing every experience she had with the women at the project to motivate them.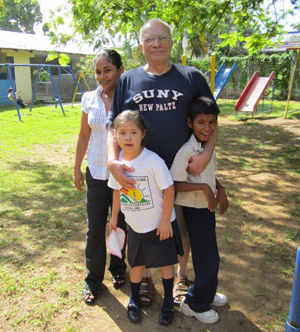 13. Rosarius Roy Leonardi (Age: 70)
People are often said, and also seen, to lose their patience quickly when they reach a bracket of old age. But for 70 year old Roy, it was patience and perseverance that made him successfully complete his volunteer project in Honduras. Roy worked for the development of  children with different needs for two weeks. And it certainly were one of the best two weeks of his life.
All these examples prove that when it comes to taking up challenges, one simply needs the determination and dedication; age is simply a numeric figure. It must be learnt that when you feel something, which is important and must be done, you should simply follow your heart and do it. And while, these were just a few of such stalwarts, there are many more determined volunteers out there who have gone beyond limitations to make a difference in the society.
If you too, have been thwarting your ideas of traveling abroad to volunteer just because you think your age does not allows you to, or because you feel it's only for the young lads to have that much energy, it's time to re-think. Speak with our program advisers at [email protected] and let them help you find the most appropriate program.
About The Author