Different Volunteer Projects Abroad And Right Age To Attend
536 Views
I'll start with a contradiction to the title saying that there is actually no right age to attend volunteer programs abroad. Volunteering is an act of altruism which is not just a social responsibility but an action conducted to bring about a positive change in the society.
As responsible human beings, many veterans take up volunteering abroad during their travels to contribute to a society through the skill set they acquire. Whether it be for teaching, medical and healthcare, orphanage, or wildlife conservation, they take up this responsibility to bring about a positive change in the society.
However, the recent trends show that it's the millennials who are getting inclined towards volunteer traveling a lot during their gap year time. While, it adds to their credit score and helps them get into the desired university and improve their career prospects at the same time, it is the experience that they get through volunteering abroad that lures them the most.
Having said that, volunteering work calls for a great level of responsibility and maturity. And it is for this, that there are certain volunteer programs which needs a volunteer from a certain age bracket in order to keep things simple for both.
Volunteering Solutions has been placing gap year millennials from over a decade now and, as a responsible volunteer organization, believes that its volunteers must know if they are eligible (according to their age) to attend a particular program or not. The below infographic is a simple explanation for what age of volunteers can attend which all programs.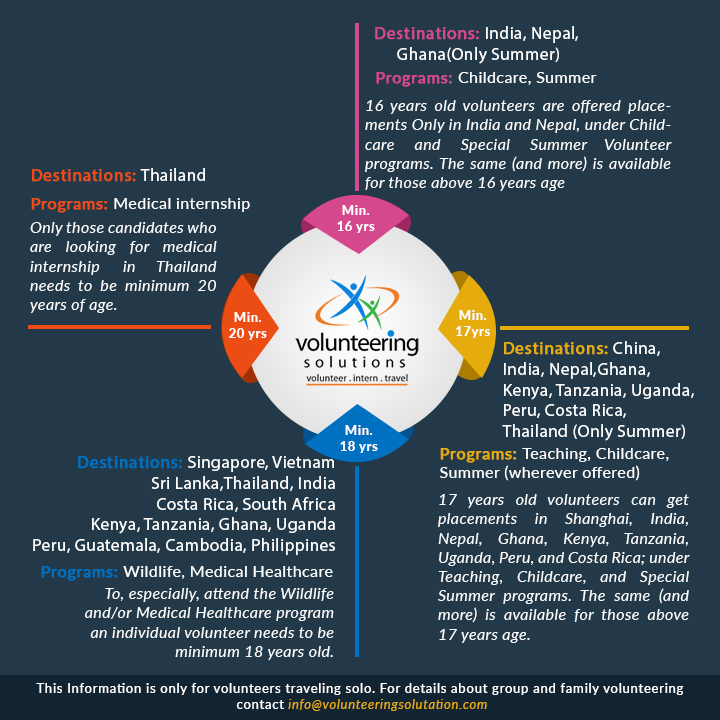 Volunteering Solutions, deeply, believes that when a traveler decides to volunteer abroad it itself reflects a high level of maturity and responsibility in them. However, a program involves several entities whose safety is our utmost priority. Hope this information would help you choose your program wisely. For more information, contact [email protected]
About The Author