Overview
Tanzania es la joya de África y que va sin lugar a dudas. Cuando se encuentra en este país, que acaba de saber que. Recientemente agregado a la lista de países más impresionante y hermosa del mundo para visitar, el Tour de Aventura Tanzania le dejará sin agua la boca por más.Durante las tres semanas que pasó con soluciones de Voluntariado, se le da la oportunidad de sumergirse en la cultura local de Tanzania, conseguir la sensación de sus hábitos y costumbres. Y no hay que olvidar el local debe probar las delicias de Tanzania, como platos de arroz y carne picante (pilau y biryani). Tanzania tiene su propia parte de Mughal y la influencia de la India y la misma es evidente en los platos que ruedan a cabo.
Su romance con la naturaleza en las reservas de caza, con el Big 5 y la gente va acompañado por el trabajo voluntario. Mientras trabajaba como voluntaria aquí, en el proyecto de orfanato, se dará cuenta de que no son más que trabajando para una universidad de crédito adicional, sino también hacer algunos cambios reflexivos. En este programa de verano, se llega a conocer a los voluntarios internacionales de todo el mundo y empezar nueva relación. Se podría hacer que todos los viajes y recuerdos juntos. En resumen, "kuwa na furaha" - Have Fun!
Día 1 - Domingo - Bienvenido a Tanzania
- Llegada y bienvenida para los voluntarios.La entrada se realizará en el aeropuerto internacional de Kilimanjaro en la región del Kilimanjaro. Usted será recibido por el representante de Voluntariado Soluciones a la llegada. En el día de la llegada, el alojamiento será proporcionado en una casa de voluntarios en Arusha. Para los que llegan antes, que serán recibidos en un punto de encuentro decidido de antemano.
Día 2
- Visita de la ciudad local y Orientación - En el segundo día, nuestros coordinadores de programas proporcionarán información importante acerca de la seguridad, la cultura e informar a los voluntarios sobre la zona local, incluyendo Internet Cafe, bancos, restaurantes y mercados. También le proporcionará lecciones básicas swahili.
Día 3 - 6
Proyecto Introducción - Visita su proyecto, conocer al personal local y comenzar el trabajo voluntario. Los voluntarios trabajarán con el personal existente y proporcionar amor y cuidado de los niños en la colocación. Los voluntarios función principal es mantener a los niños involucrados y participan en diversas actividades. Los voluntarios alimentar, vestir y jugar con los niños. Los voluntarios pueden hacer uso de sus tareas administrativas para simplificar el trabajo en la colocación.
Día 7
- Visita MasaaiLands- Una vez en una experiencia de vida con las propiedades Masaai -Visita y la interacción en Engikaret Village.
Día 8 -
Día Tiempo de relajación en la piscina opcional en New Arusha hotel.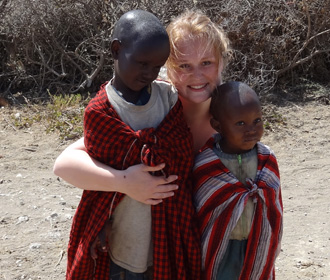 Día 9 - 13
- Continuar con su puesto de trabajo. En el día 11, también se tendrán voluntarios para atender a las víctimas del VIH / SIDA en el Programa Médico de Extensión.
Día 14
- Visita a las cascadas, plantaciones de café y chagga Museos Vivos en marangu, Moshi (opcional con coste adicional)
Día 15
- Salida de Vida Silvestre Safari.Start en el Parque Nacional del Lago Manyara más tarde durante la noche a Jambo camping.
Día 16
- Temprano por la mañana Salida de Serengeti a través de la conservación de Ngorongoro unidad de área de juego en ruta .Dinner y alojamiento en Seronera camping.El Área de Conservación del Ngorongoro es un área de conservación y un patrimonio de la humanidad se encuentra a 180 km al oeste de Arusha en el área del cráter tierras altas de Tanzania.
Día 17
- unidad de juego salida del sol en el Parque Nacional de Serengeti y después del almuerzo salida hacia Ngorongoro.Dinner y alojamiento en camping Simba en el borde del cráter del Ngorongoro.
Día 18
- Temprano por la mañana descienden al cráter del Ngorongoro para el juego drive.Spend todo el día y luego viaje de regreso a Arusha.
Día 19
- El trabajo en proyectos y actividades en los orfanatos.
Día 20
- Último día de trabajo para el proyecto. Adiós a la comunidad orfanato.
Día 21
- Compras y la compra de recuerdos, regalos, etc. en Masai mercado. Más tarde fiesta de despedida en la casa de voluntarios.
Día 22
- Tome el vuelo de regreso a casa.
Tanzania Program Booking
Los voluntarios pueden comenzar su programa en cualquier domingo del mes.
Los voluntarios deben reservar sus vuelos para llegar en las fechas a continuación.
Volunteering Solutions Tanzania Reviews
| Week | USD | GBP | AUD | EUR |
| --- | --- | --- | --- | --- |
| 3 weeks | $1,199 | £1,020 | $1,679 | €1,164 |
| Extra week | $160 | £136 | $224 | €156 |
Please Note: An application fee of $225(USD) / £185(GBP) / $310(AUD) / €220(EUR) is charged over and above the program fee as an application payment.
Other Programs in Tanzania
Quick Search
Call Free US/CAN
1- 888-790-3096
Call Free UK
0-800-014-8160