Overview
Tanzania is the gem of Africa and that goes without a doubt. When you are in this country, you just know it. Recently added to the list of world's most stunningly beautiful countries to visit, the Tanzania Adventure Tour will leave you salivating for more. During the three weeks you spent with Volunteering Solutions, you are given an opportunity to immerse in the local Tanzanian culture, get feel of their habits and customs. And not to forget the local must try Tanzanian delicacies, like spicy rice and meat dishes (pilau and biryani). Tanzania has its own share of Mughal and Indian influence and the same is apparent in the dishes they roll out.
Your whirlwind romance with the nature at the game reserves, with the Big 5 and the locals will accompanied by volunteer work. While volunteering here, at the orphanage project, you will realize you are not merely working for an extra college credit, but also making some thoughtful changes. In this summer program, you will get to meet international volunteers from around the world and start new relationship. You would make all journeys and memories together. In short, "kuwa na furaha" - Have Fun!
Day 1 - Sunday - Welcome to Tanzania
- Arrival and Welcome for the volunteers. Arrival will be at Kilimanjaro International Airport in Kilimanjaro region. You will be welcomed by Volunteering Solutions representative on arrival. On the day of arrival , accommodation will be provided in a volunteer house in Arusha. For those arriving earlier, they will be met at a meeting point decided beforehand.
Day 2
- Local City tour and Orientation - On the second day, our program coordinators will provide important information about the safety, culture and inform the volunteers about the local area including internet café, banks, restaurants and markets. We will also provide you with basic Swahili lessons.
Day 3 - 6
Project Introduction - Visit your project, meet the local staff and begin the volunteer work. Volunteers will work with the existing staff and provide love and care to the children at the placement. Volunteers main role is to keep the children involved and engaged in various activities. Volunteers will feed, dress and play with the children. Volunteers are welcome to use their administrative tasks to streamline the work at placement.
Day 7
- Visit Masaai Lands- Once in a Lifetime experience with the Masaai –Visit homesteads and interaction in Engikaret Village.
Day 8 -
Relaxation Day optional time at Swimming Pool at New Arusha Hotel.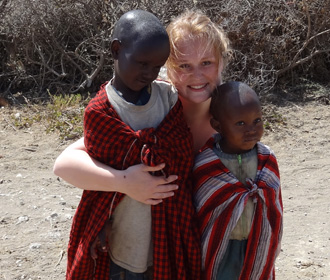 Day 9 - 13
- Continue with your work placement. On day 11, volunteers will also be taken to meet the HIV/AIDS victims in Outreach Medical Program.
Day 14
- Visiting The Waterfalls, Coffee Plantations and Chagga Live Museums in Marangu, Moshi (Optional at extra cost)
Day 15
- Depart for Wildlife Safari.Start at Lake Manyara National Park later overnight at Jambo Campsite.
Day 16
- Early in the morning Depart to Serengeti via Ngorongoro Conservation area game drive enroute .Dinner and Overnight at Seronera Campsite.The Ngorongoro Conservation Area is a conservation area and a UNESCO World Heritage Site located 180 km west of Arusha in the Crater Highlands area of Tanzania.
Day 17
- Sunrise game drive in Serengeti National Park and after lunch drive to Ngorongoro.Dinner and overnight at Simba Campsite in the rim of Ngorongoro Crater.
Day 18
- Early in the morning descend to Ngorongoro Crater for game drive.Spend the whole day and later drive back to Arusha.
Day 19
- Project work and activities in the orphanages.
Day 20
- Final Day of working to the project. Farewell to the orphanage community.
Day 21
- Shopping and buying Souvenirs,gifts etc at Masai Market. Later Goodbye party at the volunteer house.
Day 22
- Take flight back home.
Tanzania Program Booking
Volunteers can begin their program on any Sunday of the month.
Volunteers need to book their flights to arrive on the dates below.
Volunteering Solutions Tanzania Reviews
Tanzania Program Cost
Volunteering Solutions strives hard to keep costs low and offers one of the most affordable volunteer abroad programs. Compare our prices and services to other organizations and you would be surprised to see the difference.
| Week | EUR | USD | GBP | AUD |
| --- | --- | --- | --- | --- |
| 3 weeks | €1,164 | $1,199 | £1,020 | $1,679 |
| Extra week | €156 | $160 | £136 | $224 |
Please Note: An application fee of €220(EUR) / $225(USD) / £185(GBP) / $310(AUD) is charged over and above the program fee as an application payment.
(A 4% international banking fee is charged at the time of payment)
Other Programs in Tanzania
Quick Search
Call Free US/CAN
1- 888-790-3096
Call Free UK
0-800-014-8160