Overview
Thailand is a destination that is favored by people of all ages and from all roads of life. This program has been specially crafted keeping in mind the need of all - while high school/ university students can be a part of this program to volunteer, gap year travelers and backpackers can join for discovering Thailand differently and tickle their adventure cells !
Participants joining the Elephant 2 Islands Tour in Thailand will get to explore the amazing elephant sanctuary in Chiang Mai, relax and detox by the beaches in Koh Samui, explore the natural beauty of the virgin islands, volunteer for the kids and spread some joy, dive deep into the sea for a visual treat of the underwater world and a lot more!
Participants also have an option to chose between volunteering and adventure activities from Day 6 to Day 9 of the tour.
Be a part of this joyride for 2 weeks! Come and volunteer in Thailand.
DAY 1
Welcome to the start of your next big adventure and what can be a better place than Chiang Mai to begin with! Our in-country coordinator will receive you at the airport/ train/ coach station and drop you at a guest house. You can make yourself comfortable and meet the other volunteers there.
This evening, once every traveler has checked in and sorted themselves, we'll head out to explore the local area, grab a bite to eat and get to know everybody over a few drinks.
DAY 2
Post breakfast, there will be an orientation regarding your volunteering journey. You'll given a day to day plan, the rules of the road, do's and don'ts and everything you need to know to really make the most of your time with us.
Once we get done with the orientation, we shall head out to explore the amazing city of Chiang Mai. You can discover by yourself why travelers love the city so much!
In the evening, we'll head to the famous night market are of the city for a traditional local dinner with drinks!
DAY 3
You can relax for the morning, read your favorite book or catch up with your fellow mates. Those who want to check out the shopping places can head out for that.
Just before lunch we'll leave Chiang Mai for the 30 minute transfer to the elephant sanctuary nestled in the hills on the outskirts of the city.
On arrival, we'll get you all settled in your new accommodation before we have a quick briefing about the itinerary of the next few days.
You'll then be introduced to the elephants, something that I'm sure will be the highlight of the trip!
DAY 4
Today, you'll be spending all day with your new friends. You'll help with preparing food at the camp, washing, playing, walking and interacting with the amazingly friendly elephants.
You'll learn all about the plight of the elephants in this area of Asia and how your contribution can actually make a difference.
DAY 5
After breakfast, we'll feed and then say our goodbyes to the elephants.
Before leaving the sanctuary, we'll have a get together to discuss your volunteering option for Koh Samui. We'll discuss your projects in more detail, what to expect, how to make the most of your time on the island and so on.
Around midday, we'll head to the airport for the flight to Surat Thani.
From there we'll take a quick coach ride to the pier and onto the ferry for the 90 minute ferry crossing; a wonderful way to see the island from the ocean.
We'll have you at the volunteer house in the early evening; enough time to settle in to your new place, meet the rest of our team and prepare for the rest of your stay.
The following four days are for those who've chosen to volunteer. For those who have chosen the adventure option, the schedule is given below.
DAY 6 to DAY 9 (Volunteering)
The volunteering portion of this tour is amazing and would help you to learn a lot. You'll be directly affecting the education of the kids we support at one of the three government schools on the island. Our volunteers have been producing amazing results with these kids for quite sometime now. Not just teaching, but also the work that we've completed with improving the look and feel of the school. A bright and vibrant environment atmosphere is necessary for better learning opportunities.
Volunteers can choose what they want to do - teach or develop.
Whichever you prefer, no experience is required!
Our team have all of the experience that you need to make this a huge success, not only for you, but for everybody involved. Our team will help you to know how this works, give you the tools required to make it fun, interesting and impactful and most importantly you'll be shown how to improve the immediate and future lives of these amazing kids, all of whom deserve the chance to shine.
TEACHING Work
– Volunteering as a teacher is great fun and whether you have experience or not we'll make sure that you receive the tools required to be successful. Days will begin at 9am and end around 3.30pm.
We'll even supply you with a lovely Thai lunch (most dietary requirements can be catered if we're given notice).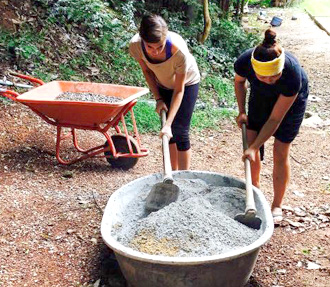 DEVELOPMENT Work
- If you've chosen to work on brightening up the schools, your time will be very well spent. You don't have to be an expert - all you need is a little creativity and you can do wonders! Paint the school complex and clean the environment, making it a place where kids would love to be!
We'll even supply you with a lovely Thai lunch (most dietary requirements can be catered to is we're given notice.)
Whatever you choose as your volunteering option, your day will begin around 8.30am when you're transferred to the school. Our team will be with you each day to make sure you have everything that you need to have nothing but the best possible time and have the best possible impact.
Those of you who have chosen the adventure option your schedule is below
.
On the evening of day six we'll meet up with the adventure group and head to a very special little place for an evening drink.
DAY 6 (Adventure)
Today, we'll have a mystery island tour and show you the best of what Samui has to offer. We'll visit heaps of places of interest today from waterfalls to viewpoints, to beaches to jungles. This is a great day, just don't forget your camera!
DAY 7 (Adventure)
Your own private boat tour to the largely unknown island of Koh Tan. This island is a reminder of how Koh Samui was around 40 years ago – very laid back life, zero traffic, quiet bars and restaurants; the perfect place to hang out. Spend the day exploring, swimming, sunbathing, enjoying beach games and more!
DAY 8 (Adventure)
Today we're off on the sea again to visit one of Asia's ancient wonders - the Ang Thong Marine Park. This place is a 'must-see-it-to-believe-it' collection of incredible limestone islands reaching up out of crystal clear water.
Soak up in the sun on the boat trip and then join in the snorkeling, swimming and more.
We can guarantee that you'll never forget this experience!
DAY 9 (Adventure)
Hands up who knows what an X-Quad is?
Well that's your only cue for what today involves – and it's gonna be a whole heap of adrenaline-fuelled fun!
DAY 10
All volunteers and adventure junkies will get back together today. You can share your stories with each other and show the photographs you've clicked.
Later, as a group, we'll head to the school to show everybody what we do as an organisation, where a portion of your money goes and why we do what we do.
We'll then head off to the pier to take the ferry over to Koh Phangan island.
DAY 11
It's not just teaching and school development that we're involved with. We also support a marine conservation project located on the island and a part of your tour fee goes to maintaining the work that's carried out here. This project is responsible for the breed, care and conservation of the local turtle population and needs constant support.
For those of you interested in knowing more about the work that's done here, we'll arrange a guided tour of the project so that you can see how your money is used and the work that's completed.
DAY 12
It's the last full day on the island - so what better way to go out than with a party!
We'll set sail on the high seas today, see Koh Phangan from a different angle. There'll be plenty of time to swim and snorkel, soak in the sun and think back to what an incredible two weeks we've had.
Once back at the resort, tonight there'll be a group dinner to see off the last night in style!
DAY 13
Today we need to get you all back to Bangkok for one final send-off 'Khao San Road Style'! We will have you back to where it all began by 8pm, in plenty of time to check-in, get showered and get out to paint the town red!
If you'd rather stick around on the islands and perhaps head back to Koh Samui for a spot more volunteering, we'd be happy to make this happen.
Sign up to the volunteering extension, choose your project, and we'll make the arrangements for you.
DAY 14
For those of you who have returned to Bangkok, today we have to say goodbye!
We can meet up for one final group breakfast, group photos and group hugs. Any of you need help making onward travel arrangements, our in-country team will help with everything that we can.
We hope to make your journey memorable in all possible ways.
Thailand Program Booking
Volunteers need to arrive on a Friday as per your start date. Volunteers should book their flights to arrive in Chiang Mai between 8am – 8pm for our staff to pick you up from the airport.
Volunteering Solutions Thailand Reviews
Chiang Mai - Thailand Program Costs
Volunteering Solutions strives hard to keep costs low and offers one of the most affordable volunteer abroad programs. Compare our prices and services to other organizations and you would be surprised to see the difference.
| Week | USD | GBP | AUD | EUR |
| --- | --- | --- | --- | --- |
| 2 weeks | $1,250 | £1,063 | $1,750 | €1,213 |
Please Note: An application fee of $225(USD) / £185(GBP) / $310(AUD) / €220(EUR) is charged over and above the program fee as an application payment.
(A 4% international banking fee is charged at the time of payment)
Other Programs in Thailand
Quick Search
Call Free US/CAN
1- 888-790-3096
Call Free UK
0-800-014-8160