Overview
The 'Thai Volunteer & Adventure Tour' is the ultimate way for the first time traveler and experienced adventurers alike to explore Thailand responsibly. Join us for a bustling weekend in Bangkok where you will see the best sights, experience the fun night life and help support the city's poorest communities. Then watch the countryside roll by as you journey to the Elephant Capital, Surin. Here you will discover the importance of Surin's beautiful Silk trade and then get some amazing 'face to trunk' time, living amongst Elephants as part of one of Thailand's friendliest communities.
Next it's time to support the Surin community, working at a local project to help the community. Before heading back to Bangkok, it's time to challenge yourself by trekking through one of Thailand's most beautiful National Parks in true Indiana Jones fashion. We're then off back to Bangkok as it's now time to bid a sad farewell – or is it? If you're not ready to leave just yet, why not join us for a 7 day party on the beautiful beaches of Koh Pangnan!
All the elements for a very special time in Thailand, indeed!
Day 1 – Arrival Day
Arrival:
Our team will collect you from the airport and help you check you into your accommodation on Khao San Road, Bangkok's famous backpacker hub. You will then have the rest of the day to relax and meet people from all over the world.
Note: If you are making your own way to orientation, you will need to contact us after you have checked in. We will then confirm arrangements for orientation weekend with you. Full arrival details are provided in the 'Making Your Own Way' and 'Airport Pickup' documents.
Day 2 – Orientation and Bangkok Tour
In the morning, you will formally meet your Guide and fellow group members. During the orientation, you will learn more about Thailand and your itinerary. Later the Bangkok tour will take you on a journey through the old city and includes magnificent temples and a river boat ride. Take rest after you come back so that you can prepare for an exciting evening with your group on the world famous Khao San Road.
Day 3 – Chatuchak Market Day
Today you will visit the largest outdoor market in Southeast Asia. It is packed with hundreds of stalls selling vintage clothing, antiques, DVDs, electrical equipment, paintings and more. There are also dozens of great food shops and even a few bars to relax in.
Day 4 – Volunteer in Bangkok
Join our team running games and activities for children at Wat Pho School in Bangkok. Wat Pho is one of Thailand's most iconic temples and home to the gigantic, golden reclining Buddha. This is a privilege that most tourists may never experience. The activities will provide the children an opportunity to practice their English with you and also be a lot of fun for all involved.
Day 5 – Transfer to Surin
You'll travel to Surin approximately 7 hours away with the rest of your group. When you arrive into Surin, you'll check into your hotel and then meet the Surin team for a local orientation. After that it's time to relax ready for your project work.
Day 6 - 7 Childcare Experience
You will volunteer at local Childcare centre working with the children and also helping to renovate the facilities. Project hours are typically 09:00 – 15:00 but may vary depending on the centre's schedule. You will be supported by not only your guide but also one of the full-time local project staff. The centre is located around 30 minutes from Surin and transport is of course provided. During the mornings 09:00 – 11:30 you will work directly with the children. At lunch time (11:30 – 12:30) you'll assist with serving the children food. Lunch w
ill then be provided for you at the centre. In the afternoons (12:00 – 15:00) the
children take a nap. During this time our coordinators will support you with the renovation of the centre's facilities or working on small community projects around the village. Full details are provided during orientation.

Day 8 – 9 School & Community Experience
You will work together with your group to help renovate part of a local school or community centre. Surin is one of the poorest regions in Thailand and many facilities are desperately underfunded
. During these two days you will complete a project identified by a local school as benefiting the local children. Don't worry, no specialist skills are required – just a bit of commitment and teamwork. Past projects have included the renovation of school playgrounds, development of sports fields / facilities for school and also renovating and decorating school libraries. Your project will be assigned and discu
ssed with you on arrival in Surin. This is a great opportunity to really leave your mark on the local community and be proud that your efforts will benefit those that live in the local area.

Day 10 Free Day
Today there are no planned group activities giving you the opportunity to relax or explore the city of Surin at your own pace. The in-country team will help you with ideas and offer advice on what to do.

Day 11 - 15 Elephant Experience
Immerse yourself into traditional life and get up close and personal with one of Thailand's most iconic creatures. You will stay in the village and support the mahouts caring for the elephants. Later in the day you can relax at the house or join in activities organized by the team. Your hosts are excellent cooks and all meals while at the village are included. You will return to your previous accommodation in Surin city in the late afternoon of day 15 .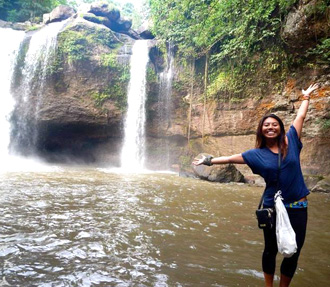 Day 16 / 17
You've had a hard few days so enjoy a couple of days of rest and relaxation back in Surin.
Day 18 Travel to Khao Yai National Park
You will leave Surin around 9.00am and travel towards Khao Yai National Park. Khao Yai is one of Thailand's most beautiful national parks and has stunning scenery. The journey is approximately 4 hours. Once you arrive at your accommodation you'll have the evening free to relax and prepare for the Jungle Trekking tomorrow.
Day 19 Jungle Trek
You will join an experienced local guide and spend the day trekking to one of Thailand's most iconic waterfalls and take in a breathtaking view at Pha Daew Dai. The Jungle trek is often regarded as one the highlights of the trip for its sense of adventure. The trek is very pleasant and provided you are in good health, not particularly challenging. Lunch is not provided but you will be allocated time to eat the National Park headquarters. Around 15:00 you will transfer back to your accommodation and have the evening free to discuss today's activities with the rest of your group.
Day 20 Transfer to Bangkok
At around 10:00 you will depart the resort to head back to Khao San Road. The journey will take approximately 4 hours. Once on Khao San Road you will check into the hotel and have the evening free.
Day 21 Finish or Beach Week ?
Tour finishes for customers who chose the
three
week option. If you are leaving today then you are free to make your own arrangements for onwards travel or making your way to the airport.
Those who booked the additional week beach extension, will have the day free on Khao San Road for exploring. However if you're not ready to head home just yet – grab the overnight coach with us to Koh Pangnan for another week of partying and relaxing on the beach.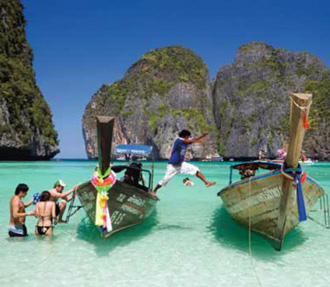 BEACH WEEK EXTENSION (OPTIONAL)
If you're choosing the beach extension option (and why not – the beaches of Thailand are rightly famous not only for their beauty but also some of the best parties around) your itinerary will be as follows :-
Day 21: (Beach Extension): Transfer to Koh Phangan)
You'll head off from Bangkok in the evening with your guide on an overnight coach which then links into the morning ferry to Koh Phangan.
Day 22: (Beach Extension) Arrive Koh Phangan
What a great site as you head across the sea to Koh Phangan and reach the island around mid-morning. On arrival you'll transfer to your hotel for the next few days and you're guide will help you settle into island life!
Days

23 - 27

(Beach Extension) Free time in Koh Phangan
Your beach extension is your time to relax, explore or party at your leisure. Your guide will be on hand to help you get the most out of your time and there are lots of places to explore on the island and things to do - or of course, why not chill out next to the pool or on the beach and enjoy the sun. Koh Phangan is famous for it's Full Moon Parties but they aren't the only things going on - each month sees Black Moon Parties, Half Moon Parties and even Jungle Parties - something for everyone!
Day 28 (Beach Extension) - Transfer back to Bangkok
You'll be up early and heading back to the big city. Taking the morning ferry and then transferring to a coach, you'll arrive back in Bangkok around mid - evening, your guide will help you check in to your accommodation and then it's time for one last night out and about in the exciting chaos of Khao San Road.
Day 29 (Beach Extension - Time to go!
Check out is
at 11:00am
and it's then time to head home armed with lots of experiences, new friends and happy memories
Cost for Beach Week Extension is $395
(NOTE: this week is fully guided so you'll have expert advice on all the best places to go and things to do - our guides know all the cool spots on Koh Phangan giving you a great start to your time at the beach)
Thailand Program Booking
Volunteers need to book their flights to arrive in Bangkok on the dates mentioned below. You would stay couple of nights in Bangkok, before you take the train to Surin on Sunday, accompanied by our staff.
Volunteering Solutions Thailand Reviews
Surin - Thailand Program Cost
Volunteering Solutions strives hard to keep costs low and offers one of the most affordable volunteer abroad programs. Compare our prices and services to other organizations and you would be surprised to see the difference.
| Week | EUR | USD | GBP | AUD |
| --- | --- | --- | --- | --- |
| 3 weeks | €1,067 | $1,099 | £935 | $1,539 |
| Extra week | €384 | $395 | £336 | $553 |
Please Note: An application fee of €220(EUR) / $225(USD) / £185(GBP) / $310(AUD) is charged over and above the program fee as an application payment.
(A 4% international banking fee is charged at the time of payment)
Other Programs in Thailand
Quick Search
Call Free US/CAN
1- 888-790-3096
Call Free UK
0-800-014-8160