Thailand Summer Special 2016
Thailand Summer Volunteer Program 2016
The 'Summer Special' is the ultimate way for the first time traveler and experienced adventurers alike to explore Thailand responsibly. Join us for a bustling weekend in Bangkok where you will see the best sights, experience the fun night life and help support the city's poorest communities. Then watch the countryside roll by as you journey to the Elephant Capital, Surin. Here you will discover the importance of Surin's beautiful Silk trade and then get some amazing 'face to trunk' time, living amongst Elephants as part of one of Thailand's friendliest communities.
Next it's time to support the Surin community, working at a local project to help the community. Before heading back to Bangkok, it's time to challenge yourself by trekking through one of Thailand's most beautiful National Parks in true Indiana Jones fashion. We're then off back to Bangkok as it's now time to bid a sad farewell – or is it? If you're not ready to leave just yet, why not join us for a 7 day party on the beautiful beaches of Koh Pangnan!
All the elements for a very special summer, indeed.
Surin Facts
Location

Surin

Arrival airport

Bangkok (BKK)

Currency

Thai Baht

Population

50000

Language

Thai

Time Zone

UTC + 07:00
tr
What our Volunteers say
I absolutely loved my trip, was easily the best trip I have ever experienced. I wish I could do it again but I wanna go to a different country with Volunteering Solutions.
Chun Hoe Ho
Volunteer Summer Program Surin with Volunteering Solutions | Reviews - Surin, Thailand
I just wanted to thank you for everything and this three week ThaiIand program was beyond amazing! I had the time of my life! It was so much fun and the coordinators were incredible
Devon Adlawan
Devon Adlawan (USA) - Surin, Thailand
I absolutely loved my program placement and it was really a nice experience and I believe I'll go to other countries with Volunteer Solution again.
Mengli (Liana) He
Volunteering Soluitons Feedback - Volunteer Summer Special Program, Thailand - Surin, Thailand
I very much enjoyed my program placement and everything I did is a highlight for me. I will surely recommend this program to anyone who is interested in going to Thailand.
Keenan Romain
Volunteering Solutions Reviews - Thai Summer Special Program, Thailand - Surin, Thailand
Videos
Thailand Summer Volunteer Program Schedule
Duration: 3 weeks
Start dates: 24 June, 8 July, 22 July, 5 August 2016
Working hours: 4 – 5 hours, 5 days (Monday to Friday)
Weekends: Travel/Sightseeing included in Cost
Friday - First Day of Program - Orientation Session- Welcome to Thailand, introduction to the program in Bangkok, safety issues, basic culture and history about Thailand. Also learn about your program schedule and tour program to follow.
Minimum Age requirement: 17 Years
Program Highlights
Tour of the highlights of Bangkok.
Shop for amazing bargains at the South East Asia's biggest outdoor market, Chattuchak
Live and work amongst Elephants in a traditional Thai village.
Volunteer alongside a real Thai community on projects that matter to them.
Jungle Trek through the beautiful National Park of Khao Yai
Optional 7 day extension on the stunning, party island capital of Thailand, Koh Pangnan
Fully guided (except optional beach extension) and supported by the friendliest team in Thailand
Summer Program Itinerary
Day 1 – Arrival Day
Arrival:
Our team will collect you from the airport and help you check you into your accommodation on Khao San Road, Bangkok's famous backpacker hub. You will then have the rest of the day to relax and meet people from all over the world.
Note: If you are making your own way to orientation, you will need to contact us after you have checked in. We will then confirm arrangements for orientation weekend with you. Full arrival details are provided in the 'Making Your Own Way' and 'Airport Pickup' documents.
Day 2 – Orientation and Bangkok Tour
In the morning, you will formally meet your Guide and fellow group members. During the orientation, you will learn more about Thailand and your itinerary. Later the Bangkok tour will take you on a journey through the old city and includes magnificent temples and a river boat ride. Take rest after you come back so that you can prepare for an exciting evening with your group on the world famous Khao San Road.
Day 3 – Chatuchak Market Day
Today you will visit the largest outdoor market in Southeast Asia. It is packed with hundreds of stalls selling vintage clothing, antiques, DVDs, electrical equipment, paintings and more. There are also dozens of great food shops and even a few bars to relax in.
Day 4 – Volunteer in Bangkok
Join our team running games and activities for children at Wat Pho School in Bangkok. Wat Pho is one of Thailand's most iconic temples and home to the gigantic, golden reclining Buddha. This is a privilege that most tourists may never experience. The activities will provide the children an opportunity to practice their English with you and also be a lot of fun for all involved.
Day 5 – Transfer to Surin
You'll travel to Surin approximately 7 hours away with the rest of your group. When you arrive into Surin, you'll check into your hotel and then meet the Surin team for a local orientation. After that it's time to relax ready for your project work.
Day 6 - 7 Childcare Experience
You will volunteer at local Childcare centre working with the children and also helping to renovate the facilities. Project hours are typically 09:00 – 15:00 but may vary depending on the centre's schedule. You will be supported by not only your guide but also one of the full-time local project staff. The centre is located around 30 minutes from Surin and transport is of course provided. During the mornings 09:00 – 11:30 you will work directly with the children. At lunch time (11:30 – 12:30) you'll assist with serving the children food. Lunch w
ill then be provided for you at the centre. In the afternoons (12:00 – 15:00) the
children take a nap. During this time our coordinators will support you with the renovation of the centre's facilities or working on small community projects around the village. Full details are provided during orientation.

Day 8 – 9 School & Community Experience
You will work together with your group to help renovate part of a local school or community centre. Surin is one of the poorest regions in Thailand and many facilities are desperately underfunded
. During these two days you will complete a project identified by a local school as benefiting the local children. Don't worry, no specialist skills are required – just a bit of commitment and teamwork. Past projects have included the renovation of school playgrounds, development of sports fields / facilities for school and also renovating and decorating school libraries. Your project will be assigned and discu
ssed with you on arrival in Surin. This is a great opportunity to really leave your mark on the local community and be proud that your efforts will benefit those that live in the local area.

Day 10 Free Day
Today there are no planned group activities giving you the opportunity to relax or explore the city of Surin at your own pace. The in-country team will help you with ideas and offer advice on what to do.

Day 11 - 15 Elephant Experience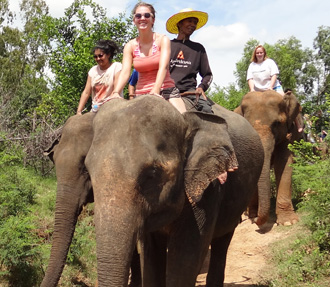 Immerse yourself into traditional life and get up close and personal with one of Thailand's most iconic creatures. You will stay in the village and support the mahouts caring for the elephants. Later in the day you can relax at the house or join in activities organized by the team. Your hosts are excellent cooks and all meals while at the village are included. You will return to your previous accommodation in Surin city in the late afternoon of day 15 .
Day 16 / 17
You've had a hard few days so enjoy a couple of days of rest and relaxation back in Surin.
Day 18 Travel to Khao Yai National Park
You will leave Surin around 9.00am and travel towards Khao Yai National Park. Khao Yai is one of Thailand's most beautiful national parks and has stunning scenery. The journey is approximately 4 hours. Once you arrive at your accommodation you'll have the evening free to relax and prepare for the Jungle Trekking tomorrow.
Day 19 Jungle Trek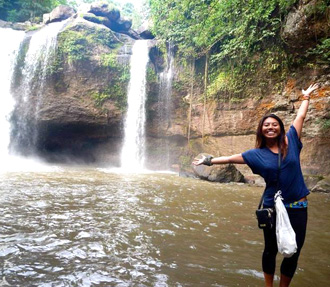 You will join an experienced local guide and spend the day trekking to one of Thailand's most iconic waterfalls and take in a breathtaking view at Pha Daew Dai. The Jungle trek is often regarded as one the highlights of the trip for its sense of adventure. The trek is very pleasant and provided you are in good health, not particularly challenging. Lunch is not provided but you will be allocated time to eat the National Park headquarters. Around 15:00 you will transfer back to your accommodation and have the evening free to discuss today's activities with the rest of your group.
Day 20 Transfer to Bangkok
At around 10:00 you will depart the resort to head back to Khao San Road. The journey will take approximately 4 hours. Once on Khao San Road you will check into the hotel and have the evening free.
Day 21 Finish or Beach Week?
Tour finishes for customers who chose the
three
week option. If you are leaving today then you are free to make your own arrangements for onwards travel or making your way to the airport.
Those who booked the additional week beach extension, will have the day free on Khao San Road for exploring.However if you're not ready to head home just yet – grab the overnight coach with us to Koh Pangnan for another week of partying and relaxing on the beach.
Cost for Beach Week Extension is $295 / £207 / €245
BEACH WEEK EXTENSION (OPTIONAL)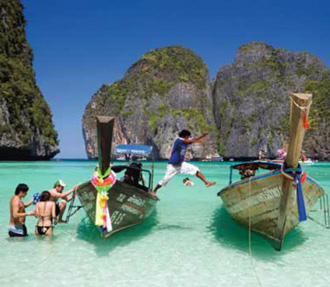 If you're choosing the beach extension option (and why not – the beaches of Thailand are rightly famous not only for their beauty but also some of the best parties around) your itinerary will be as follows (NOTE: The beach extension week is unguided but all travel tickets and accommodation are provided and your guide will give you all the information you need BEFORE you head off!)
Day 21 (Beach Extension) Transfer to Koh Phangan
Note: The Beach extension is unguided and you will travel unaccompanied. You will be given all the details you need. You will need to check into the Lomprayah Office near Khao San Road for check in at 20:30. At 21:00 the coach to Koh Phangan. The journey involves an overnight bus ride to Chumpon on the coast.
Day 22 (Beach Extension) Arrive in Koh Phangan
From Chumpon, you will then take the ferry to Koh Phangan. Lomprayah staff will assist you with the transfer. The ferry will take approximately 3-4 hours. When you arrive in Koh Phangan you will be collected from the pier by a representative of your resort. You will be given details in Bangkok prior to departure. You'll then be provided transport to the resort and check in.
Days 23 - 28 (Beach Extension) Free time in Koh Phangan
You're beach extension is your time to relax or party at your leisure. You can enjoy the beaches or soak up the atmosphere and fun of the home to world famous 'full-moon party'. There is plenty to do around Koh Phangan and your resort will be more than happy to offer ideas and arrange trips and activities for you.
Day 29 (Beach Extension) Finish
You will need to check out before 12:00. You are then free to make your own arrangements for onwards travel or departure to the airport.
NOTE: Return transfer to Bangkok is NOT included in the Beach extension, however our in country team will be able to assist you with making arrangements for your onward travel.
Cost for Beach Week Extension is $295 / £207 / €245
Living and Other Arrangements
As a VolSol volunteer you are provided with best of living standards available in Thailand. Our dedicated coordinator and staff will assist you with your airport pick up, stay, meals and even weekend sightseeing and travel. Arrive in peace and have the best time of your life.
Airport Receive/ Transfer
Volunteers are picked up from the Suvarnabhumi Airport in Bangkok by the local coordinator or representative on your program start date between 6am - 10pm.
Orientation
All volunteers are provided with an orientation and brief about your trip during the summer. The Orientation session covers areas like, local Thai culture, greetings, locations, transportation etc. Volunteers are also given a city Tour of Bangkok.
Loading…


Lodging
Volunteers are provided accommodation in a Guesthouse/ hotel for two nights in Bangkok on arrival (Friday and Saturday). In Surin, lodging will be in one of our three volunteer houses where accommodation is shared with other volunteers. The houses are centrally located and close to shopping, ATM's, restaurants and more.
Local Transportation
Daily transportation to and from the project placement to the volunteer house is provided to the volunteers.
During your Free Time
In Surin there are many local bars, shops and restaurants in the town plus a night food market. The city is an extremely safe place to stay. Surin province once belonged to the Khmer empire (now Cambodia) so you'll find scattered ancient temples from the same period as the temples of Angkor in Cambodia. The land border crossing in to Cambodia is located just an hour from Surin and is easily accessible from the town's bus station. This accessibility allow volunteers to travel to Cambodia during weekends.
Start / Arrival Dates
Summer Special Thailand 2015 - 2016
Jun
Jul
Aug
2015

26

10

,

24

07

2016

24

08

,

22

05
Thailand Summer Special Program Cost
Volunteering Solutions strives hard to keep costs low and offers one of the most affordable volunteer abroad programs. Compare our prices and services to other organizations and you would be surprised to see the difference.
| | |
| --- | --- |
| No. of weeks | Thailand Summer Special 2015 Cost |
| 1 Week | - |
| 2 Weeks | - |
| 3 Weeks | $1049 |
| 4 Weeks | - |
| 5 Weeks | - |
| 6 Weeks | - |
| 7 Weeks | - |
| 8 Weeks | - |
| Extra Weeks | $295 |
Please Note: -An application fee of $225 is charged over and above the program fee as an application payment.
what are you Paying For?
Airport pick up
All accommodation (hotel, volunteer house and home stay combo)
Local guide
All project costs
All activities and local transportation
Food while on elephant project
24hr support from Local staff
Pre departure Info pack before departure
Travel and Medical Insurance ( available at extra cost)
What's NOT Included?
Airfare
Visa Fee
Food
Vaccinations
Return Trip to Airport
Frequently asked questions