Volunteering In India – A Comprehensive Guidebook
2,600 Views
This comprehensive guidebook would answer all your questions and aim to clear all your doubts about volunteering in India and what all you can expect when you arrive in this Magnifique land.
"The best way to find yourself is to lose yourself in the service of others." – Mahatma Gandhi.
Since ages, people from all across the world traveled to India – some came to see and adore the beauty of the land, while a few came to conquer, some came to trade while others wanted political power. No matter what drove them to come to India, but whoever came, fell in love with the country.
In this 21st century, millennials are redefining their travel goals and taking volunteer trips to India. From high school students to gap year travelers and backpackers, even couples and families, are taking vacations to engage themselves in some sort of meaningful work.
Volunteering Solutions is an international organization offering various volunteer and internship abroad opportunities for people of all ages – from 17 to 70-year-olds, and beyond. There are multifarious benefits of volunteering abroad.
Guidebook Content:
Why Should I Volunteer In India?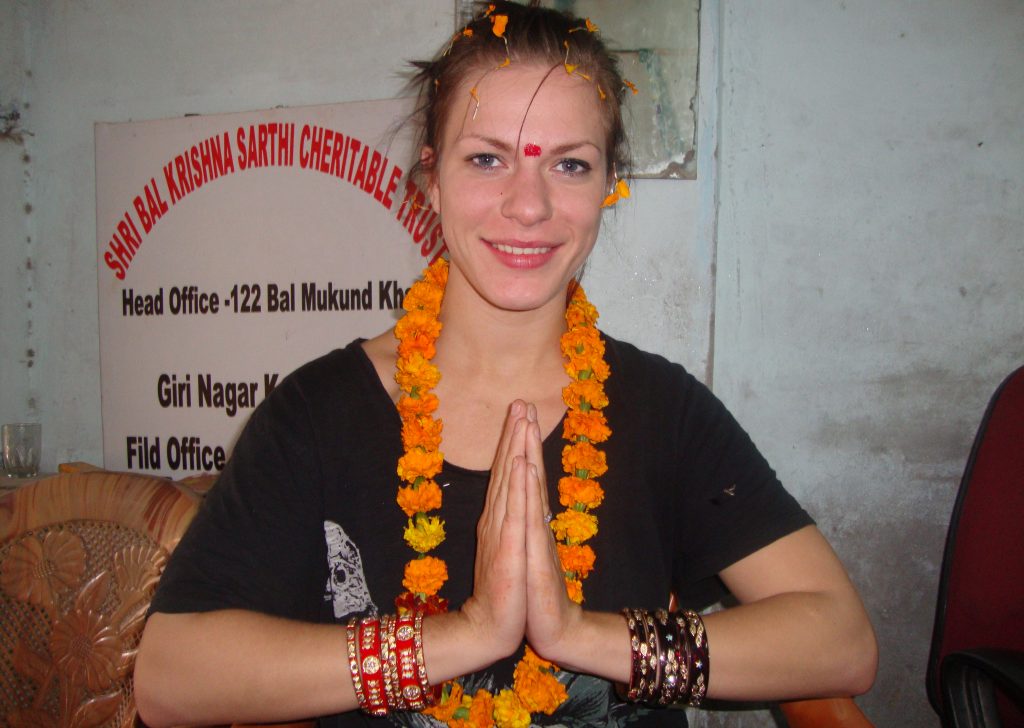 India is considered to be one of the most beautiful countries of the world, which encompasses varied geographical formations along with cultural diversity and rich historical heritage. Over the years, India has grown manifold and embraced changes to keep up with the dynamics of the world. One can read about India in books and blogs, but that'll never be the same like the experience of visiting the country.
Being a volunteer in India can be one of the most difficult as well as rewarding experiences of your life. Whether you're coming for a week, a month, or a year, you will certainly come across things that will amaze, challenge, and change you.
In spite of the rapid development, India still faces several social problems including corruption, illiteracy, poverty, lack of sanitation facilities etc. Volunteering can be the best altruistic approach to contribute towards the upliftment of the underprivileged section of the society and help them live a better life.
You may find yourself questioning and constantly reevaluating your definitions of 'social work', 'volunteerism' and 'service'. India is truly a land that can delight you to the core, break you down and then rebuild you, stronger and wiser than ever before. Once you visit the country, you'll know that life will never be the same again for you.
Perhaps you'll go back to your land and inspire many more to come to India to volunteer.

Where In India Can I Volunteer? What Are The Projects That I Should Look Out For?
Whether it's the bustling capital city of India, New Delhi, or the royal city of Rajasthan, Jaipur – Volunteering Solutions will provide you with the best program that suits your interest.
Volunteer Projects in India
India has always been a popular volunteering destination, especially for students who want to gain some international work experience. There are diverse volunteering and internship projects in Delhi which are listed below: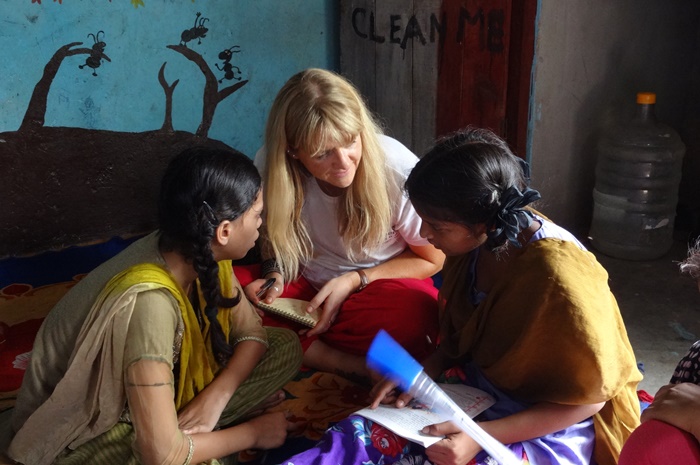 Participants, who are eager to work and play with children, can join any of these projects. The kids coming to these schools or residing at shelter homes belong to the underprivileged society and lack the necessities of life. While they are provided with the basic requirements at the shelter homes, the volunteers are required to take care of them and shower them with the love and warmth that they deserve.
Volunteers can teach them English, Maths, and Geography as well as different co-curricular activities like singing and dancing. Activity-based teaching methods would help the kids learn faster. Volunteers might also have to help the staff members, if and when required.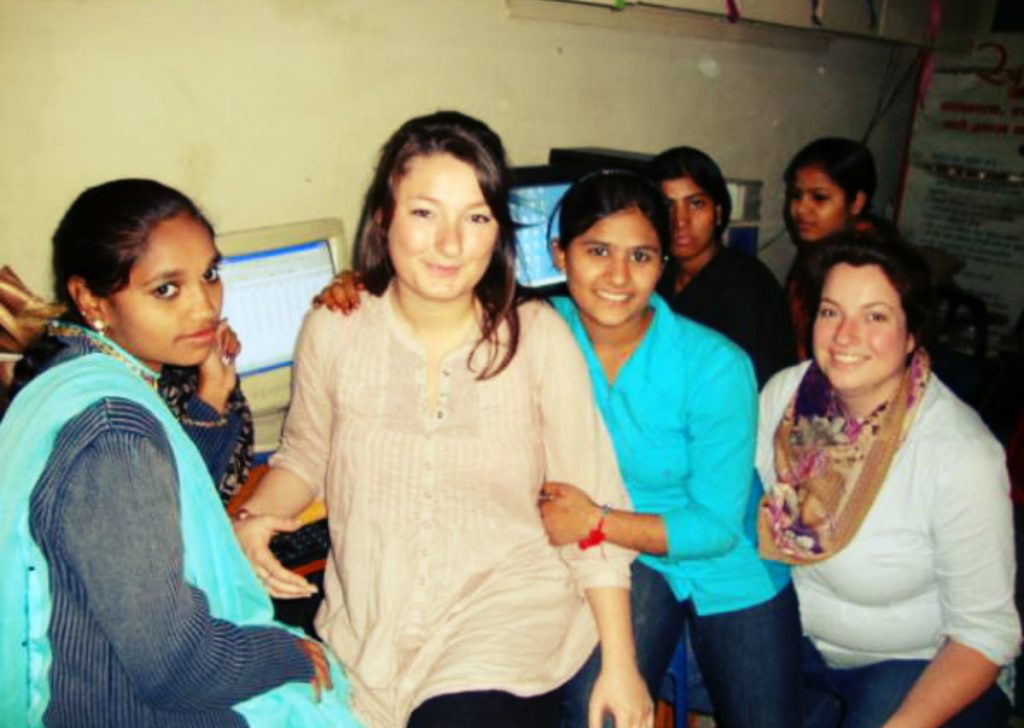 India has seen patriarchal societies since ages, but now the scenario is changing. Women are getting power in almost all sectors and making a mark. However, there are certain underprivileged sections where women still struggle in their day-to-day lives.
The Women Empowerment Projects aim to educate these women so that they can earn and life a respectable life. Volunteers working with women will have to teach them English communication as well as vocational education like sewing, stitching, making handicrafts etc.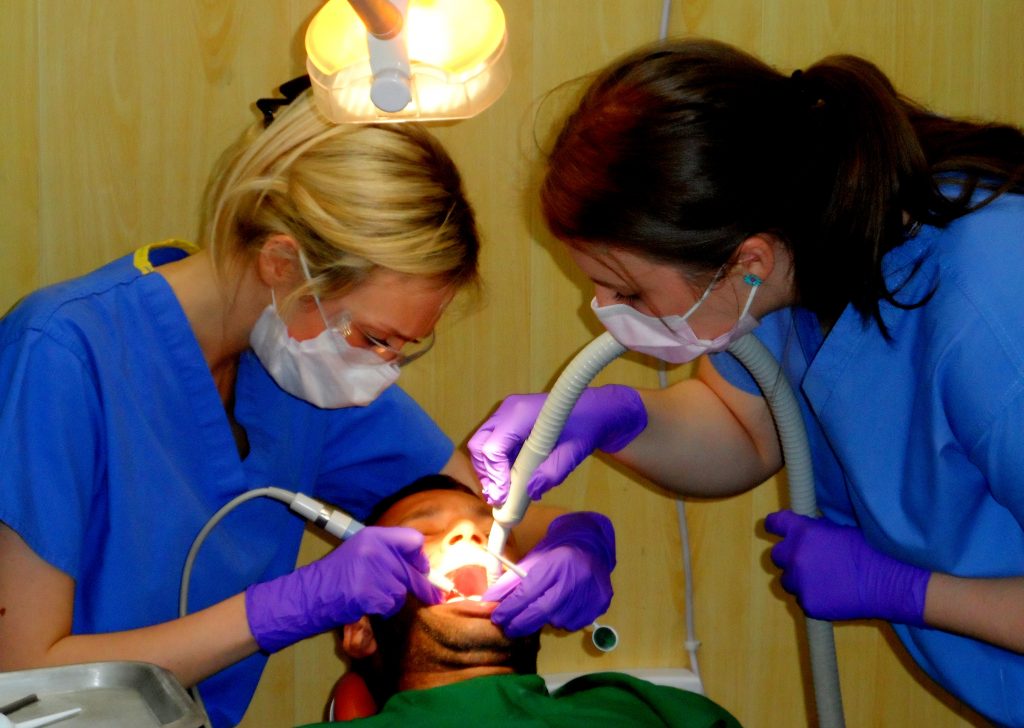 Pre-med, medical, nursing and dental students looking for internships abroad can come to India to work with professionals and gain first hand work experience. The internships are mostly in hospitals and clinics where interns have to shadow the doctors and assist them in tasks that'll be assigned to them depending on their knowledge and skills.
Students, gap year travelers or backpackers looking for a program where they can travel extensively in India while working, can join the Summer Volunteer Program In India.
High school/ College students looking for short-term volunteering projects can opt for the 2 – Week Special Volunteer Program in Delhi. These programs are designed by the team to provide the best of travel and volunteer experience in a time frame of 2 weeks.
VolSol believes that "All work and no play makes Jack a dull boy", hence all the projects are designed and scheduled in a way that volunteers get to work and explore during their stay. Volunteers and interns usually work from Mondays to Fridays during the daytime, for nearly 5 – 6 hours approx. (This time may vary depending on the project)
You will have the evenings for yourself as well as the weekends, to explore the place. During the weekends, you can take short trips, either within the city or you may choose to take a short trip to nearby destinations. The in-country coordinator will gladly assist you in making your weekend getaway plans.

Can I Know More About The Eligibility Criteria To Be A VolSol Volunteer/ Intern?
Volunteers must be 16 years and above (16 and 17-year-old volunteers should submit parental consent while applying).
Interns joining the medical and dental projects should be at least 18 years old. They must submit a letter from their respective college, ensuring their educational qualification is required for that particular project.
Volunteers should be enthusiastic, open-minded, caring, loving and innovative in their ways of action.
Volunteers must have the urge to learn. The entire process of volunteering is meant for self-learning and growth.
Volunteers should know how to adjust with all, as the accommodation facilities will be on a sharing basis.
Volunteers should aim to bring about some positive change in the project they get engaged with.
How Much Do These Projects Cost? What All Will Be Included In The Price I Pay?
Volunteering Solutions offers extremely affordable projects starting from $250. The money that you pay includes everything – from Pre-Departure Guidebook to airport pickup at your destination, accommodation and food as well as program orientation. A certain amount is paid to the partner organizations, with which you will be volunteering, for their development. Traveling to other cities for exploring purposes, shopping, airfare, visa fee, vaccination, and medical insurance are not included in the program fee, but some of these can be arranged otherwise at some extra charges.
The cost of the projects would vary, depending on the place and the duration for which you wish to stay.
The minimum cost for a week in India would be $250.
Note: An additional $229 has to be paid as an application fee.

When Do I Need To Arrive In India For My Program? What Will Happen Once I Arrive?
Programs usually start on Mondays, so volunteers need to arrive a day before, i.e., on Sunday. Volunteers will arrive at Indira Gandhi International Airport. Whichever airport it is, the VolSol coordinator will be there at the airport with a placard having your name written on it. You will be greeted at the airport and taken to the place of accommodation.
Volunteers can collect Indian SIM  card and also go for currency exchange at the airport itself.

What Kind Of Accommodation Facilities Will I Be Provided With?
Of course, you cannot expect the luxuries that you usually get at home, but VolSol will make your stay in India as comfortable as possible. Different project sites have different accommodation options.
Accommodation in Delhi:
Volunteers and interns coming to the capital city will be staying at the VolSol volunteers' houses in South Delhi area. The locality is safe and the house has all basic amenities that one may ask for. Accommodation will be provided on same gender sharing basis. Both the houses are neat and clean with attached bathroom facilities. The homes are equipped with wifi internet, filtered drinking water, hot water showers, air conditioning, satellite television, and well-equipped kitchen. The location has ATMs, cafes, restaurants and shopping areas in the vicinity. The project sites in Delhi are all located nearby the volunteers' residence, and it'll take 10-15mins to commute.
Note: Meals will be provided to volunteers and interns as mentioned in their program schedule. You will have to arrange for the meals that aren't mentioned. On Sundays, no meal will be provided as VolSol wants all its volunteers to try out the local cuisine and explore on their own.
All volunteers and interns will have an Orientation Session on the first day of your program when you will be told in detail about the program schedule, the entire itinerary, the city and the nearby places to visit, and everything else that our coordinators want you to know.

How Much Money Should I Carry For My Personal Use?
It's always advised that one must carry limited cash while on a trip to a foreign land and rely more on plastic money (Credit/Debit cards). There are foreign exchange offices available in all the metropolitan cities in India. Considering that you will be going through one of the placement agencies for your entire trip, the cost of your accommodation and meals for your entire stay will be covered automatically, which eventually cuts down a major chunk of your expense.
A day spent in the marketplaces of New Delhi may take approximately $5 to $50 from your pockets, depending upon the length of shopping you do and the kind of market you are in. The same goes for your food – whether you choose to eat at a cafe or at a high-end restaurant, during the weekends.
Note: Your weekend trips won't be covered under your program fee. So make sure to plan your expenditure accordingly. VolSol can arrange for your weekend trips at an extra cost.

What Are The Do's And Don'ts In India?
Indians are very warm and welcoming and you'll feel the love as soon as you step into the country, "Atithidevo Bhava" – "The guests are equivalent to Gods" is like a code of conduct for every Indian and they are extremely tolerant to foreigners. However, like every other country in the world, India also has her set of rules and norms that most localities would want you to follow if not all. It is advisable to follow certainly do's and don'ts, so that no one gets offended by your actions.
Do's:
For females, make sure to dress properly. You might attract a lot of stares and glances if you wear revealing clothes. Men should avoid wearing shorts and vests while out for work.
Prepare yourself to face the traffic and the pollution.
Do greet people with a smile and a 'Namaste'. Shaking hands or giving a hug isn't much appreciated in India.
Do take all the vaccinations before your arrive in India. This includes malaria, typhoid, hepatitis, and tetanus.
Ask questions and show eagerness to know. Indians love to talk and they'll be absolutely glad to have long conversations.
If somebody invites you for lunch/ dinner, do carry some gift for the host. It'll be much appreciated.
Remove your shoes while entering someone's house, a temple or any other sacred place.
Drink a lot of water to keep yourself hydrated. The climate in India is usually hot and sultry.
Learn how to bargain efficiently while shopping for roadside shops and local markets.
Do try all the amazing food that India has to offer, and savor the blend of spices and flavors.
Make a checklist of the things you want to do during your volunteer vacation, and try to tick them off.
Don'ts:
Indians are quite intrusive when it comes to personal matters. Don't get offended if someone asks you "Why aren't you married?" or "When will you have babies?"
If you are a man, don't put your hand out to shake hands with an Indian woman unless she offers first.
Don't call people older than you only by their first name, it is considered to be disrespectful.
Don't give money to beggars. This might be a moral call on your side but giving money to beggars usually, mean that dozens more will show up in seconds begging from you.
Don't show your valuables to strangers. Don't leave your purse open or your phone on a table in public.
Don't drink water from anywhere and everywhere.
Don't talk about eating beef in public, nor ask for beef at any restaurant. 
Don't discuss religion with the locals, especially in rural areas, as it might get you in trouble.
Don't offer or take anything with your left hand as it is considered to be very inauspicious by Indians.
Where Can I Travel And What Are The Things To Do While Volunteering In India?
As they say, "India is too vast to be covered in a lifetime", it truly is! And you can never see everything in one visit. From historical richness to architectural grandeur and the geographical formations with the recent developing glittery markets – India has so much to offer you. It's better if you make a checklist for yourself and try to cover those places during your volunteer vacation.
Visit all historical sites in Delhi
Delhi has been the capital of India since ages – when the Mughals ruled and then during the times of the British rule till date. The city has gone through several changes, and you can witness various shades of the city. While the area near Old Delhi still holds on to the Mughal charm with Jama Masjid, Red Fort and the Chandni Chowk, the area near Connaught Place portrays the Colonial architecture. The Volsol coordinators will instruct and guide you about all the historical places that you should visit – starting from Qutub Minar to Lotus Temple. Many of these are UNESCO World Heritage sites and you can't afford to miss them!
Take a road trip to Jaipur
A road trip from Delhi to Jaipur (approx 5 hours' drive) can be a perfect weekend plan. Also known as the "Pink City", Jaipur is the capital of the royal state of Rajasthan. A place what was once ruled by the mighty Rajputs has now transformed into a planned city with skyscrapers and shopping arcades. The forts in Jaipur are magnificent and portrays the style of the Rajput architecture. Apart from the forts, there's a lot to do in Jaipur like savoring the tastes of local cuisine at Chokhi Dhani, taking a camel/ elephant ride, exploring the crowded marketplaces and much more.
Travel to the city of love – Agra
Coming to India makes it mandatory for everyone to visit the Taj Mahal, one of the Seven Wonders of the World which is also considered to be 'The Monument of Love'. From Delhi to Agra, it'll take around 4, 5 hours by car. The Taj Mahal will never fail to mesmerize you with its beauty. Situated on the banks of the River Yamuna, it's a piece of art that can never be replicated or remade. You can also visit the Agra Fort, Akbar's Tomb and Fatehpur Sikri. Agra is visited by almost all VolSol volunteers who opt for a project in India.
Visit Mcleodganj and Trek to Triund
Volunteers can go to Mcleodganj for a weekend and trek to Triund. Mcleodganj is one of the most beautiful hill stations of the country with pristine monasteries and little cafes offering Tibetan food. You can relax by the Bhagsu waterfalls and gaze at the Himalayan peaks for hours, endlessly. For the ones who are looking for some adventure can trek to Triund (9,500 ft). Enjoy the walk as you'll cross the oak and rhododendron forests. This trip will definitely soothe your senses and refresh your mind and soul.
Try the local food
India is a paradise for foodies and no matter which place you visit, it'll have something exclusive to offer you! While North India has too many spices adding flavor to the cuisine, South India has amazing seafood to offer. Starting from samosa to chaat, and daal-baati to idli and dosa, try gulping down as much as you can! And don't forget to taste the desserts – like kheer and gulab jamun! The food in India will keep you drooling and you'll long for more.
Attend any of the Indian festivals
India is well known all over the world as a country of cultural and traditional festivals as it has many cultures and religions. Even the foreigners who arrive in India get overwhelmed after watching the Indian festivals. Each and every festival is celebrated uniquely in different ways according to the rituals, beliefs and its significant history behind. While volunteering in India, make sure to attend at least one festival, be it Holi, Dussehra, Diwali, Eid, Muharram or Christmas. You'll realize that in spite of religious differences, people unite and celebrate together during festivals.
Take a trip to Goa and relax by the beaches
Goa is a hippie's paradise in India. Located on the West coast by the Arabian Sea, Goa is a place to relax, party and try out various water sports at an affordable rate. VolSol coordinators can plan and arrange for your Goa trip. The beaches have little shacks where you can try out local Goan cuisine. You can also take a dip in the blue water or just relax and get tanned! Being a Portuguese colony at once point of time, Goa still has an old world charm. There are many churches and forts in Goa that are absolutely worth visiting.
While there's a lot more to do while traveling in India, but these must be there in your checklist. For any other assistance that you may require, the VolSol team will provide guidance as per requirement.

Reviews From Past Volunteers
Evie Raijmakers (Netherlands)
" I am really thankful for all the help. I really liked the traditional welcome and goodbye. The kids were lovely and wanted to learn more.
The accommodation is basic but good (I especially liked Rajiv and his wife, who I respect for doing this volunteering all year round. When I needed medicines, within half an hour I got them thanks to all the help I got!
Javier Moreno (Spain)
"I really enjoyed playing with kids, teaching them, hanging out with other volunteers and learning more about the culture difference.
I felt my efforts get appreciated there and the overall living experience was excellent. Our accommodation was very comfortable and homely stay with all the facilities I could have asked for. The in-country staff was very friendly and supportive. They made the program easier and smooth."
Why Should You Choose To Travel With Volunteering Solutions (VolSol)?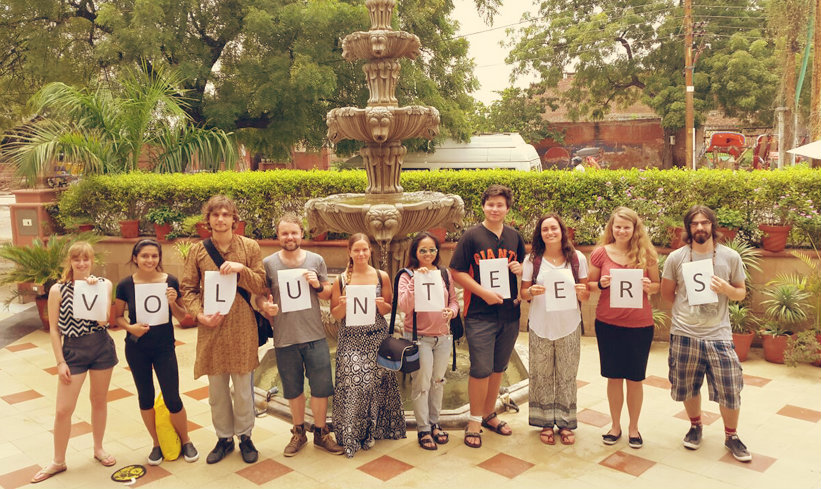 Planning for a volunteering journey isn't as easy as it might sound. It involves a lot of processes like finding a trusted organization abroad, arranging for food and accommodation, doing research about the country you are traveling to, knowing what kind of volunteer work you are expected to do, and a lot more. All these hassles are reduced once you choose to volunteer with an organization that has been in this field for almost a decade and has placed more than 15,000 volunteers in meaningful projects.
All you need to do is choose your preferred destination and the project you want to get associated with. VolSol Team will guide you in all the following processes, starting from providing information about the project to arranging your stay. There will be an in-country coordinator who will orient you about the place and tell you about the places you can visit while your stay, the food you should try, the activities you are supposed to do, so on and so forth.
VolSol has partnered with trusted organizations which work for various social issues, and it is ensured that volunteers can effectively contribute towards to the cause while acquiring new skills and make memories worth cherishing.
If you have anything more to know, drop a mail at [email protected]
About The Author