Volunteer Work In Cambodia: A Comprehensive Guidebook
1,820 Views
Cambodia is a small yet beautiful Southeast Asian nation surrounded by Thailand, Vietnam, and Laos. The country has been through turmoils and war in the past, however, the 21st Century has brought the dawn of development in the country. Volunteering in a developing country like Cambodia would be challenging as well as satisfactory.
Volunteering Solutions, with its experience of over 10 years in the industry of volunteer placement, makes sure of providing one of unique volunteer experiences to all of its overseas participants. The details provided in this paper is a result of some extensive research and observation work done by the team of Volunteering Solutions in these last 10 odd years and by hosting more than 13,000 volunteers across all the destinations.
VolSol provides some really affordable and meaningful volunteer programs in the Cambodian capital, Phnom Penh. This includes Teaching English, Orphanage Program, Community Development, Childcare and, Teaching Computer Skills etc.
What are the requirements to be a volunteer in Cambodia?
All it takes to be a volunteer is dedication, enthusiasm, sincerity, and patience. Those who pertains all these qualities, or even one of these, can be a volunteer. However, there are certain prerequisites, which one needs to comply fully to volunteer in Cambodia.
The age of the interested candidate must be at least 17 years (min. 18 years for medical students).
Those who wish to join the medical volunteering program must be 3rd year/ final year students or practitioners.
Participants must be ready to work hard.- The volunteers need to have an open mind and positive approach towards their projects.
They must have the enthusiasm to add creativity to the project.
Since few programs also include children, it is mandatory for an interested candidate to submit a certificate for the clean criminal background.
What kind of volunteering programs are available in Cambodia?
he most popular Southeast Asian volunteering destinations, Cambodia has 6 amazing and affordable options to choose from. The programs are available throughout the year, with a minimum duration of 2 weeks and a maximum of 24 weeks. Participants can choose the duration depending on their convenience. The programs are designed in a way so that they can fetch maximum benefit for the host community as well as help the volunteer gain more insights about the grassroots level work structure. All the volunteering projects in Cambodia are located in and around the capital city of Phnom Penh.
Cambodia Experience Program
This is the best project for those who are looking forward to exploring Cambodia as much as possible while volunteering, within a fixed time duration of 3 weeks. Cambodia Experience Program is available throughout the year, however, it is mostly suitable for the students who are looking for a summer volunteering program in Asia. Participants will work at Kompong Speu, a rural part of Cambodia, helping youngsters to improve their English language levels. English, undoubtedly, is one of the most important languages that highly affects a person's career, no matter in which part of the world he/she is. Apart from volunteering, participants will get to explore the ruins of Angkor, as well as Wat Phnom Temple, Tuol Sleng Genocide Museum, the Russian Market and Choeng Ek Killing Fields etc. There can be no better option than exploring Cambodia with the locals. The highlight of the trip is a boat ride on the Mekong River. Participants will also get to spend some time in the lively beach town of Sihanoukville.
Orphanage Program
Participants joining the Orphanage Program in Cambodia will get to work with children between the age of 3 to 16 years at the local orphanages and centers for children from poor slums of Phnom Penh. These kids come from extremely poor backgrounds and compromised families, and all they need is love and warmth. Volunteers will have to look after the kids, play and teach, wash their clothes and cook food for them, feed the younger ones and also help the management is planning how to improve the facilities available. The work hours at the project site is from 9:30 AM to 4 PM, with a 2-hour lunch break in between. While volunteers will have a fixed schedule for weekdays, they can travel to Siem Reap on weekend to explore the temple complex at Angkor.
Medical Volunteering Programs
This program is meant for 3rd year and final year medical students as well as professionals who are looking forward to be a part of a philanthropic project and contribute meaningfully towards the well-being of the people. Volunteers are placed at city hospitals and clinics in Phnom Penh and the main task involves assisting the doctors and nurses. Tasks are assigned as per the efficiency of the participants. The main tasks involve – assisting the doctors and nurses, taking regular rounds of the hospital wards, suturing wounds and giving vaccinations, routine check-ups like measure Blood pressure, check fever etc. as well as maintaining files of the patients.
Teaching English Program
In Cambodia, the education facilities are not quite adequate for the poor and the underprivileged ones. Thus, many youngsters fail to make a career after completing their studies. Volunteers joining this project will work with the aim of improving the communicative skills of the young ones, so that they can have the scope of bagging jobs in the cities once they complete their education. Volunteers will have to work for 3 to 6 hours a day, preparing the lesson plans, helping with translation work, implementing new teaching ideas and engaging the students in communication. Volunteers eventually will also have the scope to learn the local language while communicating and translating! This program is best for those who wish to work with young adults.
Teaching Computer Skills
While computers and internet facilities are available in Cambodia, there's a lack of knowledge and skill among the people. Hence, volunteers can play an important role by providing adequate guidance so that people know how to make proper use of the resources available. As per requirements, volunteers are placed with schools, orphanages or NGOs working to educate staff as well as provide general  IT support. Volunteers opting for this project must bring their laptops along with them. The aim of the project is to train people how to use the computer and lessen the pressure of manual work. Volunteers will also have to spread awareness about the importance of technological know-how in the 21st Century.
NGO Support Program
This is a perfect program for gap year students who are looking for long-term engagement. The minimum duration for this project is 5 weeks. Participants will get to work with local organizations that focus on the development of the people at a micro level, and the country as a whole, in macro level. Cambodia has seen darker days in the past and evolved with time. However, the weaker section of the society still comprises of people suffering from poverty and problems such as domestic violence, lack of human rights and proper education, understanding of issues such as environment, agriculture, health and several other areas. The main task of the volunteers would be to provide support to the local NGOs that are committed towards the development of these people. This program is quite challenging and it would provide a lot of opportunities for the volunteers to plan and strategize moves that can contribute towards development.

How much will a program in Cambodia cost?
The cost to attend a volunteer program in Cambodia depends mainly on the duration for which you want to be a part of it and the type of program you want to attend. For instance, the Medical Volunteer Program in Cambodia starts from $650 for 2 weeks to $1350 for 8 weeks.
Similarly, every program placement in Phnom Penh has a different cost attached to it. Here's the basic cost of all the programs:
Cambodia Experience Trip – Price for 3 weeks is $1095.
Teaching English Program – Starts from $400 for 2 weeks to $1000 for 8 weeks.
NGO Support and Community Development Program – Starts from $700 for 5 weeks to $1000 for 8 weeks.
Childcare Orphanage Program – Starts from $400 for 2 weeks to $1000 for 2 months.
Teaching Computer Skills – Starts from $400 for 2 weeks to $1000 for 2 months.
Apart from this, there's an additional application fee of $250 and 4% bank charges for online payment.

How much money will I need for my personal expenses?
Cambodia is a developing nation and the cost of living that one may have to bear while volunteering is not too high; however, it does depend on the kind of activities you indulge in and how much you decide to explore. The official currency of Cambodia is Cambodian Riel (KHR).
Below is the current exchange rate of KHR for different international currencies:
1 USD = 4089.35 KHR
1 EUR = 4577.00 KHR
1 GBP = 5204.11 KHR
While a good meal for two in a decent restaurant may cost you somewhere around $15-$30 (including beer), a rented room may not cost you any less than $350-$800 per month for a single room accommodation. Similarly, various activities and things may differ on price scale; such as, transportation, meals, groceries, etc.
While volunteering, we shall provide you with accommodation and food as mentioned in the itinerary of your Pre-Departure Guidebook. So there will not be much extra expense for you, apart from the weekend meals, transportation etc. A sum of $50 – $60 will suffice for an entire week for your transportation as well as personal expenses.
Our local coordinator will guide you throughout your stay and help you locate the best of eat outs, mode of transport, and shopping arcades. There are several foreign exchange counters available all across Cambodia; however, it is always good to carry the plastic money (credit cards/debit cards) rather than keeping excess money in cash.

Can I know more about the accommodation facilities in Cambodia?
There are two types of accommodations available for volunteers in Cambodia and they can choose according to their preference. You can either choose the homestay option and live with the host family or you can stay at the volunteer house. You can let us know about your preference and requirements in the application form and we will try our best to accommodate your needs.
While staying with the host family, volunteers will have an incredible opportunity as you'll  get to know the traditional customs, culture and 'way of living' of Cambodians. Volunteers are accommodated with middle-class families after proper background checking, hence, it is absolutely safe and secure.  All volunteers are provided with separate rooms in most cases. However, in a rare case, you would be sharing the room with a fellow volunteer. Sharing is usually between people of the same gender. All accommodations have running water and electricity available.
The Volunteer House accommodation is centrally located and close to most of the popular tourist sites in Phnom Penh. Volunteers share a room with other volunteers of the same gender, and it would be amazing to meet people from other parts of the world. Staying at Volunteer House is immense fun!

What about the safety concerns while volunteering in Cambodia?
Volunteering Solutions provides in-country support staff for volunteers' guidance and safety. Volunteers must, always, keep the local coordinator informed about their whereabouts. As a responsible placement agency, VolSol makes sure of the safety of its volunteers and do a complete background check of the appointed local coordinator, the area in which the accommodation is
provided, and individual volunteers as well; as they too come from different countries and will be staying together under one roof.
A general consultation from your physician back home is sincerely advised to avoid any kind of travel sickness. Apart from this, there are few basic vaccinations that every volunteer must take before coming to Cambodia to attend their program.
These include Hepatitis A and B, Typhoid and Tetanus.
In regards to the health issues, Cambodia is not facing any sort of epidemic currently. For latest updates on diseases prone areas and circulations, you can always get in touch with VolSol helpdesk at [email protected]

What are the DOs and DON'Ts that one must follow in Cambodia?
People in Cambodia are well-known for their hospitality and warmth. During a volunteering journey, you'll get ample opportunity to know the locals more closely and learn about their history and culture. It is always a good practice to understand the local traditions and cultural nuances of a country before visiting in order to avoid any problem. When volunteering in Cambodia, the most common thing that you will come across will be a sweet smile on every person's face; probably the reason why it is called the "Land of Smiles".
In order to avoid offending anyone and to have a worthwhile experience, here are a few DOs and DON'Ts that you must keep in mind:
DOs
– Ask for permission before taking photographs of the locals, especially women and monks.
– Dress properly while visiting a pagoda, temple or any other religious place (upper arms and legs should be covered, hats removed).
– Take off your shoes before entering a religious place or while visiting someone's house.
– A respectful way of greeting another individual is to bow the head slightly with hands pressed together at the chest – this Cambodian style of greeting is known as "Sampeah".
– Do let the elders take control of a situation, or finish speaking first.
– If invited to attend a Cambodian wedding, it is customary to bring cash as a wedding gift.
– If invited to dine in a Cambodian family's home, it is polite to bring a small gift for the host such as fruit, dessert, or flowers.Always give the gift using your right hand.
DON'Ts
– Don't touch anyone on the head, especially which working with the kids at a project.
– Don't use your feet to point at someone.
– If you are a guest, don't start eating before the host starts.
– Avoid sitting higher than the eldest person present in the room.
– Do not go overboard with public display of affection. Cambodians are a bit conservative in this regard.
– Don't talk about war when the locals are around, it highly offends them.
– Don't give money to street children and don't buy souvenirs from them.
– Avoid using plastic bags etc as minimum as possible.

Things to do while volunteering in Cambodia
One of the most popular Southeast Asian destinations, Cambodia has evolved over the decades from a phase to war to a phase of peace, growth, and development. Tourism has flourished immensely, surrounding mainly the two major areas of Phnom Penh and Siem Reap. Every year, a myriad of travelers visit this beautiful country, filled with scintillating landscapes and gigantic architecture. While volunteering, you'll have your weekends free – and there will be enough options for you to explore the country.
Let's take a quick look at the things you can do during your volunteering trip to Cambodia:
Explore Angkor Wat Temple Complex
This UNESCO World Heritage Site is one of the most picturesque architectural examples from the past, built during the Khmer Rule, and still, attracts millions of travelers every year. Taking a walk inside the temple complex will keep amusing you at every corner, and the best time to visit would be during sunrise, sometime around 5.30 in the morning! You'll be surprised to see so many people there at that time. Witness the grandeur of the ancient temples and learn more about its history from the local guides.
Cycling along the rice fields
Rice cultivation is one of the major occupations of the Cambodians. The field with shades of green can totally soothe your senses and make you feel fresh. On a weekend morning, you can take a cycle and explore the villages where crops are growing. It would be a different kind of an experience, and occasionally, you stop to talk to the farmers as well.

Check out the local markets
Phnom Penh, the capital city of Cambodia, provides a delightful ambiance to the visitors with an upbeat market scene, lip-smacking street food, groovy music and glittering nightlife. Take a brisk walk around the town while trying some sizzling hot dishes, surrounded by colorful scenery and a jubilant bunch of locals. Don't miss out the night market at Siem Reap as well as Phnom Penh. Go for a tuktuk ride in Siem Reap and then stuck our feet in one of the many "fish pedicure" tanks out on the thrumming streets! Cambodia will surely keep you on your toes!
Relax at the cost of Sihanoukville
You'll find vast stretches of golden beaches with turquoise water and small boats floating – an absolutely perfect sight! And to add more to this, Sihanoukville is not exactly southeast Asia's answer to Las Vegas but it does offer a few venues where you can go mad over casinos! One of the most happening beach towns in the region, you can try surfing, snorkeling and scuba diving here as well. You'll find the best seafood dishes in Sihanoukville. You can get in touch with the local coordinator if you wish to book your trip to this beach paradise with us.
Apart from these, you can go for a boat ride on the Tonle Sap Lake, explore the historical monuments and museums in Phnom Penh, visit the Ream National Park, Phnom Aural National Park, Virachey National Park etc.

Why should I volunteer in Cambodia?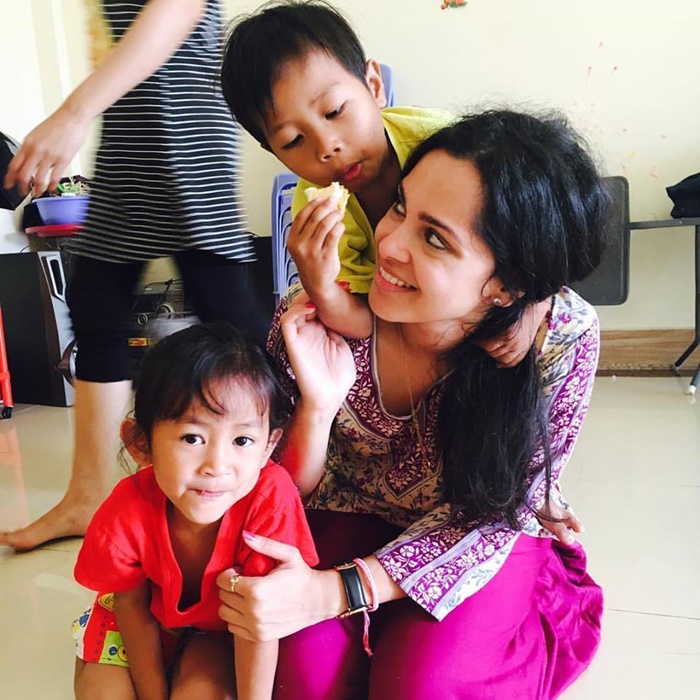 The reasons to be a volunteer in Cambodia are a plenty. The subtle lifestyle and peaceful environment, the rich heritage and culture, the hospitality of the local people, the beaches of Sihanoukville and the ruins of Angkor – Cambodia can leave you awestruck with its sheer beauty and simplicity.
However, there are sections of the society who need a huge moral support as well as a helping hand to evolve from the dungeons of misfortunate life. Volunteering Solutions aims to stand by those people so that they can dream of having a better future.
Cambodia is an amazing tourist destination and volunteering with the adorable kids and the friendly locals, certainly, would transform the way in which you can travel the country.

Why should I choose Volunteering Solutions?
Of course, that's a valid question to ask. After all, this is going to be one of the most eventful chapters of your life – so you need to take a proper decision about which organization you want to volunteer with. In the last 10 years, Volunteering Solutions has hosted more than 12,000 volunteers who worked dedicatedly to create an impact in the society.
We believe in the saying, "Change begins with you" and hence, we try to provide the best facilities to our volunteers so that they can contribute in the most efficient manner. Volunteering Solutions has dedicated coordinators placed at each and every of its destinations, who help, guide, and train the volunteers to get accustomed to the norms and culture of a particular country. With proper accommodation arrangements and all facilities provided within them, VolSol makes sure of a comfortable and memorable sojourn for all of its volunteers.
While being a part of the journey, you not only do good to others but also undergo a process of self-growth. You'll become a more compassionate person and learn to live with the basics in life. You'll be grateful for whatever you have and realize how lucky you are – as there are many in this world who survive on barest minimum.
Volunteering Solutions also provides tailor-made projects for groups (students, colleagues or families) who can work together and explore Cambodia.
Reviews from past volunteers
If you are looking for more information about the projects, then you can directly drop us a mail at [email protected]
About The Author