Amazing Things To Experience While Volunteering In Kenya In 2024
270 Views
When one thinks of traveling to Kenya, perhaps the very first thing that comes to mind is a game drive. However, this eclectically beautiful East African country has a lot more than just safaris! Kenya is a safe destination for travelers, and if you visit the land to volunteer, you'll be warmly welcomed by your host communities, who'll make you feel comfortable with their friendly gestures and tell you more about the country that tourists otherwise might miss out.
While volunteering in Kenya would be a great experience in itself, here are a few other things that are exclusive in the country, and you must do them in order to make your trip more memorable and colorful.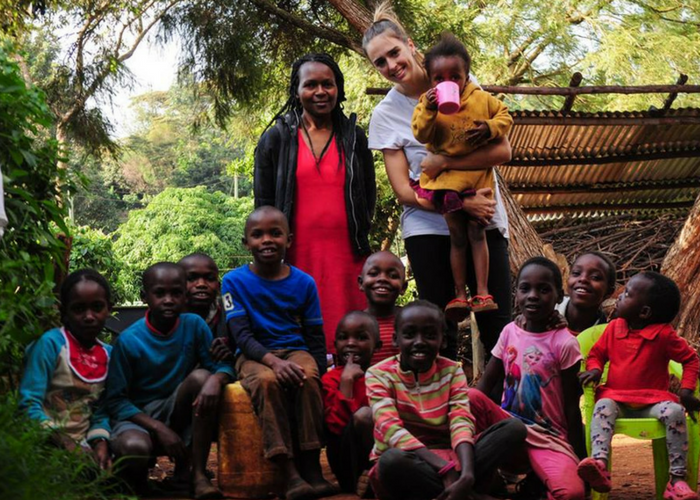 1) Witness the Wildebeest Migration
The Maasai Mara Game Reserve in Kenya and the Serengeti National Park in Tanzania share the annual wildebeest migration during the months of May to July, and it's absolutely splendid to see nearly 1.5 million wildebeests and zebra migrate overland in search of food and water. This captivating event is one of the few natural land migrations that remains intact in the world today.
While taking a safari to spot a lion is mandatory, the Great Migration (as it is popularly called) would totally blow your mind and leave you speechless!
2) Explore Mt. Kenya National Park
Finding snow in the equatorial country might seem to be surprising! Mt. Kenya National Park is one of the 6 UNESCO World Heritage Sites in Kenya, encompassing the country's namesake highest mountain (5,199 m), providing the rare sight of equatorial snow. With diverse flora and fauna, this area provides a great opportunity for nature lovers to spend some time amidst calmness and also spot some endangered species.
3) Go on a Cheese Tour
Kenya and Cheese might just not be synonymous – and you always thought that Europe has the best cheese! At Brown's Cheese Factory, about 30 minutes from Nairobi, you can experience a 'Cheese Tour' and learn how cheese is produced "on purely biodynamic and organic principles".
Not just that, you'll also get to settle down to an exclusive cheese platter, followed by a three-course meal complete with homemade chutneys, bread, and homegrown salad. If you are interested, you can also join a course and learn how to milk the cows and produce cheese!
4) Enjoy your sumptuous breakfast with Giraffes
About 20km from Nairobi, there's a boutique hotel called Giraffe Manor, where you can share your breakfast with the long-necked ones! The manor is home to a herd of Rothschild's giraffe. This 1930s boutique hotel is set on 12 acres of private land, with a view of the Ngong hills.
Apart from giraffes, the ranch is home to warthogs, dik-diks, birds, and bushbuck. A nearby giraffe center is a breeding area for the endangered Rothschild's giraffe, and you can also take a walk with these lovable animals.
5) Spend some time fostering the elephants
Hundreds of elephants are killed every year for the demand for ivory, but conservationists say that it's high time that we become alert and start caring for the lives of these animals. The David Sheldrick Wildlife Trust in Nairobi rescues and rehabilitates orphaned elephants and rhinos with the aim of returning them to the wild.
Visitors to the elephant orphanage come face to face with the infant survivors of the illegal ivory trade at the trust's Nairobi nursery. During your volunteering journey, spend some quality time with these elephants and shower them will love. 
6) Savor the tastes of Nyama Choma
Well, every country has its signature dish – just like you can't miss Thai Noodles in Thailand or Paella in Spain, you got to try Nyama Choma in Kenya!  Nyama Choma is Kenya's version of roasted meat on the grill – most authentically prepared at roadside butcheries.
All you need to do is – walk inside a butcher's shop and ask for a slice of meat! He'll instantly put it for grilling, and you can savor the freshly cooked grilled meat. While goat meat is the most popular one, you can ask for beef or chicken as well.
7) Eat at the world-famous Carnivore Restaurant
Carnivore is one of the most popular restaurants in Nairobi (and the world as well). Carnivore's specialty is meat and features an all-you-can-eat meat buffet! Apart from beef, pork, lamb, and chicken, you'll get to eat the meat of ostrich and crocodile as well.
Opened in 1999, this restaurant served giraffe meat, wildebeest meat, and zebra meat till 2004, when the sale of wild game meat was banned in Kenya. If you want to be a little adventurous with your palette, then you must definitely have a meal here!
Experience the thrill of living with the tribals and know the Maasai community and their traditions, explore the wildlife sanctuaries and national parks, and serve the Kenyan society in the most meaningful way. Your trip to Kenya will surely be one of the best journeys of your life, and as they say, "You never return the same as you had left!"
Find the best volunteering programs in Kenya with Volunteering Solutions: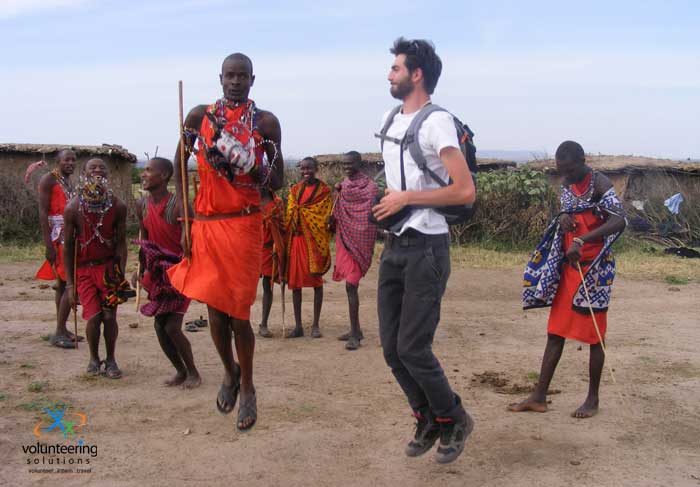 Being a part of this amazing travel and volunteer opportunity, you'll get to experience the best that the country has in store for you! Work at a childcare center, aiming to make a difference in the lives of the little ones by showering them with utmost love and care.
Additionally, volunteers at the project also get to spend adequate time with the indigenous Maasai people and understand their ways of living. And of course, no journey to Kenya can ever be complete without experiencing the thrilling game drives! So set out for the Maasai Mara Region and spot the lioness and her cubs in their natural habitat.
In a week's time, experience the best volunteer travel in Kenya – work in and around the city of Nairobi and experience the best that the country has in store for you! This program would be perfect for those who have very little time in hand yet are keen to travel to Kenya and volunteer for a meaningful cause. As a volunteer, you'll be working in a Childcare Center, where the orphaned and abandoned babies are sheltered.
Trust me when I say this, your life's gonna change once you spend time with the little ones here! Back in 2019, I volunteered for this program for 2 weeks and felt love like never before. All you have to do is – assist the local staff in taking care of children, such as feeding, dressing, and keeping the children active within the homes. You can teach them basic English & Maths, play with them, and shower them with love & care.
You can read about my experience here.
You don't need to be a professional teacher to volunteer in Kenya, nor do you need a TEFL Certificate. All you need is the enthusiasm to spread the lights of knowledge amongst the little ones. As a volunteer for the Teaching volunteer program in Kenya, you will assist in the teaching of different subjects in Kenyan elementary and high schools. Volunteers also work in community schools and orphanage schools to teach English, mathematics, science, geography, social sciences, history, physical education, art, and music.
If you are a pre-med, medical, or nursing student or a professional looking for a volunteering experience abroad – then you can be a part of this meaningful volunteer opportunity and serve the underprivileged ones. Volunteers in this program work in medical clinics, dispensaries, and hospitals in and around the city of Nairobi.
Your main responsibilities include suturing wounds, giving vaccinations, shadowing/observing doctors during operations, and treatments, maintaining records, making hospital rounds, etc.
So what are you waiting for? This year, experience a journey to Kenya like never before. Volunteer – Travel – Make Friends – Create Memories – It's surely gonna be a trip of a lifetime!
For more information, you can write to us at [email protected] and our Program Advisors will get back to you.
About The Author