Things You Should Remember While Volunteering In The Philippines
769 Views
When we travel to a new destination, there's always a thrill of experiencing different things, meeting people, exploring places etc. Officially known as the 'Republic of the Philippines', this South Asian country is an archipelago comprising of more than 7,100 islands, of which only 2,000 are inhabited. The programs offered by Volunteering Solutions are placed in and around Tacloban city – on the island of Leyte.
Volunteering in the Philippines would be a great opportunity for gap year travelers and college/ university students to acquire useful international work experience. Considering the fact that a volunteering trip is much unlike a regular holiday, some things would be really helpful and good to know in advance before you arrive at your volunteering destination.
1. Pack your luggage thoughtfully
Packing is an art and when you are traveling abroad to volunteer, you must not make your luggage too heavy! Considering the fact that the Philippines has hot and humid weather, you can carry comfortable and loose clothes that'll be airy and easy to work wearing them. If you are traveling between December and April, don't forget to carry your raincoat/ umbrella, because that's the time when it rains the most! Don't forget to carry insect repellents. Pack comfortable shoes – you might have to walk a bit, and that's quite enjoyable!
2. English is widely spoken, yet it's good to learn the local language
The country was initially colonized by the Spanish and later by the Americans – as a result, you'll find that almost the entire nation speaks good English, and some can speak good Spanish as well. However, knowing a couple of words in Tagalog (the local language) will do wonders for a volunteer like you! It'll help you to bond well with the local folks at your project site.
Here are some key phrases that you can learn:
Hello – Kamusta
Please – Paki  
Thank you – Salamat
Goodbye – Paalam
3. Use local transports like jeepneys and tricycles
The best way to save money and get around is using local transport, which comes in the form of Jeepneys (brightly colored buses), shared cabs, buses, motor-taxis, and tricycles. If you want the cheapest ride, then, of course, tricycles are the best. However, a ride in a jeepney would be exciting. Jeepneys are inspired out from US military jeeps that were left behind after World War II. They usually act like buses without air-conditioning and they can stop just about anywhere, for as long as you say "Para!" ("Stop!").
4. Don't forget to keep yourself hydrated
As mentioned earlier, being a tropical country, the weather would be hot and you need to drink a lot of water to keep yourself hydrated. You should always carry your bottle of water. There are plenty of roadside shops selling fresh fruit juices and tender coconut water – you can occasionally have those as well. Try the local drink called 'Buko Shake', which is made from fresh coconut, coconut milk, sugar and coconut water all blended together to create a pretty delicious shake.
5. Filipino people are just amazing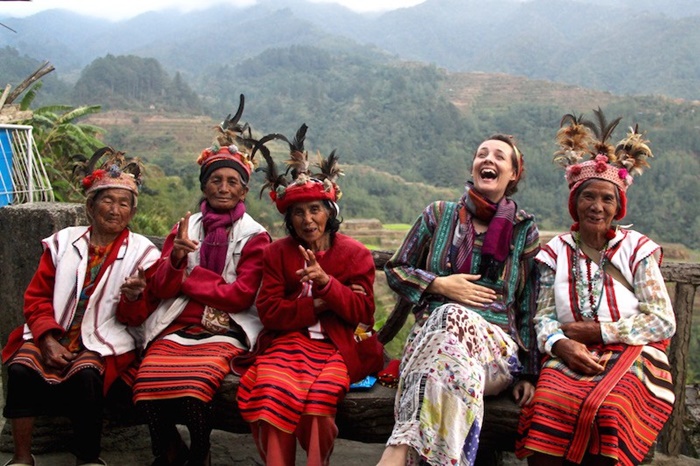 You should be happy because you'll meet some great people during this trip. Filipinos are amazing hosts and they'll welcome you with their big friendly smile. They'll ensure that you feel at home, and will leave no stones unturned in order to please you. Starting from the cab drivers to the waiters at the restaurants – you won't find anyone getting angry or frustrated. And just as they will be good to you, they would also expect you to be courteous towards them.
6. It's the "Social Media Capital of the World"
Yeah, you read that right! The Philippines is considered to be the "Most Social Nation" having the most active users on social networks like Facebook and Twitter. A study reported that Filipinos spent an average of 4 hours and 17 minutes per day on social media sites! That assures you about the internet facility in the country and the availability of WiFi, almost everywhere! While on a volunteering trip, you can keep in touch with the folks back at home and also make your peers jealous by uploading lovely photographs!
7. Look for toilet paper before going into the loo!
Carry toilet roll with you! Check the loo for toilet paper, but you'll mostly not find them. In some toilets, you'll find the toilet paper is kept outside the main doors. So just be sure to grab some before you go in to use the toilet.
8. Cash is important – don't use your cards much!
Exchange your money from trusted places, preferably at the airport or seek help from the in-country coordinator. We advise our volunteers not to use their cards while in the Philippines. You might not find ATMs everywhere while traveling, and even if you find one, there's no guarantee to get money.
This will surely be an experience of a lifetime. There are so many things to do in the Philippines – whether it's learning new things at the project site or making new friends, exploring Boracay or taking a ride in the jeepney, savoring the local cuisine or buying souvenirs from the markets – you'll completely enjoy being there!
If you want to contribute meaningfully and know more about our volunteering projects, then drop us a mail at [email protected]
About The Author