626 Views
The thought of traveling abroad, amalgamated with an intention of doing something meaningful for others, is indeed exciting. Hundreds of thousands of people are setting sail every year for contributing effectively towards the society and aiming to make this world a better place to live. Be it high school students to graduates on a gap year, medical professionals or retired personnel – everyone is making an effort in their own way, to do something that might help others in need.
Initially, everything about volunteering might appear to be fascinating but once you'll fix your mind about the tryst, there will be a lot of decision-making struggles along with the discomfort of stepping out on a journey to a distant land. If given a deeper thought, you'll see that it's not just an outward journey to help others, but an inward journey as well, which will help you to evolve as a better human being.
While you will surely come across several articles on the internet that would talk about 'Where should you volunteer?', 'Which project should you choose?', 'How volunteering can change your life' so on and so forth – we are providing you with all the information that you probably need for this epic journey that you're gonna undertake.
Take 2 minutes – go and grab your notebook and pen, and then, start jotting down those pointers which you think can be helpful.
P.S – No worries, you can thank us later, for helping you!
First Phase – FIND ANSWERS TO BASIC QUERIES
1. Why should I volunteer abroad?
– Well, there are several issues that keep affecting the growth of Third World Nations like illiteracy, poor medical facilities, wildlife conservation etc., which needs to be addressed and for that, volunteers are required. In case you wish to be a part of something that would make a mark in the society and help in making this world a better place to live – then why not? After all, you must also have the desire to tell you future generations about your noble tryst! If you still need more reasons, then you can take a quick look at this Infographic to know more about the benefits of volunteering abroad.
2. Why should I pay to volunteer?
– Of course, that's a valid question! But remember that when you pay for a program, it includes your accommodation in the country, food, 24/7 in-country assistance and a certain amount of the money goes for the improvement of the project. To clear your doubts, you can take a look at this article in which we have elaborately described where your money is utilized.
3. How will a typical working day at a project be like?
– Your day will start with a healthy and sumptuous breakfast that'll be served at your accommodation (homestay or volunteer house). After breakfast, you can take a quick bath and get ready to leave for your project site. Mostly, the work hours are from 9 AM to 4 PM, with a break in between for lunch. Usually, you'll have to work for 5 – 6 hours daily, on the weekdays (Monday to Friday). Later, you can return back to the accommodation, and relax. Volunteers usually go out for venturing the nearby markets and local tourist destinations. You can also try the local cafes. Dinner will be served at around 7 PM. That's how a typical working day would be like!
4. What kind of people usually participate in the programs?
– Good work needs no criteria – and we wholeheartedly believe in that! Hence, there's no particular requirement to be a participant. All that is required is to be open-minded, accepting and flexible enough to face the challenges and find quick solutions for the problems. Mostly, people between the age group of 18 – 30 years take part in the projects, however, we have had many senior volunteers as well. People from different backgrounds with varied interests take part in our projects and travel from all across the world. This would be a great opportunity for you to know people from other parts of the world.
5. How would I get the VISA? Also, I would want to know more about the Travel and Medical Insurance.
– Once you decide the country where you wish to volunteer and the duration, you can apply for a VISA. While some countries have provisions for eVISA, others provide VISA on arrival. You can also contact the nearby Embassy for more VISA related queries. Travel and Medical Insurance can be easily bought online. If you book your project through us, our Program Advisors will guide you regarding how you can obtain the insurance, don't worry about it!
Second Phase – PLANNING
6. Do a thorough research before you decide where to volunteer. Don't just choose a random destination – make sure that your heart wishes to go there!
7.  Find out which project in that particular destination aligns with your areas of interest.
8.  In case you choose to volunteer abroad with Volunteering Solutions, get in touch with the Program Advisors and clear all your doubts.
9.  Apply for the project once you have decided because it's always good to book your seat in advance.
10. Check with the Team about what all documents you might need and start sorting them. The early you start, the lesser will be the chances of missing out any important document.
11. Plan your expenditure. Managing the finances while traveling abroad is something essential. While most of the things – like accommodation, food etc will be covered under your Program Fee, you'll still need some cash for traveling, buying souvenirs or for your personal expenses.
12. If you wish to raise funds, then create a profile on any of the fundraising websites like GoFundMe, Volunteer Forever or FundMyTravel and narrate your story – Why you want to volunteer? Share your thoughts and convince people to donate money for this noble cause.
13. Book your air tickets soon after you apply for the project. Airfares are usually low if booking is done before a considerable period of time. You can check the Skyscanner website, that provides the cheapest deals.
14. Make a checklist of the places that you would wish to see. For example, if you are volunteering in Cambodia, then you just can't skip the Angkor Wat! Similarly, visiting Machu Picchu is a must while volunteering in Cusco, Peru.
15. Tell your parents, spouse, family, and friends about your decision to volunteer. While it might seem a little strange to them, they'll eventually appreciate your endeavor and feel proud for you. (And you never know, you might just inspire someone to tag along with you!)
Third Phase – PREPARATIONS
16. Read about the country where you are going to volunteer. Have an idea about its past, present, culture, festivals, cuisine etc.
17. Learn a few words of the local language. That'll make things easier for you while working with the locals.
18. Be prepared to experience culture shock!
19. Read about the DOs and DON'Ts. Every country has certain ways that the natives follow, and that's what shapes their culture and heritage. Try to respect it.
20. Connect with past volunteers over Facebook and know about their experiences. This might help you to understand more about the work and prepare yourself for the challenges.
21. Find out ways which will help you in adding more to the project. If you are going to work with kids, plan some creative sessions that'll keep the little ones engaged for longer, as well as teach them some lesson.
22. Buy some books, colors, charts etc that you can use at the project site. Watch some Youtube videos and learn new things that might be handy.
23. Make a reasonable list of goals for yourself, like what skills do you want to acquire, etc.
24. Remember that you are the representative of your country in a foreign land, and your mannerisms will make a mark in the minds of your hosts regarding all your countrymen.
25. Don't think too much about 'what will happen if…' – Go slow, and let things unfold at its own pace.
Fourth Phase – HEALTH CHECK UP
26. You're absolutely fit and fine, we know that. Still, we would suggest you to consult your doctor once.
27. Get all the vaccinations that are required.
28. Pack your medicines as prescribed by the doc.
29. Also, make a small first-aid pouch that will come handy at any point. Not much, but make sure you have band-aids, antiseptic cream, cotton, and painkillers.
Fifth Phase – PACKING
30. Travel light – Carry only a rucksack and not a trolley!
31. You won't need your party wear, leave that behind.
32. Pack comfortable clothes. Most of your days will be spent at the project site, so it'll be better if you pack clothes in which you can work comfortably.
33. Most of the Third World countries are conservative. Women, don't wear skimpy clothes. Also, carry a scarf – you might need it while entering temples or mosques. Men, avoid wearing shorts for work.
34. Don't forget to carry your toiletries and cosmetics.
35. Keep the insect repellent handy, you might need it often.
36. In case you have excess clothes for donation, do stuff them in your luggage! It'll be well appreciated.
37. Don't forget your travel documents – they are absolutely necessary!
38. Carry your power bank, travel charger, extra memory cards, torch etc – you'll need them all.
39. Do a research about the weather of your volunteering destination. Pack woolens, rain gear and shoes according to the requirement.
Sixth Phase – THE JOURNEY & THE EXPERIENCES
40. Absorb everything that the new destination has to offer you.
41. Talk to the country coordinator and know more about the kind of work he/she expects you to deliver at the project.
42. Try to adopt the skills that your peers possess.
43. Find time for yourself – don't forget to go on walks by yourself, to take time to process things on your own accord, to sit solo in a coffee shop or just indulge in things that you love to do.
44. Document your journey. Take photographs, videos etc. Write daily about your experiences and conversations.
45. Keep in touch with friends and family. Whats App. Skype or Facebook. Write letters to the folks at home. Tell them that you remember them. Keep them updated about your journey.
46. Take care of yourself – get adequate sleep, eat well and keep yourself hydrated. Unless you are healthy, you won't be able to do good work.
47. Learn the art of sharing.
48. Give up your bad habits.
49. Make the most of your time. Never lose a scope to learn.
50. Don't be scared to try new things. You might fail initially, but slowly you'll learn how to manage things.
51. Converse with your peers and plan what more you can do for the host community.
52. Spend quality time with your host family (in case you are living in a homestay). Know more about your peers, their likings, and ambitions, their country and culture (in case you live at the volunteer house).
53. Be dedicated and punctual. Set daily goals for yourself and try to achieve them.
54. But don't overstress yourself! Do whatever you think you can deliver with full commitment. Never work half-heartedly.
55. Remember to be flexible – the more you'll open up, the more you will learn about the world around you.
Seventh Phase – SAFETY TIPS AND CONCERNS
56. The world isn't as unsafe as it might seem while sitting at home!
57. Your safety majorly depends on you – Be a little more alert while you are on the go!
58. While you are in a new country, try not to stay out alone till late night.
59. If you wish to explore the nightlife, inform your coordinator and ask your peers to give you company. It's always better to venture out in a group, at night.
60. Save the emergency contacts so that you can seek help when required.
61. Never drink with a stranger.
62. If you plan to go for hitchhiking, then be sure before you take the lift. Trust your gut in such situations!
63. Never roam around with your travel documents. Keep them safely at the accommodation. In case you lose them in a foreign land, you'll definitely land up in much trouble!
64. Take permission from your coordinator if you wish to go somewhere during the weekends. Share your plans with him/ her.
65. Don't carry enough cash and avoid wearing expensive jewelry.
The eighth Phase – LEARN THE MOST IMPORTANT LESSONS OF LIFE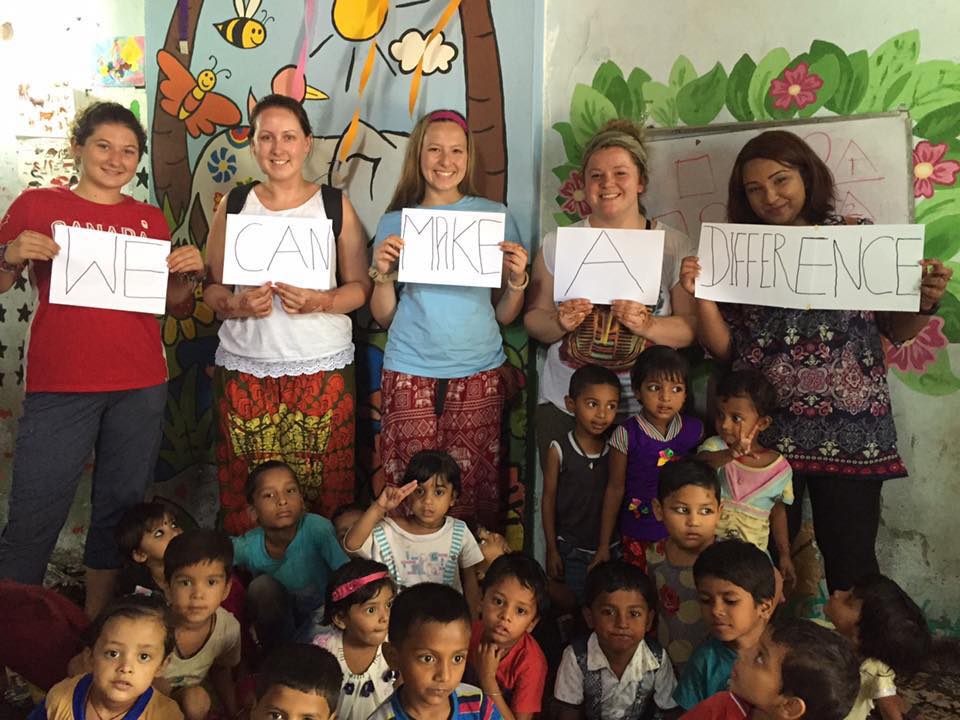 66. Making friends out of strangers is the most amazing thing in life.
67. Exploring a country with the natives is more enriching and fun-filled than you could have ever imagined!
68. You'll know that there are many people in this world who don't even have the basic necessities of life.
69. You'll learn to be more grateful for all that you are blessed with.
70. You'll unlearn a lot of things, for good!
71. You don't need material objects to be happy! Happiness will now have a much broader meaning for you.
72. You'll know that even small changes can make big impacts.
73. You might have started without expecting anything in return, but you'll end up receiving more than what you could have ever thought!
74. You'll eventually become more humble and compassionate.
75. You'll be able to polish your skills through your work. You'll further acquire new skills from your peers, that might help you in the days ahead.
76. You make a difference to other people's' lives by sharing your experience and guiding them.
77. By being a volunteer, the experience you'll gain is something that you can never buy.
78. You'll be able to connect better with people when there's no Wi-Fi.
79. You'll know the value of home-cooked meals and mother's touch.
80. Language can never be a barrier. Emotions can be the best tool for conversation at times.
Ninth Phase – TRAVEL & EXPLORE
81. If you are volunteering in India or Nepal, don't miss a chance to trek the Himalayas. Do carry your sleeping bag with you, in case you wish to sleep under the naked sky and gaze at the stars!
82. Visit the local markets and get a chance to discover the art forms that are popular in the country.
83. Use your bargaining skills and get some amazing souvenirs!
84. If you an adventure junkie, then find out most exciting adventure sports at your destination and try them out during the weekends! While Thailand will give you amazing scuba diving options, don't miss out the Gorilla Trek in Uganda and the highest Bungee in the world at South Africa!
85. Learn to be a responsible traveler. Don't use plastic products (bottles and packets) while traveling and also, avoid littering.
86. Get up close and personal with nature. This is your chance to feel the bliss! Most of the volunteering sites are a little away from the urban centers, hence, you'll find yourself amidst nature, every now and then!
87. Experience the fun of budget traveling.
88. Savor the taste of the local cuisine. Every country has some special delicacy to offer!
Final Phase – CAREER PROSPECTS
89. A volunteering experience can boost your Resume/ CV.
90. Your efforts will be well appreciated by the potential employers and you'll have a better chance of getting employed.
91. You'll learn how to manage time and resources, which will be a great advantage for you.
92. You'll be confident while dealing with people in the days ahead.
93. Your social network will be profusely widened.
94. Being fluent in a foreign language will open several doors and possibilities to you – hurray!
95. The connections that you'll make while volunteering abroad might help you to get internships in future.
96. And don't be surprised if you score a job abroad!
97. You can organize workshops in your hometown, to show people the photographs and videos that you'll collect during your journey and narrate them the stories. It can be a good way of earning pocket money.
98. Get started with your own blog. Start fueling your writing skills, write guidebooks and travel tips, share your thoughts and encourage more people to take up the good cause.
99. You'll have a clearer idea of what you wish to pursue in future, and steer your life in that direction.
100. A volunteering tryst helps you in improving your leadership skills.
101. Last but not the least – it's a unique way to connect your life with that of someone else's, and making some beautiful memories that would last for a lifetime!
Now that you have all your doubts cleared – do you need more time? We guess not!
Shoot us a mail at [email protected] and just carry on with your process – Apply Now!