Affordable Sea Turtle Conservation Volunteer Programs Abroad
1,168 Views
Can you name a living being from the present-day who have shared the space on earth with dinosaurs? Well, they are the Sea turtles!
Yes! They have been existing from several millenniums now, but have hardly transformed from their original form. However, over the years, with increasing population and pollution, their existence is facing the danger of extinction.
According to WWF, "Nearly all species of sea turtle are classified as Endangered. Slaughtered for their eggs, meat, skin, and shells, sea turtles suffer from poaching and over-exploitation. They also face habitat destruction and accidental capture in fishing gear. Climate change has an impact on turtle nesting sites."
It is for this that several efforts are been taken, across different countries in the world, in order to safeguard this species and help them to live a safer life. You can also contribute towards protecting the lives of these sea turtles, by volunteering for the sea turtle conservation program and learn more about how the environmental changes and human actions are adversely affecting their lives.
So, are you ready to take the leap and care a bit for these adorable animals?
A deeper look into the matter and the necessity of the Turtle Conservation Programs: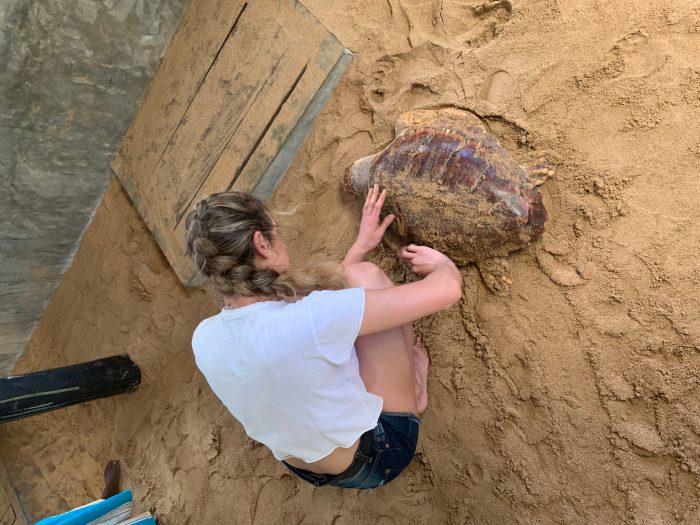 One of the oldest creatures on earth, the sea turtles are classified broadly into seven main species. It has been identified that five of these species are marked as 'endangered' while the remaining two are quite vulnerable. These reptiles, who have hardly transformed in the past 110 million years of their existence, are today struggling for their survival.  Water pollution, human encroachment, and illegal harvesting are some of the major threats these creatures are facing today.
It's time that we should become a little aware and do the needful, in order to protect these species and help in their sustainable growth. If we're traveling to a beachside destination, then we need to be cautious about our actions, not little plastic wastes or throw anything that might cause harm to the ones thriving in that ecosystem.
It's our little steps, that would create a huge difference in the lives of the sea turtles, and it's our responsibility to protect them for the years to come.
Where can I volunteer for the Sea Turtle Conservation?
Volunteering Solutions, understanding the importance of saving these turtles to maintain the balance of our ecosystem, has curated 2 amazing Sea Turtle Conservation Programs in Costa Rica & Sri Lanka.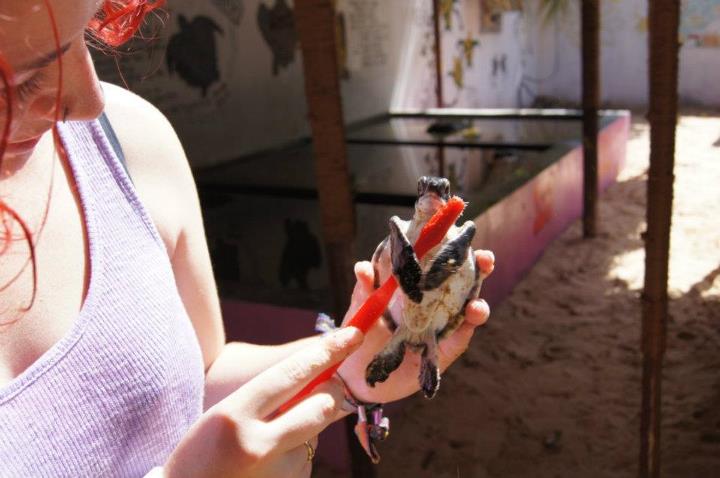 If it has been a dream for you to wander along the Pacific or the Caribbean coasts of Costa Rica, then now is the time to live it. Once you sign up to volunteer, you'll be living on the beaches along with a bunch of other volunteers as well as experts who are dedicating their lives for the conservation of the turtles.
As a volunteer, you will work on projects intended to protect turtle nests from human poachers, help manage sustainable egg-harvesting programs, and work in hatcheries to ensure Costa Rica's turtle population does not become endangered. Volunteer work varies from time to time but generally includes work includes; working with local staff to harvest eggs, beach cleaning night patrolling, counting turtles, collecting eggs and to keep them away from predators.
There will be a volunteer coordinator in charge of assigning jobs, but you are welcome to help anytime you consider it needed. It would be more beneficial if you have basic Spanish communicative skills.
"The volunteer with the turtles was nice I was only a week and the other two weeks where I met and learned a lot of people and animals was an unforgettable experience. The country coordinators were very friendly and supportive during your trip. The house was clean and spacious and in a good neighborhood. The food was alright. I would definitely recommend this project to everyone." – Manuela Alicia.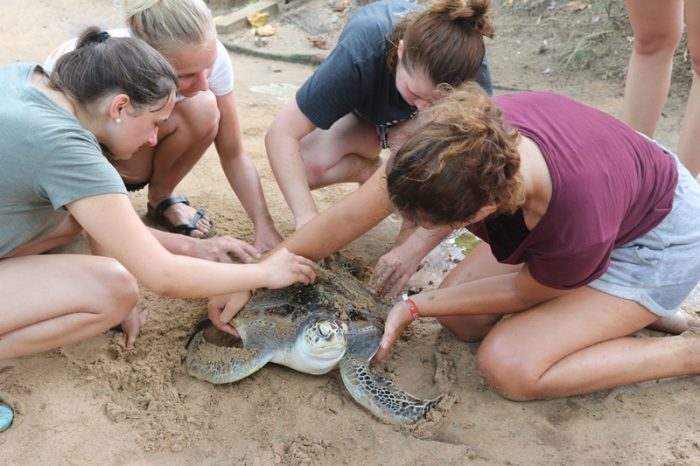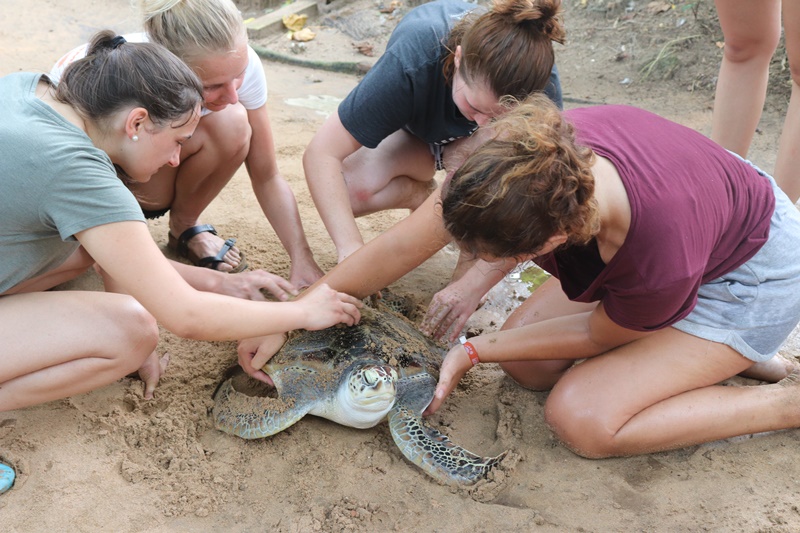 Travel to this beautiful Southeast Asian island nation and soak in the tropical vibes while volunteering in the beautiful coastal town of Galle. Being a volunteer, you'll support the hatcheries through conservation efforts which are valuable for their sustainability, and also goes a long way in helping them financially as we pay these hatcheries a placement fee for each volunteer we send to them, which allows them to generate additional income.
The main focus of this project is to protect the turtle eggs as well as the baby turtles, and subsequently increase their population. This includes preserving the eggs from predators and poachers, providing a safe haven for hatchings to occur, caring for the baby, sick and injured turtles, feeding them daily and releasing the healthy ones into the ocean when ready.
You'll also get to teach the local communities about the prospects of nature conservation and how to keep the environment healthy. It'll be an incredible opportunity for you to know more about the Sinhalese culture & lifestyle, understand how the fishermen in the region work and guide them, so that their actions don't affect the marine life.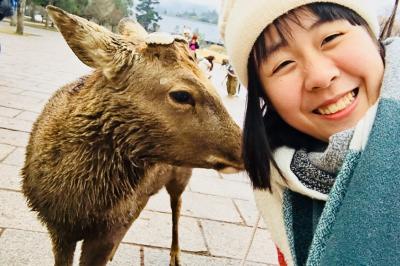 "My volunteering experience in Sri Lanka was sooo rewarding. I got the chance to learn about turtles to meet people to experience the local culture to enjoy The overall living experience was excellent. It was very comfortable and homely stay with all the facilities that I could have asked for. The staff at the accommodation was very friendly and served us well. I love how they gave us flowers every morning! The food was also nice. They served us with the amount that we could hardly finish every meal. I definitely enjoyed working at the conservation center .nature and to see myself having the ability to contribute to the place I like." – Sharon Pun.
What are the major roles and responsibilities of the volunteers?
A generic set of responsibilities of a volunteer working under this program includes:
–        Protect and monitor turtle nests from human poachers.
–        Help manage sustainable egg-harvesting programs.
–        The liberation of the newborns.
–        Obtaining information on the remains of the nest.
–        Cleaning and maintaining the beach.
–        Check if any garbage can be recycled; such as Plastic, glass, cardboard, etc.
–        Help wash the sea turtle tanks and refill them with seawater and help prepare the food fed to the turtles.
–        Hand feeds the turtles as the hatchery has several turtles with injuries.
–        Patrol the beach once a day to look for any pieces of fishing nets, which cause a large number of deaths in sea turtles.
No matter whether you are a high school student or a gap year traveler, or a backpacker looking for a meaningful experience while wandering around the world – this would surely be an excellent opportunity for you to do something good for nature and feel the bliss of contributing without expecting something back in return.
Are there any specific requirements/eligibility criteria to attend these programs?
There are no special requirements for anyone to be a part of this project. However, one should comply with certain factors, such as:
–          Volunteers must be 18 years or older at the time of joining the project.
–          Needs to have an open mind and flexible attitude for working in a new and different environment.
–          The volunteers should bring energy and enthusiasm to make a difference.
–          Must be in good health and ready to get their hands dirty, while working & learning.
–          Volunteers must be hardworking, eager to take up responsibilities, ready to be responsible for their duties and give their 100% to save the turtles.
So now that you know and understand the importance of this project, we hope you too would be willing to provide significant support for saving these slow, yet adorable creatures. You can also speak to our program experts directly at [email protected] for any further detail or queries.
About The Author