All You Need to Know About Volunteering in Ecuador
30 Views
"Postcard-pretty town centers, waves splashing white-sand beaches, Kichwa villages, Amazonian rainforest, and the breathtaking Andes: a dazzling array of wonders is squeezed into compact Ecuador" – that's exactly how the Lonely Planet describes this breathtaking country.
While you might be thinking of Argentina or Brazil when you hear Latin America, let me tell you that Ecuador is one of the most gorgeous countries on the continent, offering some incredible and offbeat experiences to travelers. No matter whether you're planning to spend your gap year in Ecuador or just planning a short volunteer trip, your time in this country will be filled with colors.
In case you're still wondering why you must plan a volunteering trip to Ecuador, here are 8 reasons to convince you:
1. Diverse Natural Beauty:
Ecuador is blessed with a multitude of natural wonders, encompassing mountains, beaches, and the expansive Amazon rainforest. From volcanic peaks to snow-capped hills and pristine beaches, the country offers a rich tapestry of landscapes.
2. Preserved Spanish Colonial Centers:
The interiors of Ecuador showcase well-preserved Spanish colonial centers, especially evident in the capital city of Quito. Fine churches and palaces from the colonial era add a mesmerizing touch to the country's cultural heritage.
3. Treasured People:
Ecuador's greatest asset is its people—warm, kind-hearted, and hospitable. When volunteering in Ecuador, you'll experience the unique subtleties of the local Inca culture through interactions with the welcoming locals.
4. Colorful Indigenous Markets:
The country boasts vibrant indigenous markets, providing a colorful glimpse into the local culture. Whether exploring the markets in Quito or the renowned Otavalo market, these lively hubs are a visual and cultural feast.
5. Abundance of Adventure:
Ecuador offers a plethora of adventure activities, ranging from Andean treks to wildlife encounters in the Amazon, surfing on Pacific tides, and discovering the distinctive flora and fauna that grace the land and sea.
6. Preserved Century-Old Culture:
The cultural nuances of Ecuador are reflected in the well-preserved churches and palaces from the Spanish colonial era. Immersing yourself in the country's heritage by staying with a host family during your volunteer program provides valuable insights.
7. Eternal Spring Climate:
Situated directly on the equator, Ecuador enjoys spring-like climatic conditions for most of the year. This allows for flexible trip planning based on your schedule, unhindered by weather restrictions.
8. Enchanting Galapagos Aura:
The Galapagos Islands, nestled in the Pacific Ocean, offer a captivating aura and are renowned for unparalleled wildlife viewing. This archipelago adds a unique and indispensable element to Ecuador's overall charm.
Ecuador stands as a jewel in the heart of Central America, inviting volunteers to explore its vibrant landscapes, rich cultural heritage, and diverse array of experiences.
Which are the volunteering programs available in Ecuador?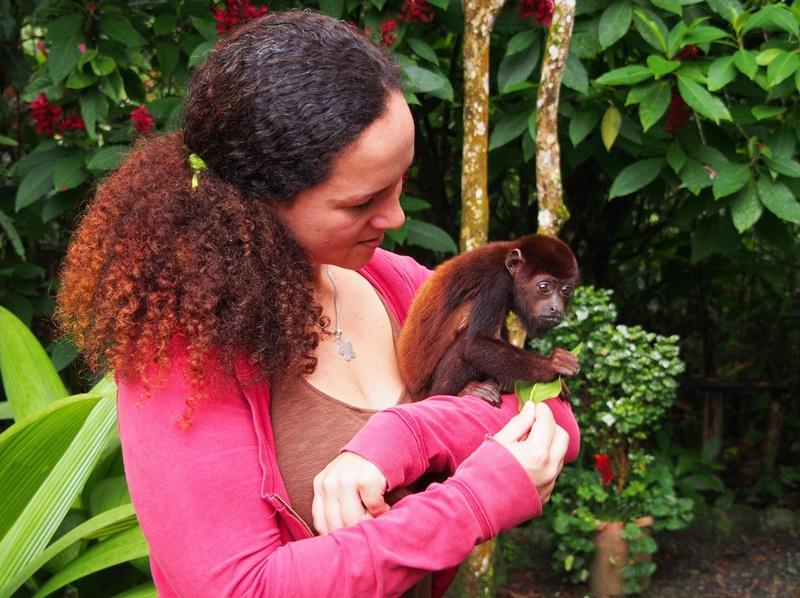 This program has been curated for animal enthusiasts seeking to immerse themselves in nature! Situated in the Ecuadorian rainforest, this initiative focuses on rescuing, rehabilitating, and, when possible, releasing animals into their natural habitat. The center currently houses a diverse array of at least 40 species, including Ocelot, tayra, capybara, parrots, monkeys, tortoises, and caimans.
As a volunteer, your primary duties involve supporting professional vets and participating in Amazonian Forest conservation efforts. In addition, you'll engage in various activities such as gardening, trail improvement, and creating signs for visitors. Collaborating with experienced conservationists, this experience provides a fantastic learning opportunity.
Duration and cost:
The minimum duration to volunteer at the Amazon Animal Rescue Center is 1 week and the cost is 546 USD, which will include your Pre-Departure Guidebook, accommodation and meals, airport pickup, orientation with local staff, local transport, as well as 24*7 in-country support.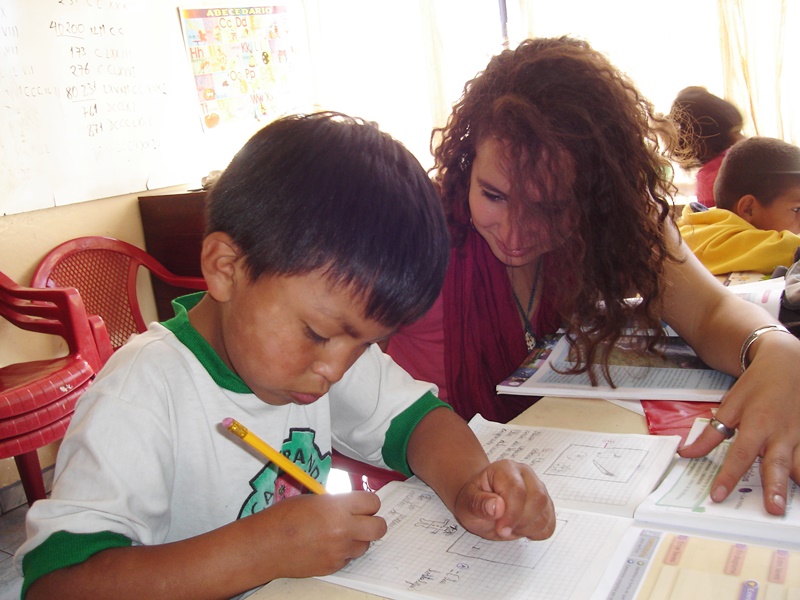 If you're someone who loves to spend time with kids, then this would be apt for you. Volunteering Solutions, in collaboration with local NGOs and shelter homes, is dedicated to improving living conditions and providing basic education for street kids in Quito. As a volunteer, you can play a crucial role by assisting children with their homework, providing hygienic education, and engaging in various activities.
Offering hugs and attention is also a significant part of the volunteer experience. Many of these children have faced challenging circumstances, such as being born to drug-addicted parents, living on the streets, experiencing violence, abuse, and neglect, or being compelled to work selling sweets on the streets.
Empowering the children and teenagers is a vital aspect of a volunteer's presence in the project, achieved through compliments, and fun activities like playing, art, music, or sports. It's crucial for them to feel valued and realize their importance regardless of their background, race, economic status, or educational level.
Duration and cost:
The minimum duration to volunteer for the Street Children Program in Ecuador is 3 months and the cost of the program is 749 USD, which will include your Pre-Departure Guidebook, accommodation and meals, airport pickup, orientation with local staff, local transport, as well as 24*7 in-country support.
What are the eligibility criteria to be a volunteer in Ecuador?
As a volunteer, the main thing is that you should be an adaptable and flexible individual.
You must be over 18 years old at the time of joining the project.
Knowing basic Spanish will be really helpful, or else you can also opt for a Spanish Language Course while in Ecuador.
You will also be required to provide a criminal background check, and there may be a video call interview to assess your suitability for the program.
Volunteers joining the Animal Rescue Center Program must be fit and healthy and should be prepared to work outdoors and get their hands dirty.
To say the least, you must be open-minded, eager to learn, and have a positive attitude, in order to bring change.
What kind of accommodation facilities will be provided to the volunteers in Ecuador?
Volunteering Solutions prioritizes the well-being of all its volunteers. While we may not be able to offer the luxurious accommodations you're accustomed to at home, we will be ensuring that you have a secure and comfortable stay while you work with us for a noble cause.
If you are joining the Animal Rescue Center Program, then you'll be staying in cabanas at the project site in Puyo. Dormitory-style rooms are available here, accommodating up to 14 people in total. These cabins include a communal kitchen, bathroom, and a social area equipped with a TV and DVD player, as well as hammocks and books. Bedding will be provided, and you'll have access to amenities such as a swimming pool and Wi-Fi.
If you are joining the Street Children Program in Quito, you'll be staying at a hostel with other volunteers. Situated in the heart of the historic city center, Masaya is a boutique hostel in Quito nestled within a charming colonial house that seamlessly blends colonial and urban aesthetics.
It serves as an ideal base to explore the largest and best-preserved historic downtown in all of Latin America. Surrounded by captivating plazas and streets like La Ronda, Plaza Grande, Plaza de Santo Domingo, Plaza de San Francisco, El Panecillo, the Basilica Church, and numerous museums, the hostel provides an excellent location.
What are the benefits of working with Volunteering Solutions in Ecuador?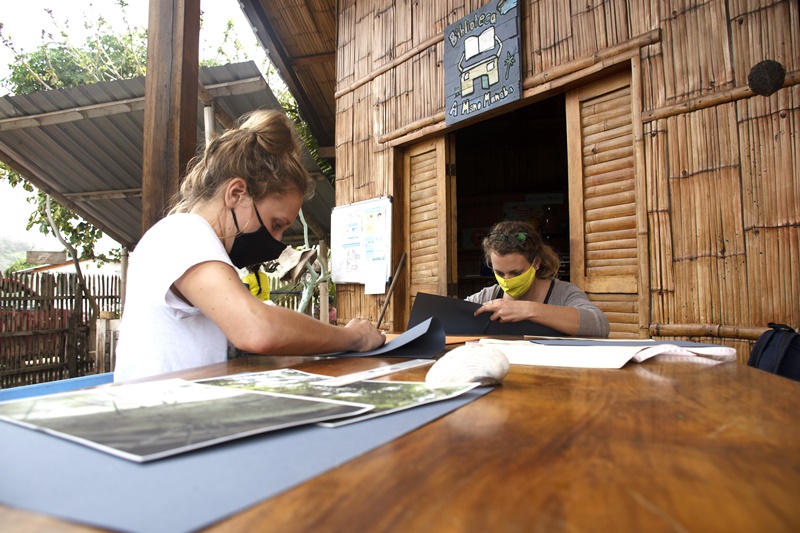 The measure of philanthropy isn't determined by personal gain, and if you're curious about tangible profits, there might not be any. However, the experience gained while volunteering is something you'll cherish for life.
Working at the Amazon Rescue Center is a dream come true, and volunteering for this project will expand your network. You'll gain extensive international work exposure and firsthand learning experiences under the guidance of professionals in this sector.
As a part of the Street Children Program, you'll not only spread the light of education but also experience the happiness of unconditional love and warmth.
Moreover, you'll form friendships with individuals who will impart valuable lessons, creating memories that will last a lifetime.
The entire experience will enhance your CV/resume, significantly improving your employment prospects.
Will there be any extra time to explore Ecuador during the volunteering trip?
Since you'll be working only on the weekdays, you'll have the weekends to explore in and around Quito, the highest capital city in the world, perched at an impressive altitude of 9,350 feet above sea level! This beautiful town is a treasure trove of magnificent architecture, stunning landscapes, and warm-hearted locals. Your journey here promises not just a visit, but an immersive experience.
City Tour in Quito:
Embark on an adventure through Quito with your hosts and fellow travelers. Marvel at the architectural wonders and soak in the unique charm of this high-altitude haven. Immerse yourself in the local culture, savoring every moment with the warm people that make this city special.
Amazon Basin Excursion:
For the nature enthusiast in you, a trip to the Amazon Basin awaits. Wander through forest trails, a haven for jungle trekking. Keep your eyes peeled for the vibrant array of birds and other wildlife. The Amazon Basin promises an authentic encounter with the beauty of untouched nature.
Andean Plateau and Active Volcanoes:
Venture to the Andean plateau and witness a series of active volcanoes dominating the horizon. Discuss your adventurous spirit with your coordinator and consider a journey to the extraordinary Galapagos archipelago. Experience nature's beauty, gaze at purple sunsets, and relish the invigorating freshness of the surroundings.
Thrills at Cotopaxi Volcano:
Are you ready for a thrilling encounter with an active volcano? Cotopaxi, the second-largest active volcano globally, beckons you. Hike amidst awe-inspiring views, and for the daring, race down on a thrilling bike ride. Horseback riding excursions around the volcano and National Park offer a unique perspective on this natural wonder.
Mitad del Mundo Exploration:
Embark on your Middle of the World Tour in Mitad del Mundo! Discover the quirky detail that the equator line was initially miscalculated, leading to a humorous shift of the monument to Calacali. Stand on the "Equator" line, get your passport stamped, and revel in the uniqueness of this fascinating location.
Mindo Cloud Forest Adventure:
Just a short drive from Quito lies the enchanting Mindo Cloud Forest. Dive into exhilarating adventures like tubing, zip-lining, and biking amid the lush Andean surroundings. Mindo's gentle winds and perfect moisture levels create a haven for birds and butterflies, making it a paradise for nature enthusiasts.
Quilotoa Crater Exploration:
Experience the breathtaking Quilotoa Crater, formed 800 years ago, now one of South America's radiant natural wonders. Hike down into the crater to witness the mesmerizing turquoise waters. Opt for a mule ride back up or explore the rim for panoramic views. Don't forget to immerse yourself in the local life of nearby villages for a truly enriching experience.
What are the Visa requirements and processes to go to Quito, Ecuador?
Regardless of your travel destination, it's crucial to ensure that your passport remains valid for at least another 6 months upon arrival. Ecuador is no exception!
Upon entering Ecuador, you'll receive a T-3 Visa stamp, valid for 90 days. If your stay exceeds this period, it's essential to apply for a 12-IX Visa at the Ecuadorian Embassy in your home country before departure. This particular visa grants a longer validity of 180 days, offering a seamless extension for your time in Ecuador. Remember to plan ahead and address your visa needs well in advance to facilitate a smooth and extended stay in this captivating destination.
When you apply for a volunteer program with Volunteering Solutions, our team will assist you in every step and also provide the necessary documents to get the Visa. If you have any more queries or want to discuss your plans about volunteering in Ecuador, feel free to write to us at [email protected] and our Program Advisors will get in touch with you.
About The Author