How to Find the Best Volunteer Abroad Programs in Europe?
26 Views
When you think of a holiday in Europe, you must be imagining the glitz and glamour of Paris, the ruins of Rome and the museums of Amsterdam!
But have you ever thought how beautiful it would be, to go offbeat and take a volunteer trip in Europe? In a continent that's full of history, cultural diversity and breathtaking landscapes, how about spending a week or two, working on something meaningful?
From working at a charity shop in Ireland to diving deep into the ocean to protect the marine ecosystem in Spain, from managing food waste in a gorgeous Portuguese town to protecting the environment in Greece – there are plenty of volunteering opportunities in Europe and in case you're wondering how to find the best one that will be perfect for you – we've got you covered!
Take a quick look at our most popular volunteering programs in Europe: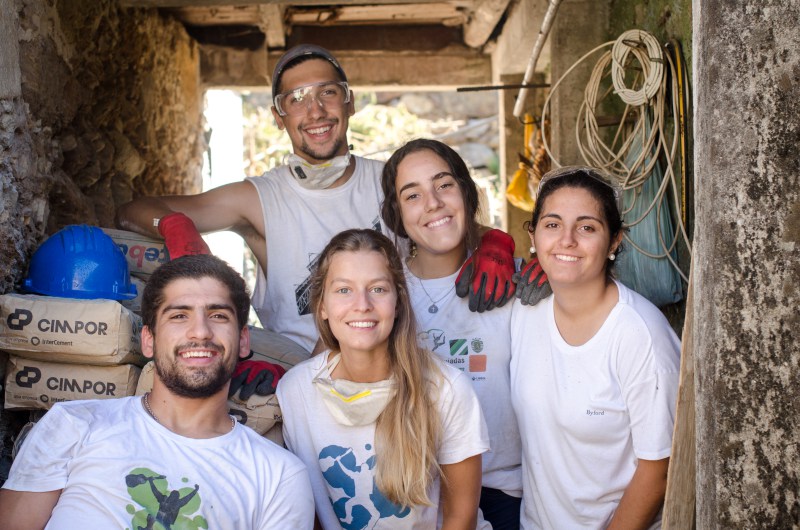 Beyond Santorini & Mykonos, this is your chance to live by the beaches of Kalamos Island and contribute actively towards the protection of nature and the environment.
As a volunteer for this program, you'll be working closely with local conservationists who have a deep knowledge about the ecosystem here and have been working to control marine pollution and industrial fishing.
If you're someone who's keen to protect Mother Nature and wish to contribute to sustaining this gorgeous Greek island, now is your chance!
Volunteering in Ireland would give you new perspectives about this country – and as a part of this program, you'll get to work at a charity shop in Clonmel, and there's also an office where donations are sorted.
You can choose to be at the shop, or help the staff at the office. No matter what you choose to do, your contributions will be highly appreciated. Apart from these, we also assist in running a furniture store, a bookshop, and a bric-a-brac – which are all managed by the charity.
The money that is generated from this charity shop is used to provide financial support to the underprivileged people living in this region, ensuring that everyone gets to live with dignity.
There can be nothing more noble than feeding those who are hungry and undoubtedly, this is one of the most popular programs, where volunteers help in reducing food wastage in the city of Porto, and improve food security for vulnerable people.
As a volunteer, your main role would be to collect, organize and distribute the excess food from restaurants and cafés to fight food waste in the city. We are working with local communities and eateries in Porto, forming a structured system that feeds over 3000 people every day.
Get ready for a Spanish exploration like never before! Being a part of the community development program, you'll get a chance to work with local NGOs and help in community building initiatives, like teaching kids, organizing workshops, focusing on maintenance work, etc.
If you've got an interest in art, you can contribute towards restoration work as well. It'll be a very good opportunity to widen your social network and hone your managerial skills.
If you wish to take up a challenge and work with young adults, this would be the perfect program for you. As a volunteer, you will be assisting and supporting the underprivileged youth in Porto, and helping them to discover and follow their dreams.
Due to lack of facilities, these folks don't get to indulge in extra-curricular activities or get the opportunity to learn new things. You can be a mentor to them, and help them walk on a path that will lead to a better future.
Here's how to find the best volunteer abroad programs in Europe:
1. Do proper research:
While planning a trip to Europe, we tend to pick the destination first and then decide on the itinerary. But while planning a volunteer trip, the best would be to pick a project that aligns with your interests – and then, accordingly choose the destination.
2. Be open to learning:
No matter which project you opt for, there's always a scope to learn new things. You'll be guided by professionals, who'll help you to understand how to manage time and resources well.
Apart from that, you'll be working alongside a bunch of people from across the world, there will be immense scope to know about different cultures and lifestyles.
3. Be ready to change your mindset:
While Europe is deemed to be a developed nation, it might seem that volunteer work isn't something that would be required here! But once you join a program, you'll get to know that social and environmental crises are to be found in every society – hence, extra support is never wasted.
4. Knowing a language always helps:
Although English is widely spoken on the continent, knowing the local language always helps! If you know Spanish, it's advisable to choose a volunteer program in Spain. This will act as an added advantage while communicating with the locals of the region.
5. Speak to our Program Advisors:
Last, but not least – you can always speak to the Volunteering Solutions Team for support. We'll be happy to assist you in finding the best opportunities in Europe, ensuring that you get to have a wholesome experience.
Write to us at [email protected] and our Program Advisors will get back to you!
About The Author