Everything You Need To Know About Sports Coaching Programs Abroad
1,036 Views
We've all heard about the saying – All work and no play makes Jack a dull boy! But have you ever thought how amazing it would be if your work is all about playing? Oh yeah, you got me right – I'm talking about being a Sports Coach while volunteering abroad!
Why Should I Volunteer Abroad For A Sports Coaching Program?
That's a pretty obvious question and we know that you'll have your own doubts to clear before you sign up to travel abroad & volunteer. So let's take a quick look at the following reasons & try to understand why it's so important for you as well as for your host community folks!
1. Any sort of physical activity (essentially some structured sports) is good for our physical well being.
A healthy body is key to a healthy mind; we all are acquainted with this. Many physicians suggest that a minimum of 60 minutes of physical activity must be carried out by children to have a fit body and avoid falling prey to the chances of having any cardiovascular diseases, as they grow.
This calls for a keen requirement of spreading awareness amongst the children about the importance of carrying out regular physical activities. And what better than a nice sports session on ground, in the open, while sweating it out and filling your lungs with fresh air.
Not just for them, but it'll also be a good workout for you. We know that in the regular busy schedules, you'd often miss out on your gym sessions or feel fatigued. But taking a break and engaging in something as funfilled as being a sports coach would be really interesting.
2. Help the children to be motivated to pursue sports as a career option.
It's not just about physical wellbeing, but training the youngsters to master a particular sport might also help them to think of shaping their career on those lines. You never know, you might just end up motivating someone to be the next Maradona!
We know it all sounds super fun and if you think you have the energy and passion for sports, then you must join the Sports Coaching Program as a volunteer. Being a volunteer coach, you can be a role model of them as you encourage them to brush-up their skills on the fields.
3. It'll be a fulfilling journey!
Try and remember the first time you picked up a basketball or kicked a soccer ball. You may not have been very confident in your skills. Truthfully, you had no idea what you were doing. Now think about the first basket you made or the first goal you scored. You were probably filled with excitement and joy at your accomplishment.
Chances are, your coach was filled with pride over your success. Your coach was able to witness your evolution and development, from that very first shot to your very first goal. Your coach was able to share in that joy with you because they were responsible for getting you to that point. Being able to see players discover the joy for the game firsthand is a uniquely rewarding experience.
4. It's gonna be fun.
You might be a fresh graduate taking a break from students or a corporate junkie looking for some new experiences beyond your cubicle. Remember, the game is all about enjoying & having fun! There's nothing quite as entertaining as leading a group of players through a silly game or activity. In fact, the goofier you are as a coach the more fun you'll have!
We are not expecting you to be an excellent coach or to have some prior experience of the game. All that those youngsters are concerned about is, whether or not practice will be fun, and you as the coach get to be the one responsible for their joy!
What Will Be The Major Responsibilities While Volunteering?
The responsibilities would vary from time to time, as well as a lot of things would depend on the destination you choose. However, the following would be the major tasks you'll have to carry out.
Taking sports lessons with students, usual sports include football/soccer, badminton, basketball, handball, artistic gym, athletics, rugby, and hockey.
Work is in conjunction with schools thus coaching hours directly depend on sports period time in Schools. Take regular classes at other times.
Volunteers get to mentor and encourage kids for different sports and outdoor activities and possibly make a future out of it.
What Are The Requirements To Be A Sports Coaching Volunteer With Volunteering Solutions?
As we've already mentioned, we are not essentially looking for an expert (but if you are, what can be better!). One needs to be 18-years-old to join the programs and also, provide us with a Criminal Background Check Report (since you'll be working with children).
Volunteers should be open-minded, flexible and prepared to face challenges. The volunteer should bring energy and enthusiasm to make a difference and should have a keen interest in sports (basketball, football, hockey – anything!).
Since you'll mostly be working in the underprivileged societies of developing nations, there might be times when you'll also have to take classes in the schools where you are placed as a coach. Other than that, sometimes, volunteers are also needed to provide medical guidance & first-air tips & hacks.
Currently, Volunteering Solutions has Sports Coaching Programs in 4 countries – Ghana, South Africa & Ecuador. Let's take a quick look at the programs which are quite popular among high school/ college students as well as Gap Year travelers.
Football is the national sport of Ghana, which clearly signifies its importance in the country. Volunteers can be of great help, coaching the kids and young adults to brush their football skills, at the local schools in Ghana, by assisting them during their sports class. You'll also get to interact with the children and understand their problems, and help repair their weak points in the game.
Note: Volunteers working in the Football Coaching Volunteer project are also welcome to work in the Community Development or Childcare Program wherein you can combine two programs, and work for a more effective change.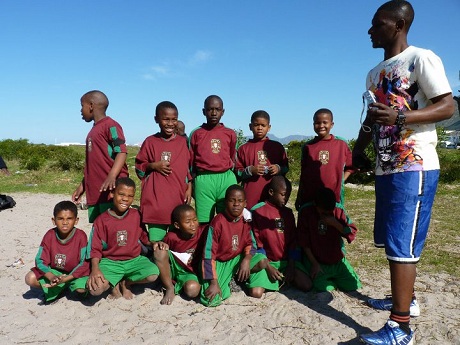 This is a very unique and interesting combination of teaching about sports on the ground as well as off the ground. While on-ground training sessions might take place only twice or thrice a week, depending upon the time table of the students, the rest of the days can be utilized to conduct lectures on sports activities and its benefits.
Volunteers can also guide the students about the importance of first-aid (during sports) as well as motivate them to step up in their games. The aim of the project is to keep the children and youth busy which would help them in their overall development as well as keep them occupied.
Note that all our programs are available throughout the year, and you can choose the duration of volunteering as per your choice, from a minimum of 1 week to a maximum of 24 weeks. Guess now your doubts have been resolved to a great extent, and if there's something more that you'd want to know, you can write a mail at [email protected] and our Program Advisors will respond back.
We'd love to have you on board 🙂
About The Author