Useful Tips That'll Help You While Volunteering In Kenya
822 Views
This East African country that's drained by the Congo River, shelters some popular indigenous tribes including the Maasai and the Kikuyu tribes. Kenya is famous for its wildlife, and a large population of Africa's Big 5 can be spotted here. Bordered by the Indian Ocean on the eastern part, Kenya was once a hub of traders who traveled from the European countries to the Asian countries. The volunteering projects in Kenya are located in the capital city of Nairobi – one of the bustling African cities that's aiming to grow with each passing day.
Whether it's the Giraffe Manor where you can share your breakfast with the long-necked ones or a wildlife safari to catch a glimpse of the elephants and lions or a hike around Mt.Kenya – the country has too much in store to offer its visitors. Volunteering in Kenya would undoubtedly be an experience to cherish forever!
https://www.instagram.com/p/BTX_I5MDmpH/
Here are some useful tips that'll certainly help you while volunteering in Kenya:
Learn a few local words
This is the best part of a volunteering journey – you get to mingle a lot with the local ones and spend quality time with them. If you learn a couple of local words, like Jambo (hello) and Asante (thanks), then it would be great! (Google surely will help you to catch a few more words!) Knowing a bit of their language would make them feel more connected to you, and they'll believe that you are there to do something good for them. It's nothing but a step to get closer to the locals.
Carry enough water to keep yourself hydrated
Kenyan weather is usually hot and it's advisable to carry bottled water with you. During the day, while working at your project site, you need to be active and therefore it's essential to keep yourself hydrated. Drinking a lot of water will be good for you.
Dress moderately
Unlike the Western world, Kenyan folks aren't quite okay with people wearing shorts and tight clothes. Carry loose and comfortable clothes. Remember that a volunteering trip is very different from a luxury holiday, and most of your time will be spent with the locals. So you need to dress appropriately.
Don't expect Wifi (or internet facilities) everywhere!
Kenya still doesn't have access to the fastest internet services, and there will be a lot of places where you might have to survive without it! Apart from a few restaurants, most of the eateries don't have wifi. Even at places where you'll find the internet, don't expect amazing speed.
Take a ride on the public mode of transport
Well. eventually, you'll get to take them quite a few times during your volunteering trip. The most popular mode of transport is the matatu (minivan taxis), that can be spotted carrying people from one destination to another. Matatus are a reflection of popular culture and the Kenyan experience. Be safe from pickpocketing while taking a ride!
Be safe with your possessions
Don't carry too much cash with you while traveling. Keep your things safely at the accommodation and consult the in-country coordinator in case you need any help. Make sure not to show off your expensive gadgets to the locals, because there might be a high chance of things getting stolen! The Kenyans are nice people and their mentality is not to harm you – it's just that they are still not used to a lot of things that are available in the developed countries, and there's a possibility of things getting stolen. It's advisable to not go out at night with expensive possessions.
Seek permission before taking photographs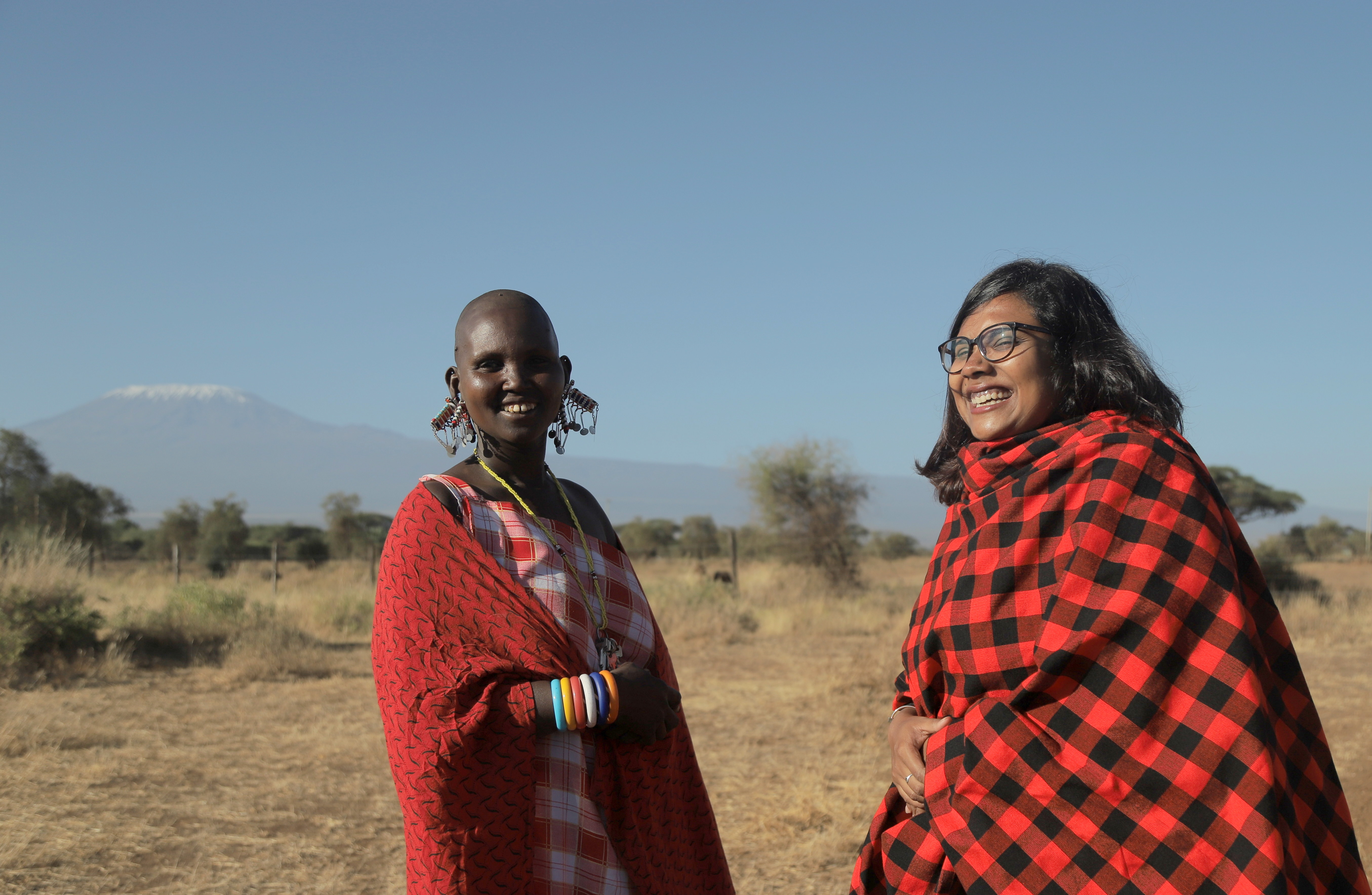 Make sure not to take pictures of government establishments and people (especially women) without seeking permission. If you click photographs without asking, they might get offended. Tourists usually look forward to taking photographs of the Maasai folks, and if they get offended, they might come and ask for money. And if you'll ask, they would happily agree for a click, mostly!
Don't miss the delicious cuisine at The Carnivore restaurant
One of a kind restaurant in the world, The Carnivore is a place for all foodies! One of Nairobi's main attractions, this restaurant serves an array of wild game meat in a buffet-style, that includes zebra, gazelle, wildebeest, crocodile, camel among other seasonal treats. You shall not find so many options anywhere else in the world!
Do take a safari trip
The last but not the least, how can one miss going for a wildlife safari while in Kenya? Kenya is one of Africa's prime game-viewing areas, renowned for its dramatic scenery, magnificent game parks, and abundant wildlife. You'll surely get to spot Africa's Big 5. It would be one of the best experiences ever! Whether you choose to go for a game drive in Nairobi National Park or at Maasai Mara or maybe, Amboseli – you'll be awestruck, witnessing the animals in their natural habitat.
To book your safari trip, got to the 'My Account' section and select 'Add On Tour'. You can also drop us a mail at [email protected] for more information about the volunteer programs & trips!
Know More About The Volunteering Opportunities In Kenya:
Volunteering Solutions has been hosting participants in Kenya for almost a decade now, and it's surely one of the most popular volunteering destinations in Africa. There's this ethnic and cultural diversity and the world-renowned Masai Mara National Reserve, Mount Kilimanjaro, the beaches of Mombasa and the list is endless – but that is just not all. There's immense scope of development, and the underprivileged people living hard lives do need a little support from the volunteers.
https://www.instagram.com/p/B0k91Wunaug/
Volunteering with children is undoubtedly the most rewarding experience for anyone. We provide hands-on work involved with the abandoned kids, living in a childcare center in the outskirts of Nairobi. Volunteers will work in tandem with local staff and help in feeding & dressing the toddlers & infants, helping with homework and keeping the little ones engaged with games or other such activities. Trust me when I say this – it'll surely be one of the most heartwarming experiences of your life and you'll return home with memories that would last for a lifetime!
Under this program, volunteers mostly assist the teaching of different subjects in Kenyan elementary and high schools, however, the main focus is on English – grammar & vocabulary. Volunteers also work in community schools to teach English, mathematics, science, geography, social sciences, history, physical education, art, and music. You don't need to have a TEFL certificate to participate in this program.
This is a perfect program for all pre-med, medical & nursing students, who are keen to travel for a medical mission trip and contribute effectively. There is a shortage of medical staff in the government hospitals of Kenya and volunteers play a very important role. Placement is provided in medical clinics and hospitals in Nairobi where you can volunteer and help people lead a better life! Not just that, but it'll also help you to gain first-hand international work experience.
If you have just a couple of weeks in hand, and wish to travel & volunteer in Kenya simultaneously – then we have the best choice for you! Work at a childcare center, aiming to make a difference in the lives of the little ones by showering them with utmost love and care. Additionally, volunteers at the project also get to spend adequate time with the indigenous Maasai people and understand their ways of living. And of course, you'll get to explore Maasai Mara as well!
For those who have a time crunch, yet craving for a meaningful volunteering experience in Kenya – come & join us for a week's time! This program would be perfect for those who have very little time in hand yet keen to travel to Kenya and volunteer for a meaningful cause. As a volunteer, you'll be working in a Childcare Center, where the orphaned and abandoned babies are sheltered.
Your main role would be to shower these adorable little ones with the love and care that they deserve.
In case you wish to know more about volunteering in Kenya, you can check out our Comprehensive Guidebook!