Volunteer In Nepal – A Comprehensive Guidebook
1,303 Views
Volunteering in Nepal can be the most meaningful way of traveling to Nepal. As voluntourism is becoming popular with every passing day as more and more millennials are opting to travel abroad to contribute something back to society. 
In this article, we have discussed the major questions that you probably want to ask us while planning a volunteer trip to Nepal.
Let's quickly discuss the most important questions to clear your doubts about Volunteering in Nepal.
Why should I travel abroad to volunteer in Nepal?
Surrounded by superior countries like China and India, Nepal has never really received much limelight. This little Himalayan abode is one of the least developed countries in the world and there are several social issues that are deeply rooted. The majority of the people still live in villages, with approximately 19% of the total population living in an urban structure.
The healthcare facilities aren't adequate and there are several rural hospitals that have inadequate staff members. The education system also lacks facilities and the literacy rate hasn't accelerated much in the last few years.
To add to the already existing issues, a massive earthquake took place in the region in April 2015 – destroying major portions of the country and leaving thousands of people homeless. Children lost their parents and people had to move to other places after their homes were shattered in the natural calamity.
People from all over the world joined hands and came forward to help the Nepalese folks to overcome this huge loss. Even after 2 years, people are still struggling to mend their broken lives.
This is your chance to do something for the people of Nepal. Volunteer for the cause and stand beside the people. You can shower the orphans with love and care, or help at the medical centers treating patients. Your contribution can help someone get back their smile.
"The beauty of life is sharing life."
– Lailah Gifty Akita, founder of Smart Youth Volunteers Foundation.
What are the volunteering opportunities in Nepal that are provided by VolSol?
Nepal is one of the most favored volunteering destinations and VolSol has an array of volunteering and internship opportunities for interested participants in this Himalayan country.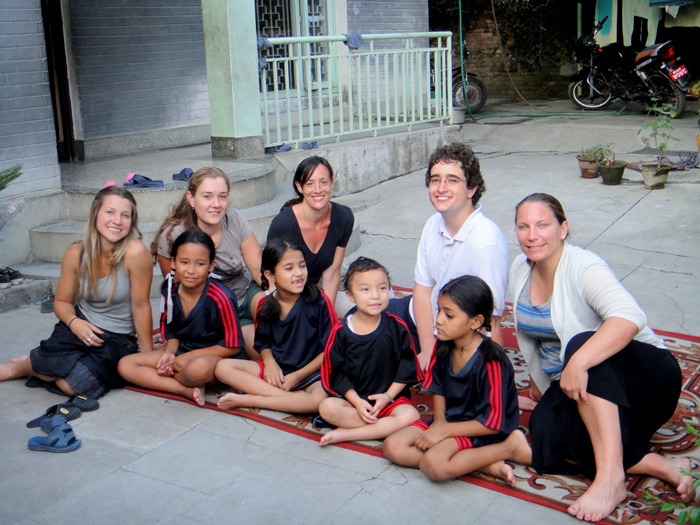 This is a week's program that is specially crafted to provide an exclusive opportunity to know the Nepalese culture more closely. The program enables the participants to have language classes in order to learn the basics of the language and also to be with the locals for the maximum time, to know their daily lives, what they eat, how they dress, their religious practices etc.
Participants also get a chance to travel extensively in Kathmandu, explore the nooks and corners of the town, and also visit the famous tourist spots in and around the city, for example, Swayambhunath (Monkey Temple), Boudhanath Stupa, Patan, Durbar Square, etc.
In the past few decades, due to extreme poverty and a series of natural calamities, the number of orphans in Nepal has escalated manifold. In collaboration with several NGOs in Kathmandu, we place volunteers in these project sites where you can spread some love and warmth among these children, and take care of them in the most affectionate manner. Interested participants who are looking for opportunities to work with children can join this program.
The main task would be to take care of the children and treat them as a family. Volunteers can arrange for some fun games and set up an environment for activity-based learning, tell them about basic hygiene and sanitation as well as take them out for day trips and excursions.
This would be another great opportunity of working with the children. Volunteers are placed in public or private schools in Kathmandu where they have to mainly focus on teaching English to the students. Apart from teaching, volunteers can also assist the teachers in planning fun activities and play-way schedules.
Volunteers who are interested in some kind of sports or music, dance, art, etc can also incorporate those classes into the curriculum. This would be a great opportunity for participants to know about the Nepalese education system and also contribute towards making the future brighter for the little ones.
As the name suggests, this is a short-term volunteering project designed especially for high school/ college students who wish to travel abroad and gain some first-hand work experience during their Summer Break/ Spring Break. Participants joining this program will get to work with children, under the Child Care and Teaching Program.
On the weekends, there are exciting tours that are pre-planned and organized by the in-country coordinators. These tours are covered under the program fees and they would provide an excellent opportunity to explore Nepal to the fullest. This is the most suitable program for those who have a time crunch, yet wish to make a difference.
This affordable internship program in Nepal is meant for all those pre-med, medical and nursing students looking for international exposure in the field of medicine. It would be an incredible opportunity to know about the healthcare system in developing Asian countries, and also about the common diseases that the people face.
Being an intern, you'll get to work with professional doctors and nurses from whom you can learn a lot and hone your skills as well. Interns would also get to shadow doctors for critical cases and surgeries.
This 3 Weeks Volunteer Program is exclusively designed for those who are keen to travel extensively in Nepal and also get involved in some social work. Participants would be assigned projects either in the school to teach English or at a childcare center or under a disabled care project. Those who are joining this program would get to meet many people from all across the world, as it is one of the most popular volunteer programs in Nepal. This program is perfect for those who are looking for a summer volunteering opportunity abroad.
Volunteers will also get an opportunity to trek the Himalayas and indulge in some adventure sports during this program. You'll get to travel to Pokhara, Chitwan, Bhaktapur and Nagarkot as well.
Most of the Volunteer Programs in Nepal are available for a week's duration and volunteers can extend their stay depending on their choice.
What are the eligibility criteria to be a VolSol Volunteer/ Intern?
– The participant should be 17 years old or above while applying for the program.
– Interns joining the Medical Program must have proper documents to support their educational background. Internships would be provided on the basis of knowledge and experience.
– Participants must be open-minded and have the eagerness to learn.
– Participants should be adjusting and sharing, in order to have a better living experience while staying with others.
– Participants should have a positive attitude, in order to bring change.
What kind of accommodation facilities will I get while volunteering in Nepal?
Volunteering Solutions takes utmost care of all its volunteers. We can't assure you a luxurious stay that you usually enjoy at home, but we shall ensure that you have a safe and comfortable stay while working with us for a noble cause. Accommodation will be provided either at the volunteer house or with a Nepalese host family, depending on availability. Both places are located in the capital city of Kathmandu.
Rooms are neat, clean, and airy and are allotted on a same gender sharing basis. There are comfortable beds to sleep on. Bathrooms have running hot water. A wireless internet connection is available at both accommodations.
All basic amenities are available at the accommodation, and volunteers are provided with 2 – 3 meals per day, as mentioned in the program schedule. Staying with a host family will give you the opportunity to know more about the country's history, culture, and traditions.
What will I gain if I participate in this volunteering program in Nepal?
An act of philanthropy isn't judged by what you gain – but if you still want to know, then perhaps there are no tangible profits! To put it slightly differently, what you will gain can't actually be quantified. Imagine spending hours with little-orphaned kids – how wonderful it'll be to make them laugh and guide them to dream.
What you'll gain is unconditional love. Teach children in schools and help them learn through activity-based learning. You'll get a chance to polish your skills and also acquire new skills like patience and perseverance. Help better get rid of their pain and earn blessings.
Not just these, but you'll make friends who'll teach you something or the other. You'll make memories that'll last for a lifetime.
The entire experience will boost your CV/ Resume and you'll have better chances of getting employed.
Join the journey to discover your hidden potential and to help the unprivileged people – evolve and let others grow as well.
What are the Do's and Don'ts that are to be followed in Nepal?
Nepal as a nation is very warm and welcoming. Every year, thousands of trekkers, adventure seekers, travelers, and explorers visit this Himalayan landlocked country to experience the cultural richness, the mix of Hinduism and Buddhism and to witness the majestic Himalayas. While Kathmandu, the capital, is quite progressive with a cosmopolitan culture, there are other small towns in Nepal where people are still parochial in spite of being warm and caring. They won't ask for much, but some basic attitudes and mannerisms that they prefer travelers to follow.
Let's take a quick look at the Do's & Don'ts that'll help you to act and seem well-mannered with regard to Nepalese culture and traditions.
Do's:
– Greet people with a gesture of Namaste (fold your hands to join your palms). People in Nepal aren't comfortable with the Western style of shaking hands.
– Use both your hands instead of one, when giving or receiving something, even money. This is a gesture of respect.
– Use your right hand to eat your food. That's how the locals eat!
– Dress modestly, so that your body is covered properly, especially when you are going to visit a religious place.
– Leave your shoes outside, while entering someone's house, temples or monasteries.
– It's illegal to take Nepalese currency outside the country, and it's considered to be a restricted currency. You should change back any Nepalese currency you have before leaving for home.
– Make sure to support the 'Non-Plastic Movement'. The people in Nepal are trying to curb down the usage of plastic. Carry your own bottle of water while traveling.
– Do get a receipt of authenticity when purchasing an antique replica, otherwise, you will not be allowed to take it out of the country.
Don'ts:
– Like several other Asian countries, Nepalese people also disapprove of touching the head. Don't touch anybody's head, even as a friendly gesture, as that wouldn't be appreciated.
– Don't offer food to the natives after tasting it, or from a common plate.
– Don't leave food on your plate at your host's place. It's considered to be very disrespectful if you don't finish your food.
– Don't give money to the beggars. If you give money to one, several others will come and flock around you.
– Don't take photographs of people and Holy Shrines without seeking permission.
– Don't be surprised if people ask you personal questions like your age, marital status, profession etc. It is quite common in Nepal.
– Don't ask for beef at restaurants, as beef is rarely available in the country. Having a majority of Hindus and Buddhists, cow is regarded as a holy animal.
What are the most fascinating things to do while volunteering in Nepal?
Undoubtedly, Nepal is one of the most alluring countries in the world, housing the highest mountain ranges and some serene lakes along with beautiful temples and monasteries. While your weekdays in Nepal will have a fixed work schedule, you can explore the markets and popular tourist spots in Kathmandu. During the weekends, you can plan and explore the beautiful little towns and try out some adventure sports, for which Nepal is quite famous among adventure seekers!
Considered as 'The Most Affordable Destination', you might feel like putting a pause to time while exploring Nepal.
Visit the Pashupatinath Temple
Constructed in the 17th Century on the banks of the Bagmati River, this temple is considered to be the most important and sacred place for the Hindus in Nepal. You can spot several 'Sadhus' at the temple premises. Another interesting ritual that's carried out on the banks of the river is the funeral produce of the dead. In Nepal, funerals are public and it's a ceremony that can be attended by anyone.
Note: Non-Hindus aren't allowed inside the main temple, but you can still take a walk in the premises and get a glimpse of Lord Shiva's bull, Nandi, can be seen from the western entrance.
Explore Patan
On the other side of the Bagmati River, lies the picturesque town of Patan. It is about an hours drive from Kathmandu and displays some of the finest collections of temples in the world. Some of the top attractions in Patan include the Golden Temple and the Kumbeshwar Temple. Another major attraction is the Patan Museum, which has a 12th Century seated Buddha structure.
Note: During the April 2015 earthquake, many of the temples of Patan were destroyed. However, the vintage feel of the ancient city still remains intact.
Go for a safari at Chitwan National Park
The best way to explore the Chitwan National Park is on an elephant's back! For those who think that Nepal is all about cold weather and snow capped mountains, Chitwan would come as a surprise. With lush green forests and marshlands, located at the South of Nepal, Chitwan is warm and sultry. There are hundreds of birds and animals in this national park, and you'll surely get to meet monkeys, deer, one-horned rhinos, and Asian elephants. If you are lucky enough, you can spot a tiger as well. Nepal's oldest forested area, Chitwan got the identification of being a UNESCO World Heritage Site in the year 1984.
Visit Lumbini, the birthplace of Lord Buddha
The peaceful atmosphere of Lumbini will surely make you fall in love with the place. Approximately around 563 BC., Lord Buddha was born here and later traveled to parts of India, before attaining enlightenment. Lumbini perfectly portrays the charm of tranquility and serenity that Buddhism, as a religion, beholds. Explore the magnificent architecture of the monasteries in Lumbini, and also the beautiful gardens.
Explore the town of Bhaktapur
Go for a weekend trip to Bhaktapur and walk down the medieval alleys of this hill town, that still holds on to the grandeur of the old world. Bhaktapur, or the 'City of Devotees', showcases the very best of Nepal's ancient charms, particularly the culture and work of the Newari people (the indigenous people of the Kathmandu valley). The architectural richness exposes the cultural richness of the people, and the backdrop of the snow-capped Himalayas make Bhaktapur one of the most popular destinations in Nepal.
Trek the Himalayas
Well, a trip to Nepal will remain incomplete if you don't go for a hike or a trek. Considered to be a trekker's paradise, Nepal has several famous trek trails, including the Annapurna Circuit and the Everest Trek Routes. If these seem to be too difficult for you, choose simpler hiking options, but don't miss out exploring the jungle trails with mist and freshness! Witness the Himalayan mountains closely, as you'll be surrounded by some of the highest peaks of the world.
Note: You can ask the in-country coordinator to help you plan your trek.
Go for rafting on Trishuli River or Bhote Koshi River
While in Nepal, tickle your adventurous cells and try out river rafting on the swift flowing Himalayan rivers. The Trishuli River connects Kathmandu to Pokhara and is a highly attractive destination for river rafting. You'll get to float on the crystal clear water and enjoy the scenic beauty of the little mountain villages through which the river flows. The Bhote Koshi River offers one of the best and most exciting kayaking and rafting adventures – and this whitewater rafting experience would absolutely drive you crazy! Feel the heartbeat as the raft jumps with the waves, and enjoy the thrill – it's absolutely a must, when in Nepal.
Enjoy the sunset at Pokhara
Termed as 'The Jewel of the Himalayas', Pokhara is a lakeside town and a favorite destination for travelers. This charming little town provides a wide array of activities – from fishing to mountain biking, paragliding, trekking and boating on the Phewa Lake. Pokhara is famous for its breathtaking sunset views when the sky gets brushed with unique hues and shades and the lake reflects the brilliant colors. Also, one just can't miss visiting the World Peace Pagoda when in Pokhara.
Savor the taste of Nepalese cuisine
No trip can be complete without gorging on the local food! Nepal has a mixed culture and thus, there are a variety of popular dishes that are worth tasting. The staple food of the country is 'Daal-Bhaat' which is plain steamed rice and lentils, served with mixed vegetables and pickles. Apart from this, you'll find shacks serving momos at almost every corner of the country! Momos are a local version of dumplings, having both veg and non-veg stuffings. Thukpa,a noodle soup originating from Tibet, has also become quite popular in Nepal, and it's absolutely delicious with loads of meat and vegetables.
These are the things that you shouldn't miss out, and you can make your own checklist depending on your choices. You can seek help of the country coordinator while planning your trips. Also, take a look at the programs available in Nepal, as there are programs which already include a couple of things from this list!
Why should I volunteer in Nepal with Volunteering Solutions?
This is an obvious question that would pop into anyone's mind. While you can surely plan your volunteering vacation by yourself, there are several things that you need to be careful about. While planning, you'll have to ensure that you have a proper place to stay, and a proper organization to work with. You also need to think about your food, transportation, project related queries etc.
All these things are simplified once you choose to travel with Volunteering Solutions. All you need to do is select your preferred program, and apply for it. The efficient VolSol Team will take the process further and sort everything for you. Starting from your airport pick up once you arrive in Kathmandu, accommodation, food, transportation, program orientation – everything is taken care of.
Our in-country coordinator will be there to assist you and help you whenever needed. He/ She will also help you in planning your weekend trips or solve any other doubts that might arise while you are at work.
Volunteering with VolSol will give you an incredible learning opportunity as well as a platform to meet and connect with like-minded people from all across the world.
You'll also be provided with a Certificate after successful completion of the program – which will add to your CV.
Reviews by past volunteers who worked in Nepal
Travel to this beautiful country and explore its richness, while making some valuable contribution towards the society. If you need more information about volunteering, you can simply drop us a mail at [email protected]
You can also drop a comment here if you have any stories related to volunteering in Nepal.
About The Author