Helen Green's Experience of Volunteering In India With VolSol
335 Views
I'd been to India a few times before as a tourist, fallen in love with the culture, food, and people, and I wanted to give something back in a small way. In 2016, I did a Teaching English as a Foreign Language (TEFL) course, so when I heard that you can help out with informal English lessons as part of the Women's Empowerment program, I thought "why not give it a go?"
The volunteers in the women's empowerment program go to different sites in Delhi. My placement was at a Centre in South Delhi. The center's founder is an amazing artist and an inspirational woman. She runs an art gallery and the Centre that helps women from across Delhi to have a good start in life. Young women come to the center to learn a range of skills such as sewing, embroidery, beautician courses, computing and of course, English.
An English teacher who works there gives conversation lessons at the center, twice or thrice a week, so I used to help her in those lessons. On the other days, she was very happy for me to give my own lessons to any of the girls who wanted to come along. There's no set curriculum to follow, so I could use my imagination to think up fun and engaging activities. (I took lots of props and pictures with me, which all helped.) The girls and ladies were all very friendly and welcoming, and enthusiastic to learn as much English as possible.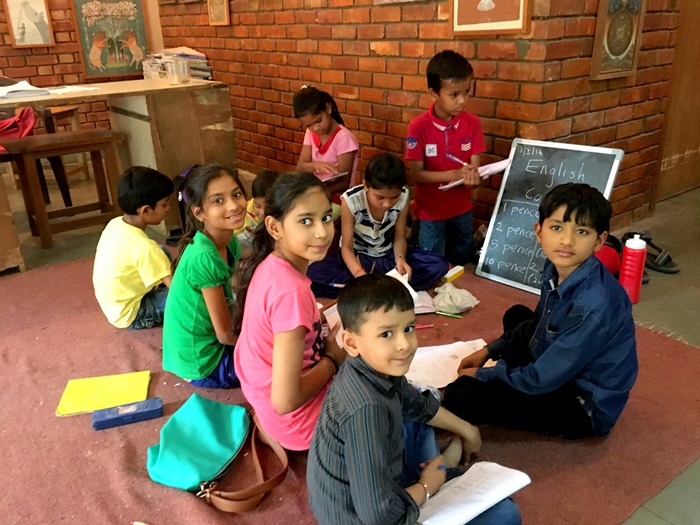 In the afternoons, I usually had a smaller group of younger students – the children of some of the ladies who were visiting the center. Working with them was very rewarding, and sometimes quite a challenge too, as they were any age from around 4 to twelve years12-year-old.
The rest of the staff at the center were very helpful and friendly. There's also a little cafe at the centre with basic but lovely food for 50 INR, cooked by a husband and wife, so lunch was very easy to arrange.
When I wasn't teaching, I'd sit and chat with the girls about their lives and interests, and get involved with their activities. They had a lot of fun trying different hair plaits out on me, and something I really loved was watching them practice their mehndi (henna tattoos). I felt very privileged when Neha (one of my English students) offered to decorate my hands too.
The day after I arrived, Rajiv (VolSol's Company Director in India) gave the new volunteers an orientation, with lots of information to help us keep safe and well, to work out the Delhi transport system, and what to do in our spare time in Delhi and further afield.
There are lots of choices…..
For example, I was there for two weeks and went to the Red Fort, Humayun's tomb,  Akshardham Temple, the Lotus Temple, Central Market and Dili Haat. I was lucky enough to be there for the Festival of Holi (the Festival of Colour). Rajiv took all the volunteers to a nearby park to celebrate, and we had a lot of fun dancing to Punjabi music and covering each other and the local residents with vibrant colored powders – an unforgettable experience!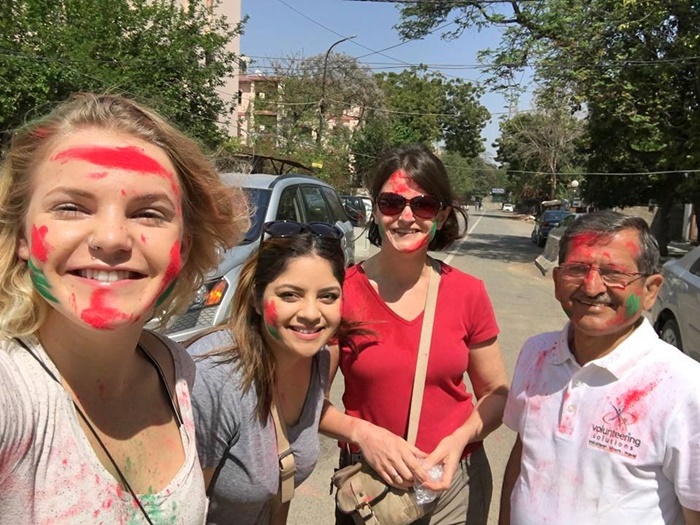 Getting around Delhi is easy, once you've got the hang of haggling the price of a tuk-tuk ride! If you want to go a bit further in Delhi and don't want to haggle, the Metro is a cheap and safe way to travel. Each train has a "pink" carriage at the front, where only women passengers are allowed, so it's very safe for single ladies, including foreign volunteers to travel.
For my middle weekend, I went up to Rishikesh in the foothills of the Himalayas, with two of the other volunteers. It was an amazing trip, including a train trip to get there (an adventure in itself!!), an evening Aarti ceremony by the Ganges, free time to soak up the spiritual atmosphere in Rishikesh, and river rafting. A trip like that is well worth it, to see more of the beautiful country.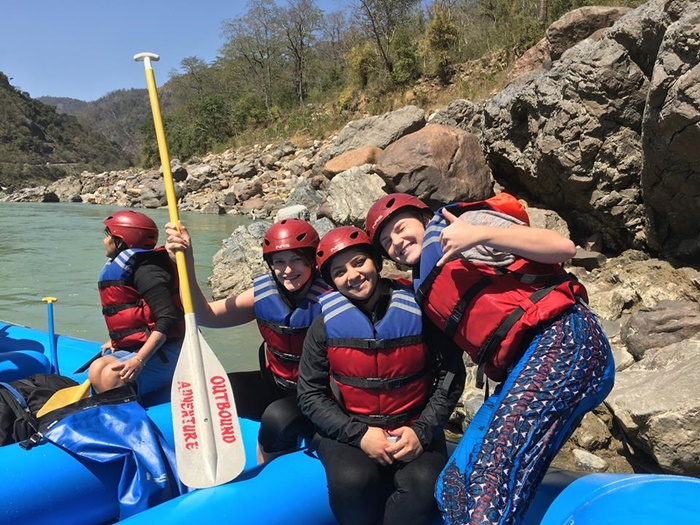 Parag from VolSol organized the Rishikesh trip for us and was very helpful and efficient. The rest of the VolSol team in Delhi (Rajiv, Shankar, Dheeraj, and Sahil) are great and are always there to help if you need it. Before I traveled to India, they sent me loads of information such as what to bring, what Visa to get and how to apply for it.
When I was there, there were about 20 volunteers in Delhi, of all age groups, and from all over the world. We stayed in three houses in a very safe area in the south of the city. The accommodation is comfortable and clean, with breakfast and dinner provided every day except Sundays.
I'd recommend Volunteering Solutions to anyone, as they look after the volunteers very well, and work closely with the placement sites to make sure the volunteers can make a genuine difference.
Volunteering is a great way of understanding a country more deeply. Come with an open mind and lots of enthusiasm, and you'll get a huge amount back."
If Helen's story has inspired you, then drop us a mail at [email protected] and join our programs to make a difference!
About The Author