Volunteer Work in Morocco: A Comprehensive Guidebook
833 Views
"From Saharan dunes to the peaks of the High Atlas, Morocco could have been tailor-made for travelers." – That's what the Lonely Planet says while describing this magical land.
Located in the Northern part of the African continent, Morocco is very unlike the rest of Africa. You won't find the Big 5 in the wilderness, neither the primates nor the tribal folks! But the beauty and charm of this country are absolutely breathtaking and the old world charm will definitely blow your mind.
While walking down the lanes of the souks in Rabat, crossing the sand dunes of Sahara or exploring the blue streets of Chefchaouen, you'll feel the same way you felt while reading the tales from Arabian Nights!
In spite of the recent developments, the country still has a huge population living in underprivileged conditions and dealing with several problems, each day. Volunteering in Morocco will definitely be a journey that'll change your way to look at life and turn you into a more humble person.
In this Comprehensive Guidebook, we have attempted to answer all the questions that might pop up on your mind when you think of setting out for a philanthropic journey to make a difference.
What are the volunteering opportunities in Morocco that are provided by VolSol?
Being one of the most popular destinations in Africa, Morocco attracts a lot of students and gap year travelers as well as backpackers who are enthusiastic and eager to explore the gorgeous nation & at the same time, contribute towards the development of the society in some way or the other.
Volunteering Solutions, in association with local Moroccan organizations, have been running 4 sustainable volunteering programs, and you can choose to be a part of any, that aligns with your choices and preferences.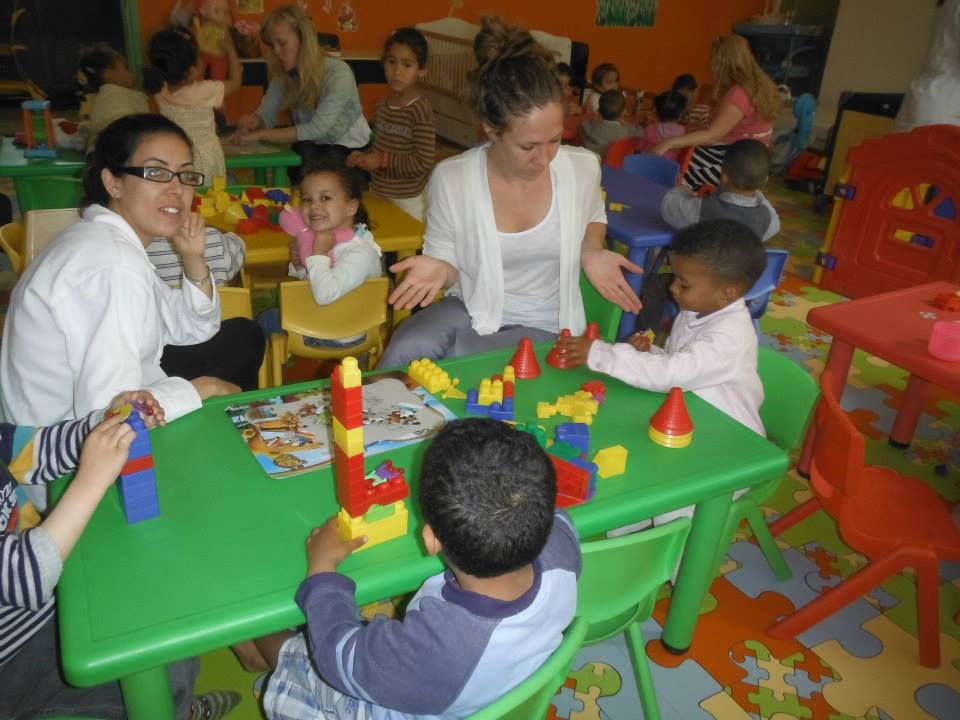 If you love to be around kids and wish to shower the underprivileged children with some happiness, then the Childcare & Orphanage Program would be absolutely perfect for you. Remember that you have the power to be a role model for these children, who otherwise have a very difficult life. Being a volunteer, you would get to work with children ranging from toddlers to young adults who are around 16 years old. Spend adequate time with the children, teach them basic lessons of English/ French and Maths, as well as extra-curricular activities like arts, crafts, dancing, and music etc. Tell them stories of your life and inspire them to dream of a better future.
Program Duration & Fee – The minimum duration to be a part of this program is for 1 week, while the maximum is for 24 weeks. The cost for one is $410 which will include Airport Pick-up, Accommodation, Meals, Project Orientation and 24/7 in-country support.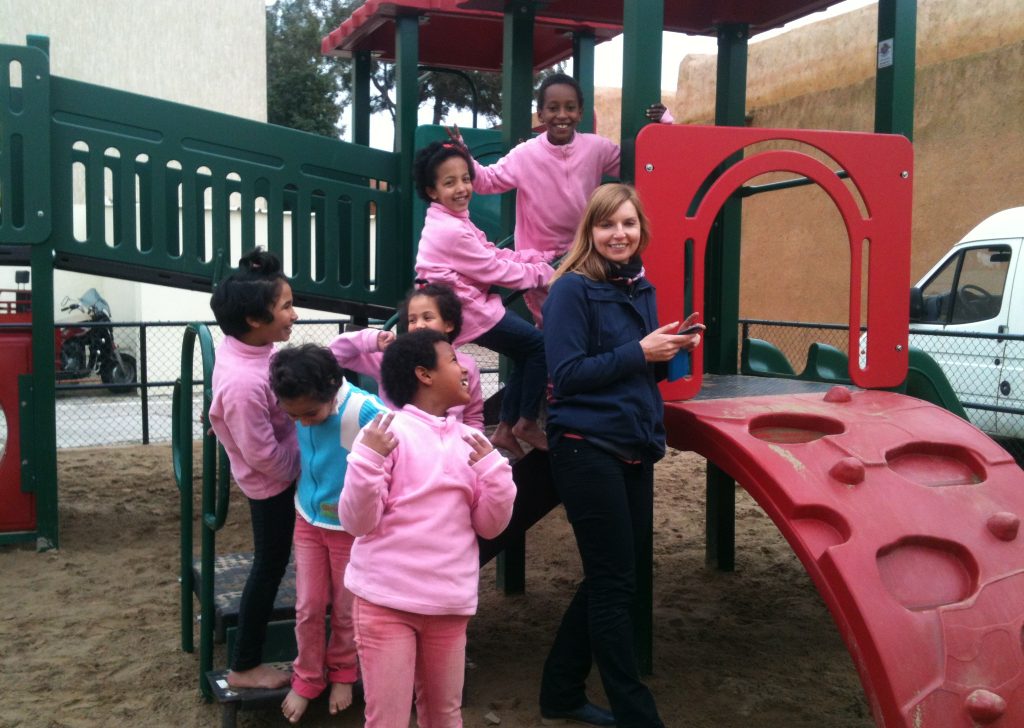 If you wish to take up an active role to bridge the gap between the common man and the government in Morocco and gain some first-hand learning experience of dealing with some critical social problems, then this is your chance. Be a part of the NGO Support Program and get associated with local organizations dealing with human rights, child issues, women rights, education, strengthening the government accountability etc. You'll be working in the city of Rabat and guide the NGOs with ideas and skills to do their work in a better way. Also, help them out with documentation work and provide your skills in strengthening the society.
Program Duration & Fee – The minimum duration to be a part of this program is for 1 week, while the maximum is for 24 weeks. The cost for one is $410 which will include Airport Pick-up, Accommodation, Meals, Project Orientation and 24/7 in-country support.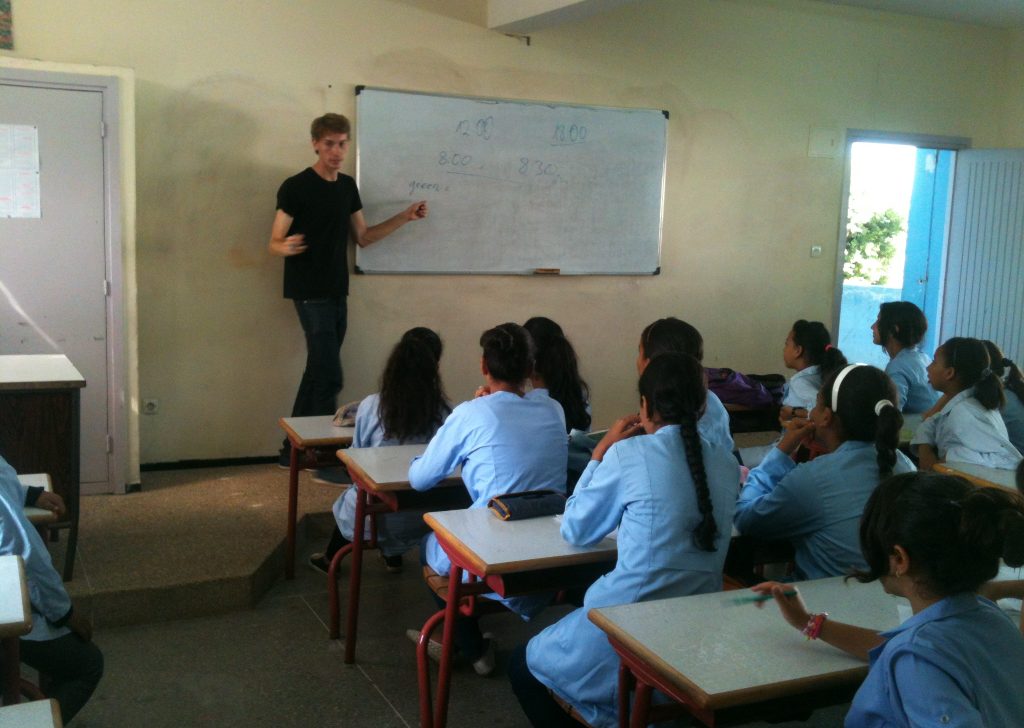 In spite of the fact that the government provides free education to everyone below the age of 15 years, Morocco has one of the lowest literacy rates in the world. Thus, volunteers joining the Teaching Program in Rabat get to play an important role in the lives of the children. You will be placed in community schools, public schools or schools run by NGOs where the teacher-student ratio is inadequate. You can help the teachers in preparing their daily lessons and organize interactive classes with the aim of improving the pronunciation and conversational skills of the students. Apart from English/French, you can also teach Maths, Science etc.
Program Duration & Fee – The minimum duration to be a part of this program is for 1 week, while the maximum is for 24 weeks. The cost for one is $410 which will include Airport Pick-up, Accommodation, Meals, Project Orientation and 24/7 in-country support.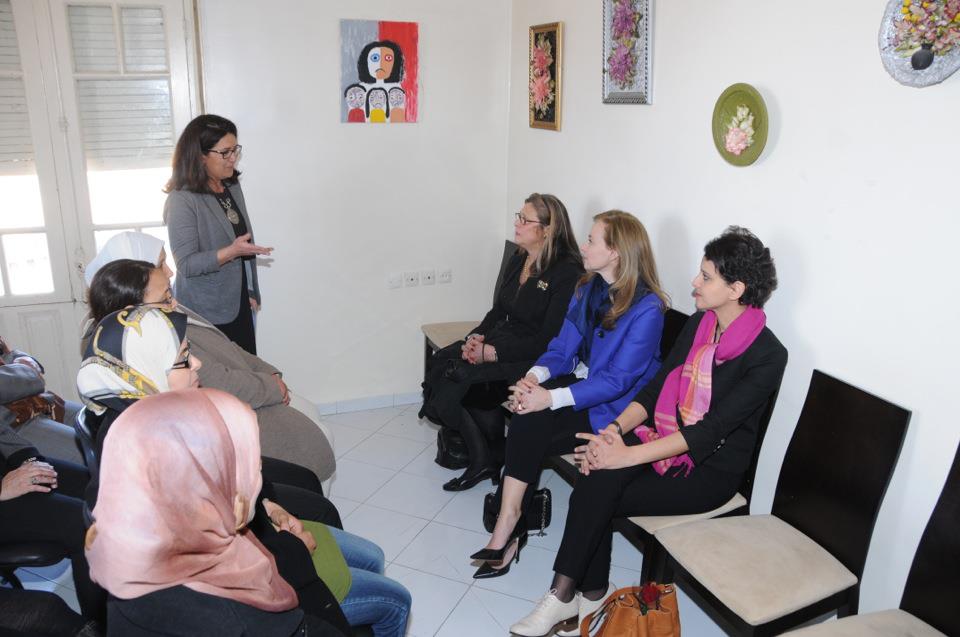 A huge chunk of women population in Morocco are still victims of poor economic and social conditions. A lot of women live in poverty and are abused, especially, in the underprivileged communities. Being a volunteer for the Women Empowerment Project, you'll be playing an active role in the lives of these women, guiding them to earn their livelihood, safeguard their rights and make them aware of it and also, help them become independent individuals. We'll be working with local NGOs and women's rights organizations who have been fighting for the cause for quite some time. It will be a little challenging, but nonetheless, the experience you'll gain would be unparallel.
Note: You need to have some knowledge of either Arabic or have the basic level of French to take part in this program. You can also opt to learn Arabic or French while volunteering under this program.
Program Duration & Fee – The minimum duration to be a part of this program is for 4 weeks, while the maximum is for 24 weeks. The cost for one is $990 which will include Airport Pick-up, Accommodation, Meals, Project Orientation and 24/7 in-country support.

What Are the Necessary Requirements to Participate in the Morocco Volunteer Programs?
The most important criteria to be a part of any volunteering program is openness. You must be patient and calm, as well as enthusiastic enough to adjust to any situation and hope to deal with any circumstances that might crop up.
It is essential for you to understand that no luxuries would be available during this journey, however, we shall try to make this experience as comfortable as possible.
One should be at least 18 years or above while joining a program.
Volunteers who are keen to work with children for any project (Childcare and/or Teaching) will have to provide the Criminal Background Check Report.
You must have an adaptive, flexible and willing to live out of your comfort zone.
You can volunteer as an individual or in groups (students, corporate or friends), and/or with your family & friends.
Know that volunteering is a serious task and needs immense focus and sincerity. So, if you have the motivation to help others, the dedication of being a part of a meaningful project and the enthusiasm to travel abroad to do something worthy, we believe that you can be a volunteer.
It is not essential to know French/ Arabic (except if you are joining the Women Empowerment Program). However, it'll be an advantage for those who have a grip over any of the languages. You can also opt to learn French/ Arabic while you are there in Rabat.

How To Get The Visa For Morocco?
If you are a citizen of the USA, the UK, Australia, Canada, Japan or a majority of the EU countries, you won't need a visa to enter Morocco. Your passport should be valid for at least 6 months, and you can get a 90-days Tourist Stamp on your passport. For citizens of other countries, a valid visa would be required to travel to Morocco. You can contact the Kingdom of Morocco Embassy that is nearest to you or simply gets in touch with our Program Advisor for further assistance regarding this.

When Do I Need To Arrive In Morocco For My Program? What Will Happen Once I Arrive?
All volunteers have to arrive one day before their program start date, that will be a Sunday considering that the programs start on a Monday. Please check your program start date, and coordinate with the Program Advisor. Volunteers are picked up from the Rabat–Salé Airport (RBT) by the local coordinator or representative and taken to the respective host family accommodations. Ryan Air, Royal Air Maroc, Air France and Iberia are some of the major airlines flying directly to Rabat.
However, Mohammed V International Airport (Popularly known as the Casablanca Airport) is a much popular one, having connectivity to major international airports, and often volunteers take flights till here. From Casablanca, you can arrive in Rabat by a convenient one hour train ride. Volunteers will be received at the Rabat Ville Station by the local coordinator or representative and will be transferred to the volunteer accommodation. You should let us know where you'll be arriving so that our coordinator can be there and you don't have to face any hassle when you are there.
On Monday, there will be an Orientation Session which will cover the program highlights and provide you with details about the city of Rabat. You will get to know about the local culture, marketplaces, ATMs, internet cafes and where to shop for your daily essentials.

What Kind Of Accommodation & Meals Can I Expect During My Volunteering Trip In Morocco?
Like we mentioned earlier, during a volunteering journey, you can't expect the luxuries that you usually enjoy at home. However, Volunteering Solutions has always ensured to provide a 'home away from home' experience to all the volunteers.
When you choose to volunteer in Rabat, Morocco, you'll have the options to either stay at the volunteer house, along with your peers or at a homestay accommodation, with a host family. Both the accommodations have their own perks.
At the volunteer house, you'll be living with others who have traveled from different parts of the world and come together for a common cause. You can share your thoughts and ideas with them, listen to their stories, and think about how you can work for change. You never know, you might just bump into your BFF at the volunteer house!
On the other hand, a homestay accommodation will be the best way to immerse yourself in the Moroccan culture and learn more about the day to day lives of the locals. You'll be staying with a host family, who can tell you more stories from the past, and help you to look deeper into the societal structure.
The volunteer house is located at a distance of about 10-15 mins from some of the project locations. The house has 5 huge rooms which are shared among the volunteers, on the same gender sharing basis. The house has an operative kitchen, which you can use. There's a beautiful terrace as well.
Volunteers will be provided with 2 meals (Breakfast & Dinner) daily, at the accommodations. The dinner meals usually consist of traditional Moroccan dishes like Couscous, Meat, Bread, Soup, Salad, Olives etc.

What Are the Dos and Don'ts That Should Be Followed While Volunteering in Morocco?
We always tell our volunteers to abide by the cultural norms and customs while traveling in a particular country. Your trip to Morocco will definitely be more rewarding and enjoyable if you know what to expect and how to respect their culture and religious restrictions.
Let's take a quick look at the Dos & Don'ts that you must follow during your volunteering journey in Morocco:
DOs:
Learn a little bit of Arabic – may be a few commonly used phrases. Though French & English is widely spoken in the country, knowing a few basic and commonly used Arabic words can be really helpful.
Do leave a tip when you are eating at a restaurant, or traveling in a cab.
Dress conservatively, especially if you are visiting a mosque. While wearing western clothes isn't prohibited, but it would be good if you can cover your shoulders and knees (especially for women).
Whenever you meet some, greet with a handshake and friendly conversations.
Use your right hand for greeting, eating, gifting or any other work. The left hand is considered to be unclean by the people there!
Carry tissue paper along with you to the washroom, because you'll rarely find them!
Do be polite while conversing with someone. Avoid getting involved in any sort of political discussion.
Try to carry cash while you are out for shopping or dining because plastic money isn't widely accepted. You'll find that the credit card machines aren't operative in most of the places.
If you are invited to someone's house, leave your shoes outside, before entering. Also, appreciate the food that is served to you. It's a good gesture of saying thanks.
Try the hammam bath in Morocco – it's one of a kind that you'll never get anywhere else in the world.
If you have plans to go out at night or wish to travel during the weekends, please inform the country coordinator about your plans.
DON'Ts:
Don't drink tap water. It might not be good for your health. Instead, pay a few bucks for bottled water.
Don't offer alcohol to anyone, unless you know them well or they are already at the bar, drinking.
Don't eat food during the day in front of others, at the time of Ramadan. People in Morocco carry out faithful fasting for one whole month, and they only eat after sunset. Hence, it'll look offensive if you are eating in front of someone who's fasting!
Don't carry a Bible in public. Since the majority of the population is Muslim, you never know who might get offended.
Don't get involved in any kind of drug dealing or consumption. It's a punishable offense and penalties are extremely high.
It's usually hot in Morocco, and you shouldn't expect Air Conditioners (AC) at most of the places! Their idea of AC is a fan!
Don't take pictures of people, without seeking permission. Also, if you are walking down the souk and spot people showing tricks with snakes and monkeys, know that you are supposed to pay them if you click their photos.
Don't refuse the offer if someone is asking you out for a cup of Moroccan mint tea – it's a delicacy!
Don't move out alone at night. Ask your coordinator for assistance. In case you wish to get a taste of the nightlife, go out in a group with other volunteers.
What Are the Things to Do While Volunteering in Morocco?
During your journey in Morocco, you'll be spending your weekdays at the project site mostly, but the weekends will be all yours, to explore and experience the goodness of this North African country. Here's a list of things that you can do and places you can visit during your volunteer trip in Rabat – check them out!
Explore Chellah – Admire the beauty of Roman and Islamic ruins at this medieval fortified city buried in the heart of Rabat. Marked as a World Heritage Site, the abandoned buildings, and overgrown plants, immaculately maintained flowers as well as the public pathways will surely leave you drooling over its beauty.
Visit the Hassan Tower and Tomb – Although it might appear that the tower is split into halves, the truth is that the Hassan Tower wasn't actually completed! The construction was started during the rule of Abu Yusuf Yaqub al-Mansur, the third Caliph of the Almohad Caliphate in 1195, and in 1199, construction on the mosque stopped. The mosque is strategically placed on the high Southbank of the Bou Regreg river to provide an imposing spectacle visible for miles around. It's one of the gorgeous mosques you'll ever visit!
Walk down the narrow lanes of Kasbah des Oudaias – Translating to Kasbah of the Udayas, this white-washed fortified town was built by the Almohads in the 12th century on the site of the original 10th-century Rabat fortress, close to the Atlantic coastline. As you'll walk down the lanes, you'll get an insight into the historical life in Rabat.
Visit the Dar al-Makhzen – It's the official residence of the King of Morocco. It is situated in the Touarga commune of Rabat, and beauty of this palace can be only admired from the central pathway.
Soothe your soul in a Hammam – You just can't miss this opportunity to hit a traditional Moroccan hammam and cleanse your body and soul, letting yourself free from all aches and pains. You'll find public hammams at almost every corner of the country!
Visit the Zoo de Rabat – This zoological garden is known for its lions, which may have been descended from the Barbary lion that used to inhabit the wilderness of Morocco and North Africa. You'll get to see other species like eland antelopes, white rhinos, giraffes, binturongs etc.
Chill at the beaches – Bordered by the Atlantic Ocean to the West and the Mediterranean Sea to the North, Morocco has no shortage of beaches to explore. If you wish to chill on the beachside, then head towards Tamara Plage located 13 kilometers south of Rabat.
Weekend trips to Fez, Marrakech, Casablanca – You can seek assistance from the country coordinator or drop us a mail at [email protected] and we can arrange a weekend trip for you to these beautiful cities of Morocco.
Go for a weekend trip to explore the Sahara – Well, if you are looking for some adventure in the desert, then you gotta spend a night amidst the Sahara! Ride a camel and cross the dunes, gaze as the sun sets behind the golden horizon, and sleep under the starlit sky at a desert camp.
Morocco has too many things to offer the visitors, and you might just fall short of time, exploring all that's there on your checklist. The best thing would be to discuss with the country coordinator and plan out your itinerary. Try to make the most of your time!

What Are the Benefits of Volunteering in Morocco?
Morocco, undoubtedly, is hugely different from the rest of Africa and in spite of the recent developments, the country is still trying to cope up with the economic and social problems that are deeply rooted. If you've never volunteered before, then now is the time for you to get started. Volunteering in Morocco will endow you with privileges of helping others and working on self-improvement – all at the same time! Also, researchers at the London School of Economics found that the more people volunteered, the happier they felt.
Imagine spending hours with underprivileged kids at a Childcare Center or an Orphanage – how wonderful it'll be to make them laugh and guide them to dream. Probably they won't understand your language but you'll still bond with them over love. You'll know the beauty of doing something, without expecting anything in return. The entire experience will make you a more humble & compassionate person.
Teach children in schools and help them learn through interactive sessions and activities. Help them to communicate in English/ French, and you can also get to learn bits and pieces of the local language. You'll get a chance to polish your skills and also acquire new skills like patience and perseverance.
Being a part of the NGO Support or Women Empowerment Programs, you can help in raising awareness among the people, inspire them to be confident and show them different means to earn their livelihood. In return, you'll gain immense knowledge about how the society in Morocco works, and later implement your learnings in your career ahead.
The entire experience will boost your CV/ Resume and you'll have better chances of getting employed. And not just these, but you'll make friends from different parts of the world, who'll teach you something or the other. You'll make memories that'll last for a lifetime and moments that can be cherished forever.

Why Should I Choose Volunteering Solutions in Morocco?
If this question is hitting you, we aren't surprised! In fact, this is a very common question that would strike anyone and everyone who decides to pay an amount to volunteer abroad, with the aim of making a difference. While choosing an organization, you'll definitely think twice, and try to understand why this one is better than all others.
With its presence in 23 destinations all across the globe, Volunteering Solutions provides a plethora of volunteering programs in each of these destinations. In the last 11 years, since its inception, Vol Sol has placed more than 13,500 international volunteers on different volunteering projects as well as internship programs.
VoSol values the importance of ethical and successful volunteering, and through its deep knowledge in this field, it places a candidate into a program which suits him/her the best, according to the field of interest, skills, and educational background.
Vol Sol is associated with NGOs, schools, hospitals, orphanages, healthcare clinics, women empowerment and other social welfare organizations across the globe. From the time a candidate generates a query, through the process of clearing doubts, filling the application form, making payments, and reaching the volunteering placement location – the Vol Sol team takes care of everything. It is ensured by the dedicated Vol Sol team that volunteers/interns have a smooth and memorable journey while traveling. At each of our program location, we have our coordinators, who are available 24/7 to help the volunteers whenever needed.
Apart from these, Volunteering Solutions also provides help in various important divisions, such as;
Raising fund for volunteers who face financial crunch to sponsor their trip.
Providing Medical and Travel insurance at a nominal extra cost.
Trips and tour package to explore other locations in Morocco.
Vehicle facilities for local traveling and airport drop at some extra cost.
Reviews From Our Past Volunteers:
If there's something that you think we've missed out, please let us know in the comment section below. If you have more queries, you can also drop us a mail at [email protected]
You can also follow us on Instagram, and don't forget to like our Facebook Page for more updates.
About The Author