Group Volunteering Abroad – An Ultimate Guidebook
54 Views
Not feeling like taking a solo volunteer trip? Want to travel abroad and volunteer with a group? We've got some amazing group volunteering abroad programs.
Over the past 16 years, Volunteering Solutions has been dedicated to hosting a wide range of groups, including high school, college, and university students, as well as corporate teams, on impactful journeys around the world.
These Group Volunteering Tours are exclusively curated to meet the specific needs and preferences of each group member, ensuring that every participant can make a meaningful contribution to the communities they serve. We prioritize projects that offer fulfilling work for every individual while also providing opportunities for cultural immersion and local exploration.
Our volunteering project options are diverse and numerous, but those particularly well-suited for groups include Childcare and Teaching Projects, Volunteering for Elephant and Nature Conservation initiatives, and our popular 2-week volunteer and travel specials, which seamlessly blend hands-on fieldwork with an immersive exploration of the destination visited.
Over the last few years, we have hosted students from some of the top universities in the world, including New York University, Arizona State University, Buena Vista University, USA, Dawson College, Canada, Florida International University, Carnegie Mellon University, Qatar, Grand Valley State University, USA, Gulf Dental Student Association, and Touro College, USA. These are just a few names, though!
What kind of Group Volunteering Abroad Programs can we offer?
As we've mentioned before, we have a plethora of volunteering programs that are perfect for groups to participate in.
This is one of the most preferred group projects. As a group, you'll be able to focus on various subjects, as well as on the overall growth and development of the children. You have the option to engage in various volunteer teaching opportunities, such as teaching English to Buddhist Monks in Thailand, volunteering at a dedicated girls' school in Ghana, or instructing Spanish-speaking students in Peru.
In most cases, volunteers play a pivotal role in enhancing students' vocabulary and spoken English skills. Additionally, depending on the specific needs, you may also have the chance to teach other subjects like Computers/IT skills, Maths, Geography, General Knowledge, and more. It'll be a great opportunity for peer learning, while you take part as a group and contribute towards the teaching program.
Often, volunteers take part in school renovation projects, transforming the premises into a more inviting and vibrant space for the students. You can also contribute to extracurricular activities, including sports and games, enriching the overall learning experience for the children.
Pro-tip for Group Volunteers – You can fundraise for the renovation of the school, create a library, get new books for the kids, and also, focus on activity-based learning.
Available in: India, Nepal, Thailand, Sri Lanka, Vietnam, Bali, Philippines, Tanzania, South Africa, Ghana, Morocco, Peru, and Portugal.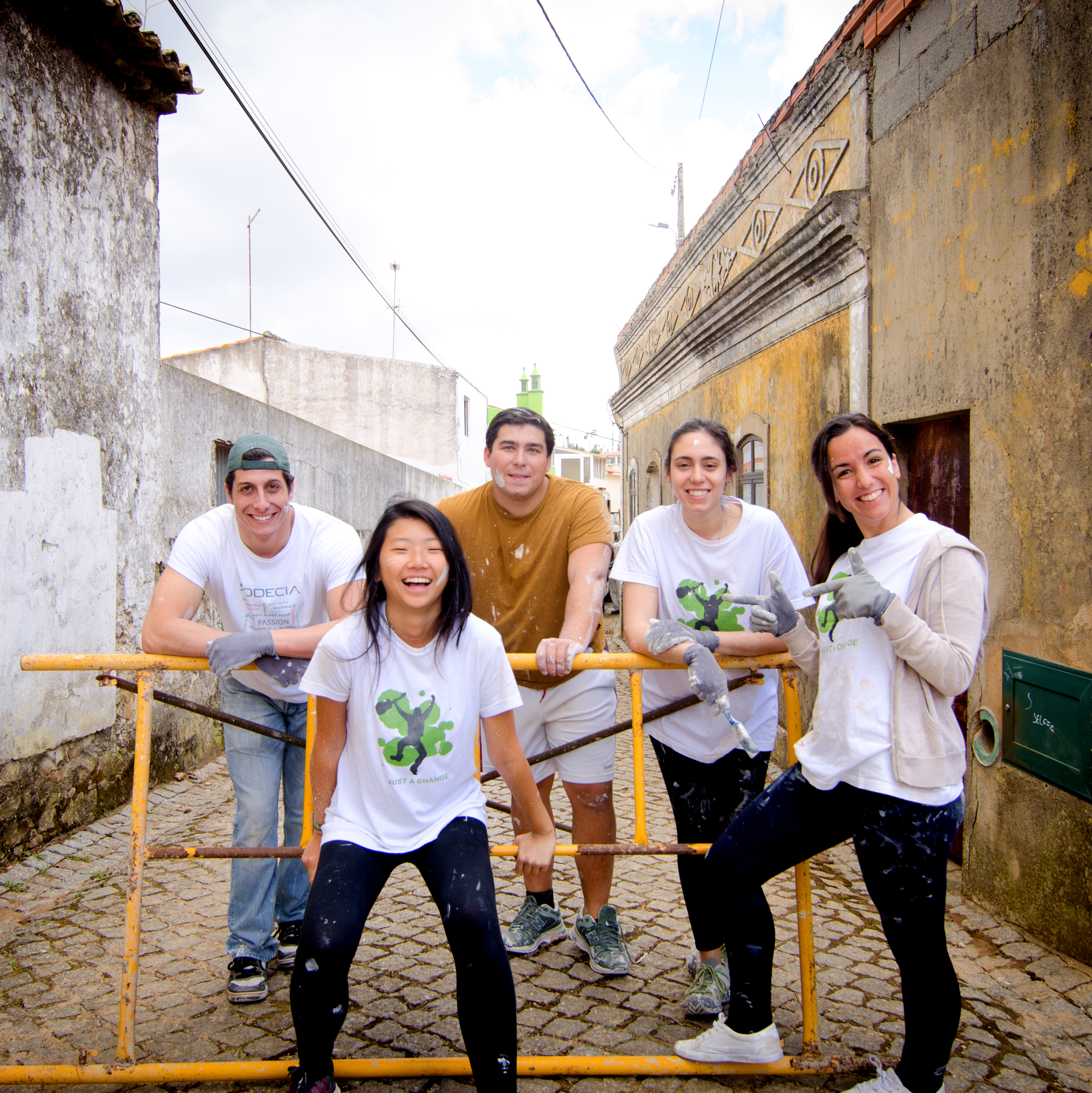 What could be more rewarding than collaborating as a group to uplift and empower people in some of the world's most underdeveloped regions? This presents an incredible opportunity to engage in diverse educational initiatives for children, contribute to renovation and construction projects, collaborate with local NGOs on initiatives related to gender empowerment and microfinance, and lead awareness campaigns.
One of the remarkable aspects of community development programs is their versatility. Within a single project, you can undertake a wide range of tasks. This might include teaching an English class, providing support at a childcare center, conducting art and painting sessions for students, assisting with co-curricular activities like sports or debate, participating in school building renovations, contributing to disease awareness campaigns, and assisting with administrative tasks, among other activities.
Available in: South Africa, Spain, Madagascar, Tanzania, Kenya, Sri Lanka, Cambodia, Philippines, Uganda, Ghana, & Thailand.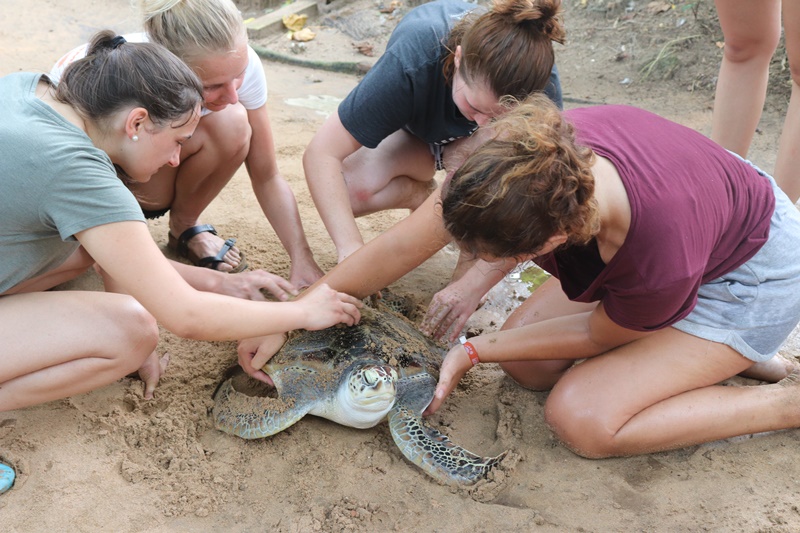 If you're someone who adores being in the company of animals and believes you have a group of like-minded individuals eager to make a meaningful impact in this area, we offer a variety of rewarding wildlife conservation opportunities tailored for groups.
Whether you're passionate about volunteering with elephants or dedicated to safeguarding turtles on the beaches, your wildlife volunteering experience promises to be truly incredible.
These conservation programs not only allow you to engage in animal conservation but also offer a rejuvenating escape surrounded by nature's beauty. It'll let you live away from the chaos and cacophony of urban life for a week or two while spending adequate time amidst nature.
Available in: Thailand, Sri Lanka, Costa Rica, Malaysia, India, Tanzania, Madagascar, Bali, Ecuador, Australia, and South Africa.
If you are not so keen on working with animals, yet wish to live amidst nature and contribute – we've some amazing volunteering opportunities for you as well. Get ready to roll up your sleeves and get your hands dirty!
Over the years, we have welcomed numerous high school and college student groups, as well as gap year travelers and backpackers, who have wholeheartedly dedicated themselves to the noble cause of preserving our world and striving to create a better place for all to live.
Available in: New Zealand, Portugal, Greece, Ghana, Madagascar, Bali, Malaysia, and Sri Lanka.
Pro-tip: We can club the Wildlife Conservation and the Environment Conservation Programs for group volunteers. So, make sure to reach out to us for customized options!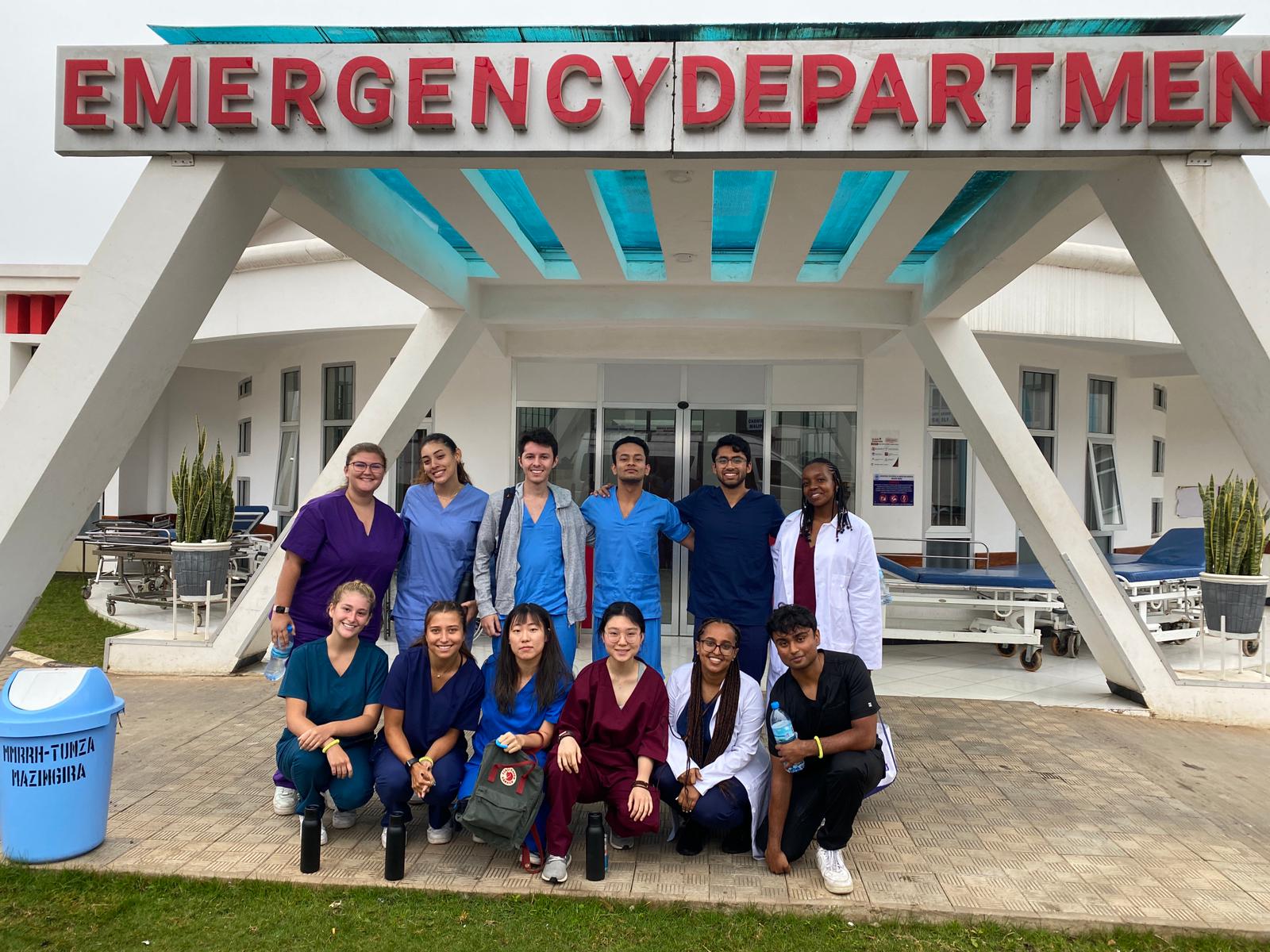 This program is highly sought-after among pre-med, medical, and nursing students who are eager to acquire hands-on work experience while providing valuable assistance to healthcare professionals in hospitals and clinics.
Our medical volunteering opportunities span various areas, encompassing Emergency Medicine, General Practice, Radiology, Dentistry, Pediatrics, Surgery, Maternity, Outpatient Department (OPD), Pharmacology, Microbiology and Immunology, Internal Medicine, HIV/AIDS support, Nutrition, Public Health, Midwifery, Nursing, and many more.
Participating in this program offers a unique opportunity to gain insights into the healthcare landscape in developing nations, making it an invaluable experience for those pursuing careers in the medical field.
Volunteering for a medical program abroad isn't just a chance to make a positive impact on underprivileged communities and improve your hands-on skills; it also provides a career boost and helps you learn from your peers, while you work together in a group.
We have previously worked with various student unions and medical societies in the Universities to organize medical elective group tours across the world.
Available in: Philippines, Thailand, Cambodia, Tanzania, South Africa, Ghana, Kenya, Peru, and Costa Rica.
What is the ideal duration for Group Volunteering Programs?
While we have volunteering opportunities for 1 week, the ideal would be to join a program for at least 2 weeks. In a week, you'll barely get to settle down in a new destination, and the contribution you'll make might not seem fulfilling. Hence, we always suggest groups to take up for at least 2 weeks.
These are specially curated 'volunteer and travel' programs that are meant for groups who can't spend more than a couple of weeks abroad, yet wish to make a meaningful impact during their journey.
Being a part of these programs, you'll be able to devote 5 days a week to the project, while making the most of your weekends, exploring the best of the country, and soaking in the culture and authentic vibes that lingers there!
Available in: India, Nepal, Thailand, Costa Rica, Peru, South Africa, Kenya, Ghana, and Tanzania.
Note: Volunteering Solutions can also customize the programs for groups, in case different members wish to take part in different projects.
Which are the different kinds of groups, that can be formed to participate in the volunteering programs?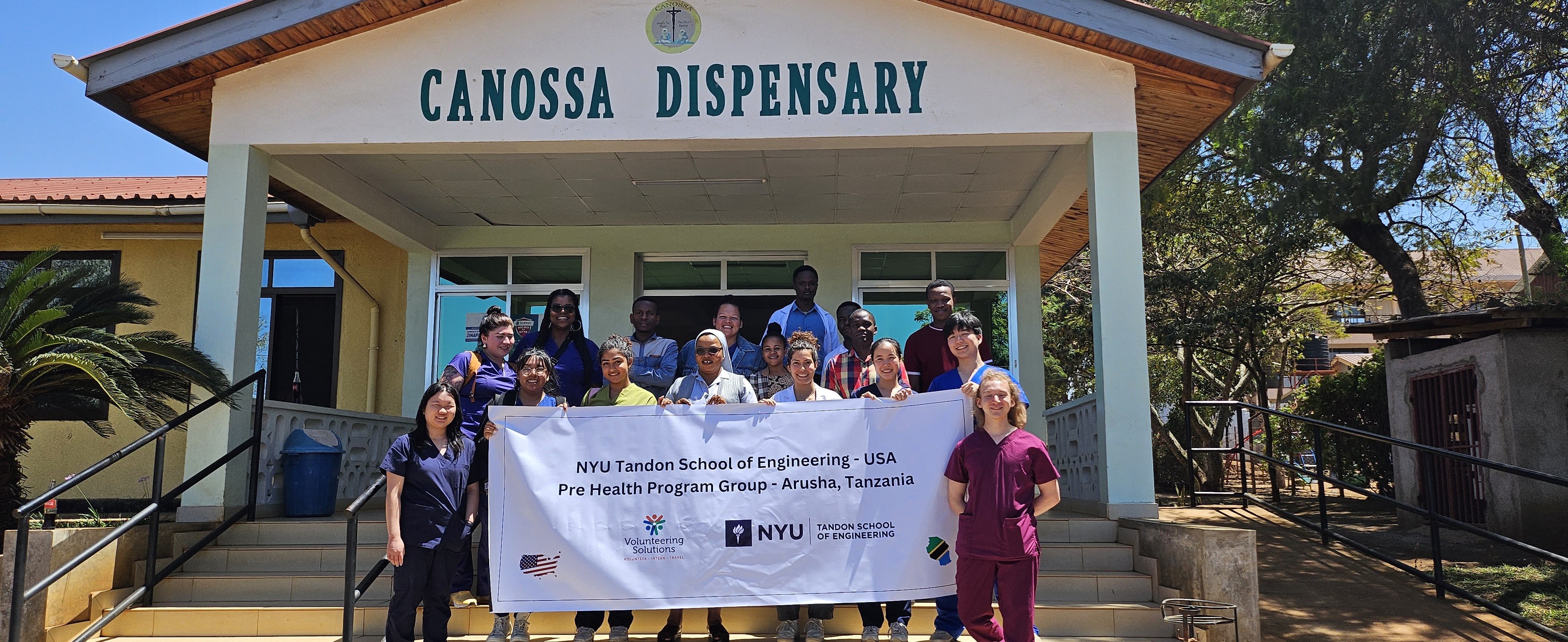 Now, that's tricky! Whenever 4 or 5 people come together to participate in a program, we can term it a 'group'.
Friends' group volunteering:
Are you done with beach vacays with your friends? Well, now is the time for change! You can always ditch the regular holidays with your favorite bunch – and instead, convince them for an enriching volunteer trip. Needless to say, it'll be perfect, because there's nothing more fun to work with your pals, that too for something meaningful.
That's when all the family members come together to participate in a volunteer program! We love to host families (comprising of people from different generations) because it's just so overwhelming for us to witness the love and bond they share – as well as, there's so much to learn. The projects are thoughtfully designed to provide not only valuable cultural immersion but also opportunities for all family members to explore and discover the beauty of a new destination.
Corporate Volunteering provides professionals with a meaningful and impactful avenue to create positive change within the social sector. It also serves as an effective method for employers to cultivate valuable skills within their staff. Whether they are fresh graduates or seasoned employees, individuals can acquire and hone essential leadership, organizational, and teamwork skills through these initiatives.
Keeping the 'CAS' module in mind – that is followed by most IB Schools worldwide, we have carefully crafted the CAS programs that integrate the three core elements of Creativity, Activity, and Service. Our project designs ensure that every student enjoys a culturally immersive, hands-on, and enriching international travel experience through our CAS-based programs. We have a bunch of amazing CAS programs across Asia, Africa, Europe, and Latin America.
In today's world, the value and significance of experiential learning are undeniable, and what could be more enriching than embarking on a volunteering journey abroad? Volunteering Solutions hosts high school groups (assisted by teachers/mentors), helping them & encouraging them at every step. We believe that not all lessons can be learned within the four walls of the classroom, and it's important to step out and experience what the world has to offer.
For the last 15 years, we have had 50+ university and college volunteer groups, who took part in various projects and contributed meaningfully across the globe. This opportunity enables individuals to explore the world, give back to communities, and gain experience in their respective fields of study alongside fellow students. They have the chance to support important social or environmental initiatives that align with their studies, immerse themselves in different cultures, and may choose to pursue academic credits. This is a genuinely meaningful and rewarding way for students to spend their Spring, Summer, or Winter Break abroad.
What are the benefits of joining a Group Volunteering Program abroad?
Well, the benefits of group volunteering abroad are numerous. However, we thought of listing down the ones that we think are the most important ones:
1. Opportunity to work with like-minded people: As you join these programs with people you already know, it acts as a space to share experiences and create stronger bonds, while working on something impactful.
2. Make a better impact: Alone, you can only do little, but together, you all can do a lot! Working as a team often results in a more significant impact on the community or project being supported, as multiple hands can accomplish more.
3. Know about each others' strengths and weaknesses: No matter whether you're volunteering with your colleagues or your family members, this will be an incredible opportunity to know each other more closely. You'll get to learn about the strengths and weaknesses of others.
4. Peer learning and personal growth: While you'll be working with your loved ones, you'll have the scope to learn from them. We've noticed that group volunteering challenges individuals to step out of their comfort zones, fostering personal growth, self-confidence, and adaptability.
5. Safety and security: Traveling solo to volunteer abroad might come with its own set of challenges, but when you take part in a group, it'll always provide a sense of safety and support, particularly in unfamiliar environments, helping you to feel more comfortable and secure.
Why should you opt for a Group Volunteering Program with Volunteering Solutions?
Volunteering Solutions is a renowned international volunteer placement organization that has successfully deployed over 20,000 volunteers worldwide. First-time volunteers can expect comprehensive support, assistance, and information to facilitate their overseas volunteering experience. Furthermore, all volunteers receive dedicated in-country support, personalized travel itineraries, guided excursions, and orientation sessions.
We also hold a distinguished position within the World for Youth Student and Educational Travel Confederation (WYSE Confederation). This global not-for-profit membership organization is committed to promoting and advancing opportunities for young students and the educational travel industry.
Note: Volunteering Solutions offers comprehensive information booklets on both the destination and project, ample learning and immersive international travel experiences, seamless in-country transportation and assistance, quality, and safe in-country accommodation and meals.
In case you wish to know more, reach out to us at [email protected] and our Program Advisors will get back to you!
About The Author