Bali Programs are now fully open !! Book your trip for 2023 - 2024 now.
Be a volunteer in Bali with Volunteering solutions and choose from a range of affordable volunteer projects including Kindergarten, Teaching, Marine and Coastal Reef Conservation Project. While serving society, you'll also get to explore the island and experience the cultural richness that the place has to showcase. The volunteer programs in Bali are perfect for high school and college students as well as gap year travelers.
Volunteering Solutions is one of the best volunteer organizations in Bali as:
Trusted by more than 18,000 past volunteers
Offers amazing volunteering opportunities all year round from 1 to 12 weeks
Provides low-cost volunteer projects including meals and accommodation
Provides 24/7 on-ground staff support and 100% financial protection
Arranges incredible weekend add-on tours to explore the beauty of Bali
Apply Now
Enquire Now
Bali - Quick Facts

Start Dates : All Year Round
Duration : 1-12 Weeks
Program Location : Bali
Minimum Age : 17 years+
Certificate - Offered after Program completion
Marijke
Program Country: Bali
Program: Teaching
You stay at a beautiful place next to the beach. School is a 5 min walk and you teach from Monday to Thursday, you can see how everyone cares a lot about the kids. I especially loved how they encouraged creativity, this is something i did in my own class as well. I taught English to two classes by myself , at first i wasn't sure if i could do it but you get the hang of it really fast and the kids are so much fun. In the weekend you have time to explore Bali with some of the other volunteers, in this way you can also make some really good friends. I would definitely recommend the Bali program
Adventures in Bali would never seem to end! One of the most gorgeous islands in Indonesia, you might just fall short of time exploring the beauty of Bali. You can head towards Munduk to witness the gorgeous sunrise, or travel to Baratan Lake in Bedugul, Central Bali. Spend a day exploring the Monkey Forest and then go for a hike up to see the Gitgit Waterfalls. Pay a visit to the Tanah Lot Temple - one of the most gorgeous temples in Bali and get those Insta-worthy shots! In case you are seeking a soothing weekend, then go cycling around the exotic villages of Northern Bali, covering the scenic Jatiluwih rice terraces, with Mt. Batur and Kintamani at its backdrop.
Explore the gorgeous temples over the weekend - Bali has some beautiful temples that you've probably seen several times in photographs, but now is the time to see them in real. Over the weekends, you can visit Tanah Lot Temple, Uluwatu Temple, Besakih Temple etc., and get those postcard-perfect shots!
Spend a day at Bali Safari and Marine Park - This one of the island's largest and most visited animal theme parks, and you'll have a great time exploring this place which is home to over 80 species, all of which roam free in large enclosures that mimic their natural habitats.
Go parasailing at Tanjung Benoa Beach - If you have 'Try out watersports' added to your Bali bucket list, then make sure to head off to Tanjung Benoa Beach during the weekends and go parasailing! This is one of the safest activities to do in Bali and you can be assured of flying with types of equipment that fulfill the international standards. Apart from parasailing, you can also go for scuba diving or sea walk at Tanjung Benoa.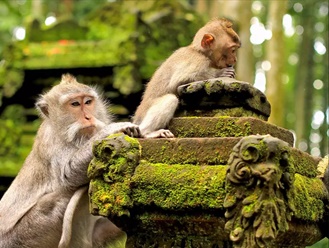 Spend a day at Ubud Monkey Forest - Having more than 700 monkeys, this place definitely is worth visiting! Well, if not for anything else, then just to enjoy a fun-filled day with these primates. You can marvel at the playfulness of the monkeys swinging from one tree to another and also visit the number of ancient temples which are located inside the forest.
Attend cooking classes- For those who wish to just relax and spend time on the beaches, can hit a cooking class for a few hours over the weekends, and learn how to prepare authentic Balinese cuisines.
If you have anything else in your bucket list or planning to go & explore any of the above-mentioned places, you can simply get in touch with our Travel Experts, who can guide you better in planning your weekend tours. Drop us a mail at traveldesk@volunteeringsolutions.com mentioning your choice of weekend adventures, and we shall cater your needs.
Volunteer in Bali - Faq's
Bali FAQs
---
FAQ's Application and Program Details
---
Flights and Visa
---
Health and Safety
---
Accommodation and Living
Change Country?
Looks like you're from United Kingdom/Europe. Visit our UK/Europe Website for a better viewing experience and to view prices in GBP.