Ghana is now fully open for international arrivals. No quarantine is required on arrival. Bookings are open for 2023-2024.
Be a volunteer in Ghana with Volunteering Solutions on a wide variety of meaningful and sustainable volunteer projects including Childcare, Teaching, Football Coaching, Girl Education, Community Development, Kindergarten, Medical volunteering & medical internships. For gap year travelers and backpackers, as well as for students looking for an apt summer/spring break volunteer program, there are amazing summer volunteer projects designed by the expert VolSol Team. Volunteer programs in Ghana are located in the capital city of Accra, Tamale in Northern Ghana and in Axim along the southern coast.
Volunteering Solutions is one of the best volunteer organizations in Ghana as:
Trusted by more than 18,000 past volunteers
Offers 10 amazing volunteering opportunities all year round from 1 to 24 weeks
Provides low-cost volunteer projects including meals and accommodation
Provides 24/7 on-ground staff support and 100% financial protection
Arranges incredible weekend add-on adventure tours
Apply Now
Enquire Now
Ghana - Quick Facts

Start Dates : All Year Round
Duration : 1-24 Weeks
Program Locations : Accra , Axim & Tamale
Minimum Age : 17 years+
Certificate - Offered after Program completion
Murilo
Program Country: Ghana
Program: Football Coaching
I've been a month at Tamale, Ghana, and I can certainly attest this was a life changing experience.Ghana is regarded as the safest country in West Africa and I could see that with my own eyes. Ghanaian people are always sweet and they make everything in their power to make you feel at home. Ghana is for sure the right place for you to live a real Africa experience
Ghana is popular among travelers for its diverse wildlife, thick forests, secluded beaches, and old forts. Volunteers working in Tamale usually explore the city of Tamale and visit the Boabeng Fiema Monkey Sanctuary, Mole National Park, Larabanga Mosque etc. Volunteers working in Accra spend time in Accra and explore the city or can also head out to Cape Coast to relax on the beautiful beaches. You can also go for the local market visit with your hosts, over the weekend, in case you wish to take a closer look at the community and how it functions. You can also prepare your own travel bucket list and share it with us - we shall help you with planning!

Explore the Mole National Park -
Located in Northern Ghana, this is the country's largest national park and it totally deserves a visit as you'll find the widest range of wildlife here. Because of the lack of predators, safaris can be done on foot – a unique experience that is quite different from the vehicle safaris in southern and eastern Africa. To actually walk so close to elephants is an exhilarating experience you will not ever forget!
Visit the Boabeng Fiema Monkey Sanctuary - Cool off in high pitched waterfalls and enjoy the freshness of nature while exploring the Boabeng Fiema Monkey Sanctuary. As the name suggests, you'll get to spot several primates in the wilderness, but not just that - you'll get to soak in the beauty of nature, seeking a much-needed break during the weekends.
Visit the Larabanga Mosque - The largest and of the oldest mosque in Ghana, the Larabanga Mosque is also known as the "Mecca of West Africa".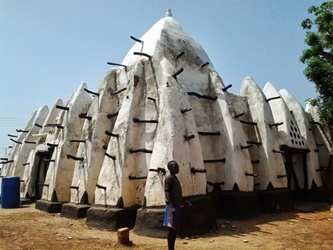 In case you are heading off to Mole National Park during the weekend, you must visit the mosque as well which is located just about 4 kilometers south of the Mole National Park entrance.

If you have anything else in your bucket list or planning to go & explore any of the above-mentioned places, you can simply get in touch with our Travel Experts, who can guide you better in planning your weekend tours. Drop us a mail at traveldesk@volunteeringsolutions.com mentioning your choice of weekend adventures, and we shall cater your needs.
Volunteer in Ghana - Faq's
FAQ's - Ghana
---
FAQ's Application and Program Details
---
Flights and Visa
---
Health and Safety
---
Connect with Past Volunteers
---
Accommodation and Living
Change Country?
Looks like you're from United Kingdom/Europe. Visit our UK/Europe Website for a better viewing experience and to view prices in GBP.