Ghana is popular among travelers for its diverse wildlife, thick forests, secluded beaches, and old forts. Volunteers usually explore the city of Tamale and visit the Boabeng Fiema Monkey Sanctuary, Mole National Park, Larabanga Mosque etc. You can also go for the local market visit with your hosts, over the weekend, in case you wish to take a closer look at the community and how it functions. You can also prepare your own travel bucket list and share it with us - we shall help you with planning!

Explore the Mole National Park -
Located in Northern Ghana, this is the country's largest national park and it totally deserves a visit as you'll find the widest range of wildlife here. Because of the lack of predators, safaris can be done on foot – a unique experience that is quite different from the vehicle safaris in southern and eastern Africa. To actually walk so close to elephants is an exhilarating experience you will not ever forget!
Visit the Boabeng Fiema Monkey Sanctuary - Cool off in high pitched waterfalls and enjoy the freshness of nature while exploring the Boabeng Fiema Monkey Sanctuary. As the name suggests, you'll get to spot several primates in the wilderness, but not just that - you'll get to soak in the beauty of nature, seeking a much-needed break during the weekends.
Visit the Larabanga Mosque - The largest and of the oldest mosque in Ghana, the Larabanga Mosque is also known as the "Mecca of West Africa".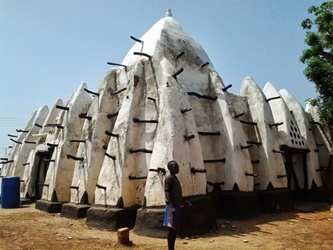 In case you are heading off to Mole National Park during the weekend, you must visit the mosque as well which is located just about 4 kilometers south of the Mole National Park entrance.

If you have anything else in your bucket list or planning to go & explore any of the above-mentioned places, you can simply get in touch with our Travel Experts, who can guide you better in planning your weekend tours. Drop us a mail at [email protected] mentioning your choice of weekend adventures, and we shall cater your needs.