Costa Rica
All projects are available from 1 to 24 weeks in and around San Jose, including Turtle Conservation, Childcare, Teaching English, Healthcare, 2 weeks special projects
Costa Rica
Costa Rica - Quick Facts
Start Dates : All Year Round
Duration : 1-24 Weeks
Program Locations : Alajuela, Caribbean Rainforest, Osa Peninsula, Pacific Coast, Puerto Viejo, Santa Barbara De Heredia & Various
Minimum Age : 17 years+
Certificate : Offered after Program completion
At a Glance
Currency Used : Costa Rican Colón
Language : Spanish
Travel on Weekends to: explore the coffee plantation covered hills,volcanic national parks and pristine beaches
5 Days Volunteer Work
Meet other like-minded travelers
Volunteer in Costa Rica
Be a volunteer in Costa Rica with Volunteering Solutions and choose from a wide range of volunteering projects including Childcare, Teaching English, Rainforest Conservation,Turtle and Environment Conservation, work opportunities at the Wildlife and Rescue Center for animals etc. We also have a specially curated 2 Weeks Voluntour Project, which combines the best of travel & volunteer opportunities in Costa Rica, apt for those who have a time crunch. All volunteer programs in Costa Rica are located in and around the capital city, San Jose. Most of our volunteers in this location are high school students and college graduates, followed by gap year travelers, young adults, backpackers and families.
Highlights:
Projects located in the Pacific, Caribbean Rainforest, Central Valley and Osa Peninsula
Wide variety of volunteering opportunities available all year round from 1 to 24 weeks
Low-cost volunteer projects including meals and accommodation
Explore the magnificent landscapes of Costa Rica on weekends
Incredible travel options including volcano treks, coffee plantation tours and 2 Week Special option
Best Volunteer Opportunities in Costa Rica
"I decided to travel to Costa Rica to work on my Spanish and it has been such a wonderful experience! During the week I work at a daycare and the staff has welcomed me with such generous hospitality. Living with a family has allowed me to be immersed in the language and culture, a valuable experience for my future career as a Spanish teacher!"
Weekend Travel Options
Costa Rica is undoubtedly a beach lovers paradise and when you are there in the country, you'll surely spend most of your time by the beaches. Try out several water sports, go for the sunset cruise, and savor the taste of the cuisine at the beachside shacks while exploring on the weekends. The country has a huge span of forested area and you can take tours of the Tortuguero National Park, The Corcovado National Park, and Manuel Antonio National Park. If you are an adventure junkie, then you'll get ample options here - including zip-lining through forests and cave explorations. There is so much to do in Costa Rica, that your weekends might not just be enough! Make your checklist and we'll help you in ticking them off!
Doka Coffee Plantation La Paz Waterfall Gardens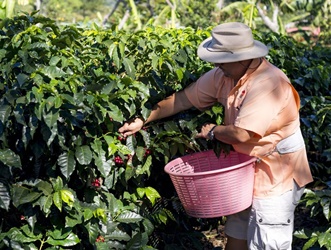 Deep thrills for Coffee Lovers! Visit the Doka Coffee Estate first because it is an authentic Costa Rican coffee plantation and a Costa Rican trademark. Over here, you will get to enjoy creating some of the world's best coffee from start to finish and then even sample it! After this, you can continue to the La Paz Waterfall Gardens. The best way to enjoy these waterfalls is to listen for hummingbirds butterflies, and marvel at the rainforest, orchids, and the tropical flowers!
Finca Rosa Blanca Coffee Plantation
Can't get enough of Coffee? This plantation has the hard bean Costa Rican coffee spread over 30 acres. Here you will learn how organic coffee is really grown, harvested, dried, and finally processed. If you visit here in the harvest season – from October to January – then you can even participate in picking the coffee! You will go through the steps of coffee preparation and also learn how experts test and rate coffee.
Highlands Tour to Barva and Heredia
The mask makers of Barva are famous for still creating their art for various community festivals and making giant puppets that can dance in the streets. In Heredia, visit the colonial-styled Spanish landmarks including the El Fortin, the Guard Tower, the main cathedral, and the Casa de la Cultura. And if you want to see a recreation of Spanish colonial Costa Rica, then visit the Museo de Cultura Popular on your way back.
Irazu Volcano, Orosi Valley, Lankester Gardens
From starting your tour from the Panamerican Highway, as you wind upward, you'll be able to get a view of the Atlantic and the Pacific Oceans. Explore the Virgin of the Angels Basilica before heading to the Lankester Gardens upon your descent. In the Lankester Gardens, you'll see 800 different species of orchids, bromeliads, and hundreds of other plants. Then, continue to Orosi Valley to visit a colonial church before lunch.
If you have anything else in your bucket list or planning to go explore any of the above-mentioned places, you can simply get in touch with our Travel Experts, who can guide you better in planning your weekend tours. Drop us a mail at traveldesk@volunteeringsolutions.com mentioning your choice of weekend adventures, and we shall cater your needs.
Frequently asked questions(FAQ's - Costa Rica)
FAQ's Application and Program Details

It is advised to apply for the projects once the volunteering/ traveling dates are decided as there are limited spots available. The application fee is valid for one full year and can be sent earlier than the desired period of volunteering, for timely confirmation of the seat. As soon as you decide the travel dates, we suggest you to apply for the program and hold your spot. We abide by the first come first serve policy.

Usually, it takes around 10-12 working days for the application to be processed and placement to be confirmed. After we review your CV and documents, your booking is confirmed and the booking confirmation is updated in your My Account and you can view the information in your account. The application acceptance depends on the availability of seats in the project as well as the eligibility criteria of the program (age, skills and experience etc.).

Below are the necessary requirements to participate in the Costa Rica volunteer projects:
Volunteers must be 17 years or older for Teaching, Childcare, and Spanish Immersion at the beginning of the program. For all other programs, you need to be 18 years or older.
Volunteers joining the medical volunteer project must be either Pre-Medical, Medical or Nursing student or possess other qualifications related to medical and nursing field. Medical professionals such as doctors and nurses are also welcome to join the program.
Volunteers need to have an open mind and flexible attitude for working in a new and different environment.
The volunteer should bring energy and enthusiasm to make a difference.
The participant must be in good health.
Knowledge of Spanish (basic to intermediate) is necessary for all the programs.

Yes, you are welcome to take part in Costa Rica Volunteer Programs as part of a group. We welcome families, friends, high school students, college/university and corporate groups to volunteer together in the Costa Rica volunteer programs.

Yes, most definitely you can, as we believe that every participant brings something new to the project. If you do not have previous experience, we offer you the opportunity to have a great start with us. We make international volunteering easy – not only are our Volunteer Abroad opportunities rooted in offering you extensive support, but they are also very affordable.

Yes, we will provide you with the Certificate after successful completion of your program. The certificate is provided on request.

All volunteers have to arrive one day before their program start date. You can view your arrival dates here. Volunteers are picked up from the Juan Santamaria Airport by the local coordinator or representative and taken to the respective host family accommodations. On the next day, i.e. Monday, there will be an orientation session which will cover the program highlights and provide you details about the city. You will get to know about the local culture, marketplaces, ATMs, internet cafes and where to shop for your daily essentials. On Monday, volunteers would also be required to take a Spanish test to assess their Spanish knowledge.

To add to the project experience, you can also join the Spanish Immersion Week which gives you a crash course in Spanish and even tests your current Spanish skills which would help you in volunteering, and you would also get a chance to experience Costa Rican culture, learn cooking and Latino dancing before beginning the program.

Note: Host accommodation is located in suburbs of San Jose in the Heredia and Santa Barbara areas, along with your projects placements.

The Childcare, Teaching and the Medical Healthcare projects are located near San Jose, primarily in the areas of Heredia and Santa Barbara.

The Turtle Conservation project is located in both Pacific and the Caribbean coasts.

The Wildlife and Animal Rescue Center is located 4km away from Puerto Viejo and 220km from San Jose, Costa Rica's capital.

Flights and Visa

Participants (most nationalities) require a Tourist Visa to travel to Costa Rica. Travelers from most countries can get a 90-day permit stamped on their passport on arrival.We advise you to check with your nearest Costa Rican embassy as well.

Juan Santamaría International Airport is well connected with direct flights coming in from different destinations in the US and South America. For volunteers coming from North America, following Airlines are recommended:
US Airways
Delta

For those flying in from Europe, direct flights are available, and the recommended airlines are:
Condor
Iberia

Health and Safety

Costa Rica is a tourist friendly and safe destination. Volunteering Solutions is very particular about the safety of its international volunteers. We have stringent selection criteria for host family accommodation. You will be given safety precautions and instructions by the local coordinator team during the orientation as well as in your Pre-departure handbook after you become an enrolled participant. Apart from that, we advise volunteers to consult their in-country coordinators before embarking on a weekend trip or going on a night out.

All participants are recommended to consult their physician or travel doctor before traveling to Costa Rica. To view the general list of vaccinations recommended for your travel to Costa Rica, click here.

Yes, for all participants, it is mandatory to have a valid travel medical insurance for their trip. Volunteers have the option to purchase Travel and Medical Insurance at a nominal extra cost from Volunteering Solutions. To provide the best option to our participants, we offer comprehensive insurance coverage in collaboration with a leading insurance provider.

If you already have a valid Travel and Medical insurance, you can email us a copy of the same. It is also advised to bring along the Insurance documents during your trip.

Connect with Past Volunteers

We encourage volunteers to get in touch with former Volunteering Solutions Costa Rica program participants and also other program participants joining our projects. You are recommended to join the Volunteering Solutions Facebook Page or Facebook Group to communicate with other participants.


To read alumni interviews from past participants, visit ?the Meet a Volunteer section on our website.

Accommodation and Living

Volunteers working in Turtle Conservation Project stay in ranger house, host family or volunteer house accommodations close to the project near the beach. Dorm-style accommodation is provided where you will be sharing rooms with other volunteers (same gender basis). Upon arrival in Costa Rica, volunteers are provided lodging in a host family accommodation in Heredia or Santa Barbara. After completing the orientation and project introduction on the first days, volunteers join their respective Turtle Conservation Project in either Pacific or Caribbean Coast.

For all other projects, volunteers will be staying with host families. More details about the host families would be provided after you apply for the program. Volunteers would be provided meals 2 times a day.

Volunteers working in the animal rescue center project in Puerto Viejo are provided accommodation in a hostel in San Jose on arrival. While at the project volunteers stay at a dorm style hostel accommodation. Meals are not included but volunteers cook their own meals at a fully equipped kitchen.

Unfortunately, the entire volunteering experience is as much about volunteering on your project, as it is about the cross-cultural exchange and community building. A lot of that happens through the accommodation that we have set up, where one can enjoy by being with like-minded people. Additionally, for safety reasons, all volunteers must live in the allotted accommodation.

Yes, however, you must inform us in advance and also mention about any dietary requirement in your application form.

Depending on your project placement, you will get evenings and the weekends free to travel and explore the place. In the evenings, volunteers usually get together and go out for social gatherings, eat out or just relax at the volunteer house. Weekends are free for the volunteers and you can go for short weekend trips. There's actually so much to do in Costa Rica. Visit Nicoya Peninsula, Arenal Volcano, Corcovado National Park, Monteverde Cloud Forest Biological Reserve, La Paz Waterfall Gardens, Tabacón Hot Springs, San José, Caño Negro Wildlife Refuge, Tortuguero National Park and much more.
The local coordinators will be happy to help you with more information.

Your program fee does not cover your personal expenses. You will need to provide for yourself your personal expenses, such as bottled water, local transport, telephone, shopping, sightseeing etc. However, you should carry around $70-$80 per week for your basic personal expenses. This amount can vary and you would need a higher amount if you choose to go on weekend trips out of town.

Volunteers usually work for 4 to 6 hours a day depending on their program. You will have weekends off so you can travel on weekends. However, volunteers need to be flexible, open-minded and understand that work requirements can change as well on certain occasions.

You can change money upon your arrival at Juan Santamaria Airport or from the bank. There is a good network of ATMs as well.
Still have Questions?
We're always here to help.
Get in touch whatever way works best for you.