Ghana is now fully open for international arrivals.No quarantine required on arrival. Book your program now for 2022 - 2023.
Volunteering Solutions offers a Medical Internship Program as well as a Physiotherapy Internship Program in Ghana, which is extremely popular among students who are keen on gaining some first-hand international work experience.
What work will I get to do as an Intern?
Depending on which program you choose, you'll be assigned work as per your knowledge and expertise. For the Medical Internship Program, participants mostly get to shadow the doctors/nurses in the clinic and get involved in daily tasks like - checking the weight and temperature of the patients, cleaning wounds, and also doing administrative tasks in the placement, etc.
For the Physiotherapy Internship Program, you'll be working under the professionals, learning various techniques Western-classical physio as well as methods of stress management, relaxation exercises like Shiatsu or Tai Chi, etc.
Why should I choose to intern in Ghana?
Working overseas in Ghana as an intern would be a very rewarding and challenging experience wherein you will work along with the local people, that too in a developing country. You will get an opportunity to gain experience which will be extremely valuable and nurture your career. It'll also endow you with ample opportunities to explore the country and experience the real African wilderness.
Apply Now
Enquire Now
Ghana - Quick Facts

Start Dates : All Year Round
Duration : 4-16 Weeks
Program Location : Accra
Minimum Age : 18 years+
Certificate - Offered after Program completion
Murilo
Program Country: Ghana
Program: Football Coaching
I've been a month at Tamale, Ghana, and I can certainly attest this was a life changing experience.Ghana is regarded as the safest country in West Africa and I could see that with my own eyes. Ghanaian people are always sweet and they make everything in their power to make you feel at home. Ghana is for sure the right place for you to live a real Africa experience
Projects available in Ghana
Medical Internship in Ghana
Accra | Medical - Healthcare Internship
Gain valuable skills and experience by doing the medical internship at a hospital in Ghana.Your field of activity depends on your previous knowledge.
Physiotherapy Internship in Ghana
Accra | Medical - Healthcare Internship
This Physiotherapy internship in Ghana is a perfect opportunity for physiotherapy students to gain experience relevant to your current level of...
Ghana is popular among travelers for its diverse wildlife, thick forests, secluded beaches, and old forts. Volunteers usually explore the city of Tamale and visit the Boabeng Fiema Monkey Sanctuary, Mole National Park, Larabanga Mosque etc. You can also go for the local market visit with your hosts, over the weekend, in case you wish to take a closer look at the community and how it functions. You can also prepare your own travel bucket list and share it with us - we shall help you with planning!

Explore the Mole National Park -
Located in Northern Ghana, this is the country's largest national park and it totally deserves a visit as you'll find the widest range of wildlife here. Because of the lack of predators, safaris can be done on foot – a unique experience that is quite different from the vehicle safaris in southern and eastern Africa. To actually walk so close to elephants is an exhilarating experience you will not ever forget!
Visit the Boabeng Fiema Monkey Sanctuary - Cool off in high pitched waterfalls and enjoy the freshness of nature while exploring the Boabeng Fiema Monkey Sanctuary. As the name suggests, you'll get to spot several primates in the wilderness, but not just that - you'll get to soak in the beauty of nature, seeking a much-needed break during the weekends.
Visit the Larabanga Mosque - The largest and of the oldest mosque in Ghana, the Larabanga Mosque is also known as the "Mecca of West Africa".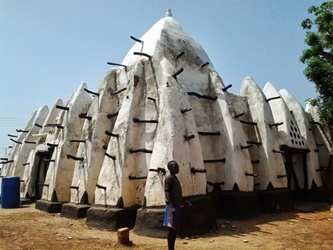 In case you are heading off to Mole National Park during the weekend, you must visit the mosque as well which is located just about 4 kilometers south of the Mole National Park entrance.

If you have anything else in your bucket list or planning to go & explore any of the above-mentioned places, you can simply get in touch with our Travel Experts, who can guide you better in planning your weekend tours. Drop us a mail at [email protected] mentioning your choice of weekend adventures, and we shall cater your needs.
Volunteer in Ghana - Faq's
FAQ's - Ghana
---
FAQ's Application and Program Details
---
Flights and Visa
---
Health and Safety
---
Connect with Past Volunteers
---
Accommodation and Living
Change Country?
Looks like you're from United Kingdom/Europe. Visit our UK/Europe Website for a better viewing experience and to view prices in GBP.