Overview
Be a part of the Summer Volunteering Project in Tanzania and explore the country while giving something back to the community. You'll be working at a childcare center in Arusha and also explore the city and places around. Of course, a trip to Tanzania would remain incomplete without experiencing thrilling wildlife game drives, and we'll ensure that you get to spot the Big 5 as well.
In a span of 3 weeks, gain first-hand work experience, know more about the Maasai community, experience the authentic lifestyle and create wonderful memories. Besides meeting the local community, volunteers will also meet other travelers, backpackers, and do-gooders from all over the world and maybe even find a partner to take a hike in Mt. Kilimanjaro!
Still, you have a query? Enquire now.
Program Requirements
Volunteers must be 17 years or older at the time of joining the project. Participants should have an open mind and flexible attitude for working in a new and different environment. Volunteers need to be flexible, open-minded and have a passion for working with children. You should also be proactive and have the ability to take initiative All volunteers must provide a clean criminal background check report prior to joining the program. A parental consent form shall be required for Under 18 participants joining the program.
Itinerary
Day 1 - Sunday - Welcome to Tanzania
Arrival and Welcome for the volunteers. Arrival will be at Kilimanjaro International Airport in Kilimanjaro region. You will be welcomed by Volunteering Solutions representative on arrival. On the day of arrival , accommodation will be provided in a volunteer house in Arusha. For those arriving earlier, they will be met at a meeting point decided beforehand.
Day 2
- Local City tour and Orientation - On the second day, our program coordinators will provide important information about the safety, culture and inform the volunteers about the local area including internet café, banks, restaurants and markets. We will also provide you with basic Swahili lessons.
Day 3 - 6
Project Introduction - Visit your project, meet the local staff and begin the volunteer work. Volunteers will work with the existing staff and provide love and care to the children at the placement. Volunteers main role is to keep the children involved and engaged in various activities. Volunteers will feed, dress and play with the children. Volunteers are welcome to use their administrative tasks to streamline the work at placement.
Day 7
- Visit Masaai Lands- Once in a Lifetime experience with the Masaai –Visit homesteads and interaction in Engikaret Village.
Day 8 -
Relaxation Day optional time at Swimming Pool at New Arusha Hotel.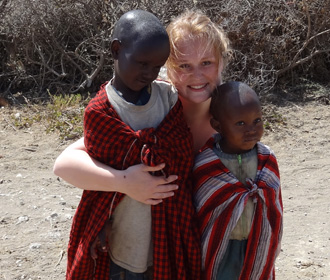 Day 9 - 13
- Continue with your work placement. On day 11, volunteers will also be taken to meet the HIV/AIDS victims in Outreach Medical Program.
Day 14
- Visiting The Waterfalls, Coffee Plantations and Chagga Live Museums in Marangu, Moshi (Optional at extra cost)
Day 15
- Depart for Wildlife Safari.Start at Lake Manyara National Park later overnight at Jambo Campsite.
Day 16
- Early in the morning Depart to Serengeti via Ngorongoro Conservation area game drive enroute .Dinner and Overnight at Seronera Campsite.The Ngorongoro Conservation Area is a conservation area and a UNESCO World Heritage Site located 180 km west of Arusha in the Crater Highlands area of Tanzania.
Day 17
- Sunrise game drive in Serengeti National Park and after lunch drive to Ngorongoro.Dinner and overnight at Simba Campsite in the rim of Ngorongoro Crater.
Day 18
- Early in the morning descend to Ngorongoro Crater for game drive.Spend the whole day and later drive back to Arusha.
Day 19
- Project work and activities in the orphanages.
Day 20
- Final Day of working to the project. Farewell to the orphanage community.
Day 21
- Shopping and buying Souvenirs,gifts etc at Masai Market. Later Goodbye party at the volunteer house.
Day 22
- Take flight back home.
Living
At Volunteering Solutions we try to provide best of the living arrangements to our international volunteers. So when in Tanzania, you do not have to worry about a single thing in the world and simply focus on your volunteer work.
Airport Transfer
You will be met by our representative at Kilimanjaro International Airport in Kilimanjaro region from where you are transferred to the accommodations in Arusha. Volunteers can also arrive in Nairobi and take a direct shuttle or bus to Arusha. They will be picked up at the bus station.
Accommodation
Volunteer Accommodation is provided in a Volunteer Housing / Hostel type of accommodation. The accommodation will be shared along with other volunteers. The Volunteer housing is well equipped with comfortable facilities for the volunteers. The Volunteer house has a large common area for the volunteers to relax and socialize with other participants. The house has a seperate washing area where the volunteers can wash their clothes. For volunteers safety and security, the house is equipped with CCTV cameras and is guarded by a security guard as well.
Orientation
All volunteers will be provided with an orientation session by the local coordinator. Areas like safety, locations, transportation, things to see etc will be covered in the Orientation. After your orientation is over, you will be introduced to your project and given a tour of the local area and town.
Meals
Volunteers are provided with 3 meals in a day. Typical meals include Salads, Sandwiches, Ugali, Chapatti, Chai (Tea), Bread and rice, with vegetables and fruits. Breakfast and dinner are at the volunteer house while lunch is usually packed for you to eat the placement or can be taken if you are back at the accommodation.Meals provided to the volunteers are a mix of Tanzanian and western dishes usually.If you have any special dietary requirements, do let us know in advance.
During your Free Time
Typically most of the volunteers choose to travel outside Arusha on the weekends and go for Safari trips. You have the option to choose a 2 to 3 day Safari trips to Serengeti, Tarangire and Ngorogoro. You can also head to Moshi or explore the coffee plantations and waterfalls area near Arusha. Volunteers can also go for short hiking trips near Arusha.
Program Cost
Please Note: -An application fee of $199 is charged over and above the program fee as an application payment. (A 4% international banking fee is charged at the time of payment) Please Note: -An application fee of £149 is charged over and above the program fee as an application payment. (A 4% international banking fee is charged at the time of payment) Please Note: -An application fee of $259 is charged over and above the program fee as an application payment. (A 4% international banking fee is charged at the time of payment) Please Note: -An application fee of €169 is charged over and above the program fee as an application payment. (A 4% international banking fee is charged at the time of payment)
What are you Paying for?
Comprehensive pre-departure guide
Round the clock assistance from support staff and In-country program coordinator
Airport pickup from Kilimanjaro airport and transfer to Arusha
Program orientation
Accommodation in volunteer house/hostel
Familiarization tour of Arusha
3 meals a day
Volunteering in Arusha
Visit to Masai Lands
Safari to Lake Manyara National Park, Serengeti National Park and Ngorongoro Crater
Certificate Of Completion (Upon Request)
What's NOT included?
International/Domestic Airfare
Visa fees and work permit cost
Travel insurance (available at nominal cost)
Local transportation to and fro program location
Departure transfer to airport (can be arranged at additional cost)
Vaccinations
Any personal expenses, TIPS, extra meals, beverages, laundry and any other services which are not mentioned (approximate personal expenses for food and traveling per week would be USD 40 to USD 50 per week)
Program Dates
Months
2022
June

19

July

03

17

August

07
Available
Filling Fast
Not Available
Past Date
FAQ's
Connect with Past Volunteers
FAQ's Application and Program Details
Flights and Visa
Health and Safety
Accommodation and Living
Other Programs in Tanzania