Uganda
Volunteer in Uganda with Volunteering Solutions from 1-18 weeks on a wide range of volunteering programs including Childcare, Teaching English, Community Development and Medical & Healthcare. Programs are located in and around the capital city, Kampala.
Uganda
Uganda - Quick Facts
Start Dates : All Year Round
Duration : 1-18 Weeks
Program Location : Kampala Region
Minimum Age : 17 years+
Certificate : Offered after Program completion
At a Glance
Currency Used : Ugandan Shilling
Language : English, Swahili
Travel on Weekends to: Lake Victoria, Bwindi National Park and Mgahinga Gorilla National Park
5 Days Volunteer Work
Meet other like-minded travelers
Volunteer in Uganda
Be a volunteer in Uganda with Volunteering Solutions and join a range of incredible volunteering opportunities including Teaching English, Childcare, Community Development, and construction work. Medical and pre-med students can also join the Healthcare Program, and work with doctors in rural healthcare centers. Volunteer programs in Uganda are located around the capital city, Kampala, and Mukono region. Volunteers will not only get to explore the country culturally but also contribute significantly to the lives of the people living in this part of the world.
Highlights:
Programs based in and around Mukono region, approx 1 hr from Kampala
Meaningful volunteering opportunities all year round from 1 to 18 weeks
Low-cost volunteer projects including meals and accommodation
Incredible weekend add-on tours and safari options available
Wide variety of project options including construction, medical, teaching and childcare
Volunteer in grassroot level projects witnessing rural African way of life
Best Volunteer Opportunities in Uganda
"It was a great program thank you very much for the wonderful placement. The project coordinator in Uganda does a fantastic job. I would definitely recommend the program. My volunteer experience has been wonderful I had a lot of fun and a really great time.. The Hospital was great very good experience something I wouldn't have gotten back home and I am looking forward to coming back as soon as I can I say that from the bottom of my heart. "
Weekend Travel Options
With uncountable places to explore, from the snow-capped Rwenzori Mountains and gorgeous Lake Victoria, Uganda never fails to amaze the travelers who are keen on discovering the least traveled roads in the world. For the nature lovers, Uganda will be a treat. Bwindi National Park and Mgahinga Gorilla National Park are the two places where one can surely find the mountain gorillas – and there are special treks organized for the animal lovers. You can also take a trip to the Queen Elizabeth National Park. Make your travel bucket list and discuss your weekend plans with the country coordinator, as they'll be the best people to guide you.

Go for the Gorilla Trek -
The best plan for the weekend would be to head off to Bwindi National Park for the adventurous Gorilla Trek! Bwindi National Park is often termed as 'an impenetrable forest' due to its thickness and the steep rough paths that often make it an adventurous walk. The number of mountain gorillas is decreasing by the day, and before this species get extinct, why not spot them amidst the wilderness!
Weekend city tour of Kampala - Visit the Kasubi Tombs which are also considered as UNESCO World Heritage Sites. If you are interested in cooking lessons for traditional Ugandan meals, traditional dance classes, etc, then you must visit the Ndere Centre, which is the cultural hub in Kampala. Take a tour of the Ugandan Museum to know more about the country's past. Apart from these, you can also visit the Bulang (the Parliament of Uganda), the Gaddafi Mosque (built by the Libyan ruler Muammar Gaddafi), the Baha'i Temple and much more.?

Spot the chimpanzees at the Kibale National Park - Adventures in Africa will never cease - you can hop from one National Park to another and keep meeting the primates, as well as other animals. The Kibale National Park forms a continuous forest with the Queen Elizabeth National Park, having one of the most unique wildlife corridors in the world.

Get your photos clicked at the Equator Point -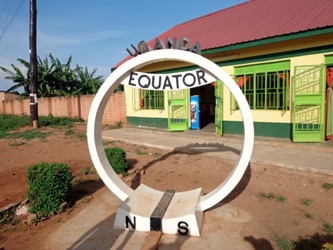 The imaginary line that divides the Earth into two hemispheres apparently passes through Uganda, and it's one of the most popular tourist spots! Everyone visiting Kampala goes to Kayabwe in Mpigi District to get their photos clicked at the Equator Point.

If you have anything else in your bucket list or planning to go & explore any of the above-mentioned places, you can simply get in touch with our Travel Experts, who can guide you better in planning your weekend tours. Drop us a mail at traveldesk@volunteeringsolutions.com mentioning your choice of weekend adventures, and we shall cater your needs.
Frequently asked questions(FAQ's Uganda)
FAQ's Application and Program Details

It is advised to apply for the projects once the volunteering/ traveling dates are decided as there are limited spots available. The application fee is valid for one full year and can be sent earlier than the desired year of volunteering for timely confirmation of the seat. As soon as you decide the travel dates, we suggest you apply for the program and hold your spot. We abide by the first come first serve policy.

Usually, it takes around 10-12 working days for the application to be processed and placement to be confirmed. After we review your CV and documents, your booking is confirmed and the booking confirmation is updated in your My Account and you can view the information in your account. The application acceptance depends on the availability of seats in the project as well as the eligibility criteria of the program (age, skills and experience etc.).

Below are the necessary requirements to participate in the Uganda volunteer projects:
Volunteers must be 17 years or older at the time of joining the project.
Volunteers joining the medical volunteer project must be either Pre-Medical, Medical or Nursing student or possess other qualifications related to medical and nursing field. Medical professionals such as doctors and nurses are also welcome to join the program.
Volunteers need to have an open mind and flexible attitude for working in a new and different environment.
The volunteer should bring energy and enthusiasm to make a difference.
Clean Criminal Background Check Report for participants joining Childcare and Teaching Projects is necessary.
Participants must be in good health.

Yes, you are welcome to take part in Uganda Volunteer Program as part of a group. We welcome families, friends, high school students, college/university and corporate groups to volunteer together in the Uganda program.

Yes, most definitely you can as we believe every participant brings something new to the project. If you do not have previous experience, we offer you the opportunity to have a great start with us. We make international volunteering easy – not only are our Volunteer Abroad opportunities rooted in offering you extensive support, but they are also very affordable.

Yes, we will provide you with the Certificate after successful completion of your program. The certificate is provided on request.

Volunteering Solutions offers projects placements in the suburban areas of capital city Kampala and in and around the town of Mukono which is around 30 km from Kampala.

Interested participants working in the town of Mukono can also visit Jinja- which is the source of river Nile.


All volunteers need to arrive at Entebbe International Airport on the program start date i.e Sunday.
Our in-country coordinator/representative will pick you up from the airport and take you to the accommodation. Our in-country coordinator would give you an orientation about the program, placement, accommodation, facilities around the accommodation and placement, local customs, safety etc. Once you get familiar with the accommodation and surrounding area, you can relax for a while.

If you are already in Kampala or arriving in Kampala by road, please provide us with the necessary details like your contact number and arrival time/location, so that we can coordinate/arrange? for the pickup.

Volunteers usually work for 4 to 6 hours a day depending on their program. You will have weekends off so you can travel on weekends. However, volunteers need to be flexible, open minded and understand that work requirements can change as well on certain occasions.

Flights and Visa

All participants traveling to Uganda can obtain Visa by applying at Ugandan Embassy/High Commission located in their country of residence. Citizens of some countries can also get the Visa on arrival. Please consult the Ugandan Embassy / High Commission for more detailed information. Participants can also apply for E-Visa to Uganda. To apply for E-Visa, click here.

Entebbe International Airport near Kampala is well connected with majority of the airlines from all over the world.

Major airlines flying in and out of Uganda are KLM Royal Dutch Airlines, Turkish Airlines, Emirates, Qatar Airways, Kenya Airways, Etihad Airways, Lufthansa, Delta Airlines, Air France.

Health and Safety

Uganda is one of the developing countries in East Africa. People in Uganda are very warm and hospitable. In general, Uganda is a safe destination.

You will be given safety precautions and instructions by the local coordinator team during the orientation as well as in your Pre-departure handbook after you become an enrolled participant. However one needs to consider local customs and follow local practices.

All participants are recommended to consult their physician or travel doctor before traveling to Uganda. To view the general list of vaccinations recommended for your travel to Uganda, click here.

Yes, for all participants, it is mandatory to have a valid travel medical insurance for their trip. Volunteers have the option to purchase Travel and Medical Insurance at a nominal extra cost from Volunteering Solutions. To provide the best option to our participants, we offer comprehensive insurance coverage in collaboration with a leading insurance provider.

If you already have a valid Travel and Medical insurance, you can email us a copy of the same. It is also advised to bring along the Insurance documents during your trip.

Accommodation and Living

Volunteers in Uganda are provided accommodation with either a host family or at a volunteer house (subject to availability).You may let us know your preference and we will try our best to accommodate you. It is shared accommodation. The accommodation has all the basic facilities which ensure a comfortable and safe stay to our participants.

In the Orphanage Project, accommodation is can be provided in the project premises as well.

Participants are provided with 3 meals a day, i.e. breakfast, lunch, and dinner, from Monday to Friday. Breakfast and dinner would be at the accommodation whereas lunch would be provided at the program location. Breakfast includes tea/coffee, bread, jam, fruit and one dish (eggs, porridge, French toast, cereal etc.). Lunch is mostly prepared by local families or community members and typically includes meat (beef or chicken or fish), potatoes and rice. At times the program coordinator may take you to a local restaurant for lunch. Dinner includes vegetable, meat (once or twice a week), rice, maize etc.

On weekends, breakfast and dinner would be provided at the accommodation. For lunch, you can try out some local restaurants. The program coordinator would be happy to guide you to the restaurants or food joints. If you go for a tour, then you can have lunch at a local restaurant there.

Always be wary of local street food as most of the times it is contaminated or half cooked or made with unhealthy components. It is not advised to consume tap water directly, however for cleaning purposes like brushing your teeth, tap water is fine. You can purchase packaged water bottles from a supermarket for consumption.

Yes, however, you must inform us in advance and also mention about any dietary requirement in your application form.

Your program coordinator or a member of the local coordinating team will take you to your placement and introduce you to everyone after giving you a basic orientation about the program, its surroundings and other facilities around the location. There will be an assistant program coordinator present at the program location.

If the program location is within walking distance from your accommodation, then you need not ?worry about transport. In case the program location is a little further away from your accommodation, then you will be commuting to and fro by a car or boda-boda (motorcycle).

Depending on your project placement, you will get evenings and the weekends free, to travel and explore the place.During the free time on weekdays, you can venture out for a walk to the main market and explore some of the good restaurants. However, we would recommend not to stay out after 7 pm.

On the weekends, you can go for the weekend trips like Source of the Nile at Jinja or a visit to Entebbe Zoo or a trip to the Equator. There are safari tours as well. Please contact our travel desk for more information and book the trips.

We recommend bringing comfortable clothing like T-shirts, sweat shirts, jeans, skirts etc. Since the region is near to the Equator, light showers are pretty common, and the nights are little colder so carrying a jacket would be a good idea.The main idea is to be dressed comfortably and modestly.

The country has a different set of customs and traditions and it is always a good idea to be respectful towards their beliefs and follow the local customs. Sports shoes or sandals, basically comfortable footwear must be included.

Your program fee does not cover your personal expenses. You will need to provide for yourself your personal expenses, such as bottled water, local transport, telephone, shopping, sightseeing etc. However, you should carry around $40-$50 per week for your basic personal expenses. This amount can vary and you would need a higher amount if you choose to go on weekend trips out of town. The return trip to the airport is approximate $40-$50 depending on your location.

You can change some money upon your arrival at Entebbe Airport. You can also change money at any of the banks near to your accommodation or program location. We recommend not changing a large amount in a single transaction. Instead, we recommend you to change money after 3-4 days as per your requirement. There is a very good network of ATMs as well.

You can get a local SIM card from the local market. You can get it from a company store or from any shop selling prepaid SIM cards. You need to show your passport. Airtel and MTN are the leading telecom operators. There are internet/cyber centers in the main market if you wish to browse the net.

Connect with Past Volunteers

We encourage volunteers to get in touch with former Volunteering Solutions program participants and also other program participants joining our projects. You are recommended to join the Volunteering Solutions Facebook Page or Facebook Group to communicate with other participants.

To read alumni interviews from past participants, visit ?the Meet a Volunteer section on our website.
Still have Questions?
We're always here to help.
Get in touch whatever way works best for you.